High international appraisal of RSC and JINR joint project
News, 06 July 2018
The Russian RSC Group presented a hyper-converged HPC solution based on proven RSC Tornado architecture featuring Intel SSD DC P4511 and Intel Optane SSD P4800X at the largest European international exhibition of supercomputers ISC 2018 that was held on 25 – 27 June 2018 in Frankfurt (Germany).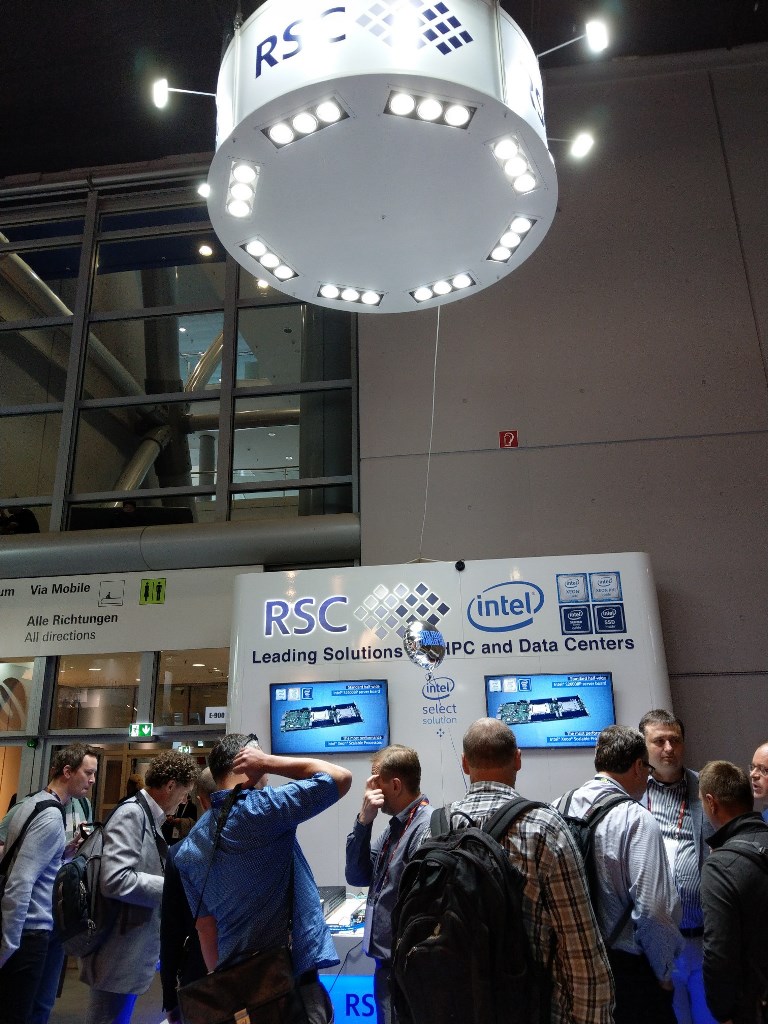 We would like to remind you that the new "Govorun" supercomputer of JINR, presentation of which was held on 27 March 2018 in the Laboratory of Information Technologies of JINR, includes high-density and energy efficient "RSC Tornado solution based on Intel server technologies with direct liquid cooling. In the frames of the ISC'18 exhibition, on 25 June a joint event for the Intel company and the RSC group was held at which this system was discussed. Moreover, description of the joint project of RSC and LIT JINR was presented to the visitors of the exhibition at the information stand of RSC. As a RSC partner, the Joint Institute for Nuclear Research was represented at the exhibition by LIT Scientific Secretary D.V. Podgainy and Senior Research O.I. Streltsova.
According to the outcomes of the exhibition, the presented "RSC Tornado" system for the "Govorun" supercomputer was highly ranked on the 9th position in the latest edition of IO500 List, a new industry benchmark for HPC storage systems. This was announced at the ISC'18 exhibition on 26 June.
Oleg Gorbachov, Corporate Communications Director of the RSC Group, on behalf of the RSC Directorate, congratulated the staff of the Laboratory of Information Technologies JINR on this event and successful presentation of a new supercomputer "Govorun" at such a prestigious exhibition. He highlighted that it is a significant achievement and an important milestone in development of supercomputing not only in JINR, but also in Russia at large. "We hope that it is only the beginning and we are waiting for new victories and the next stages of development of our joint project," he concluded his congratulation.
Press-release on the RSC web-site
A new server node is designed to become the basis of highly efficient data storage systems of various capacities. The competitiveness of the solution is ensured by use of cluster architecture, Intel Xeon Gold processors, liquid cooling system operating in the "hot water" mode, 100 GB network interface and relatively compact design.
The event was mentioned in numerous relevant media including the world leading supercomputer edition HPCwire.com.