100 years of Romania. Celebrating together
Culture, 13 December 2018
On 1 December 2018, Romania celebrated the Great Union Day. On this day, in 1918, Transylvania joined the Romanian Kingdom to become a single state. On 8 December 2018, Dubna citizens gathered in the JINR Cultural Centre "Mir" to celebrate the 100th anniversary of formation of the unitary state of Romania. The celebration organized by Ambassador of Romania in the Russian Federation and the Joint Institute for Nuclear Research was enriched with a performance of the Romanian folklore ensemble "Țara Vrancei" (Focșani, Romania).
Ambassador Extraordinary and Plenipotentiary of Romania in the Russian Federation Vasile Soare started his speech with an introduction to history. The great union of Romanians took place on 1 December 1918 in the ancient city Alba Iulia. It concluded a long-lasting process of formation of a unitary state. This process started in 1859 by uniting of Principalities Valakhia and Moldavia into Principality Romania and was continued after World War I by accession Transylvania and Bessarabia to Romania. "This was made not by one politician, government or a party, but by all nation," Vasile Soare noted. "The last 100 years, Romania has been supporting the principles of international law and neighbourliness as well as advocated strengthening of close ties among the states of the European Union. Moreover, since 1 January 2019, Romania will head the UN Council for the first time."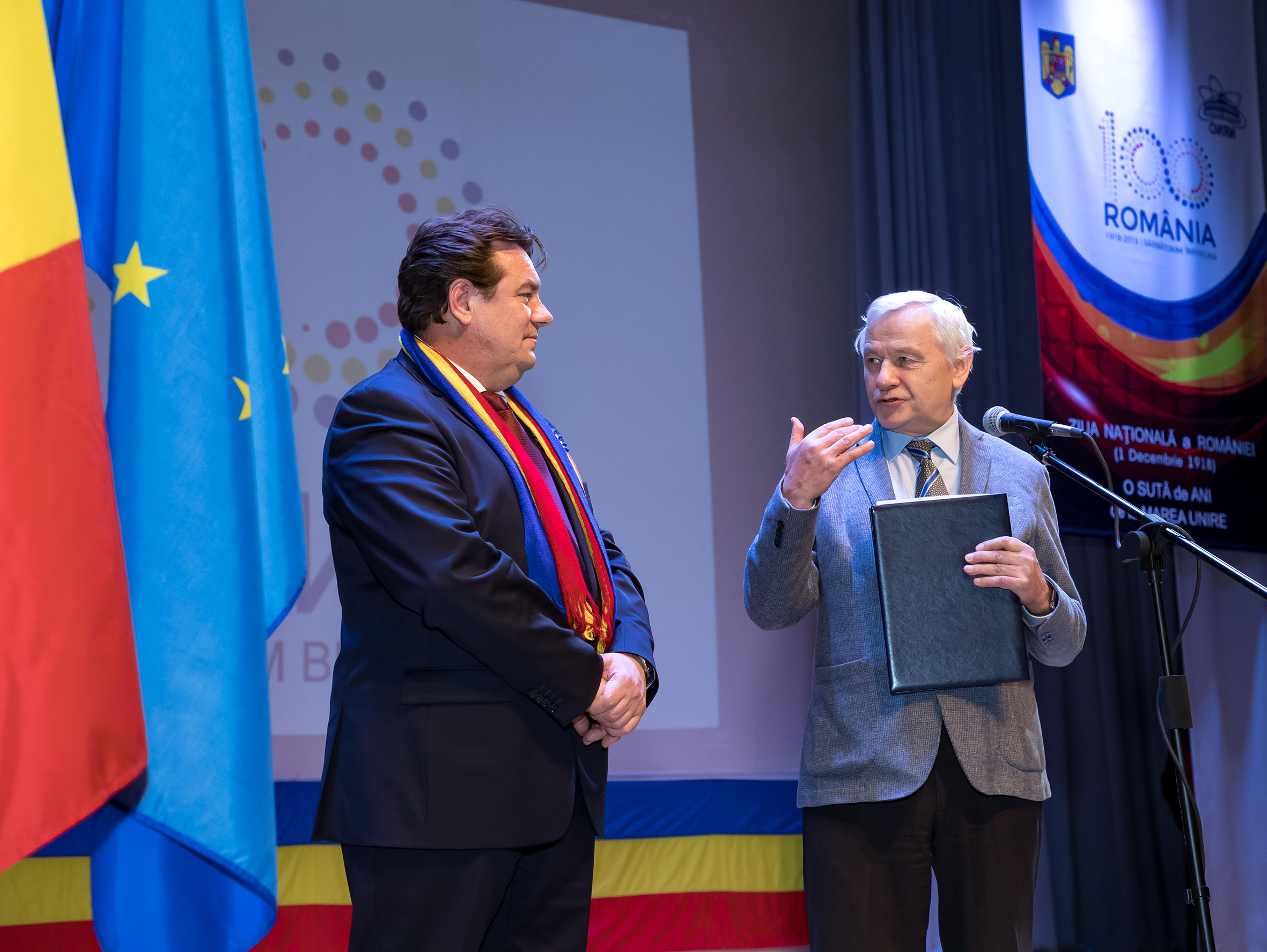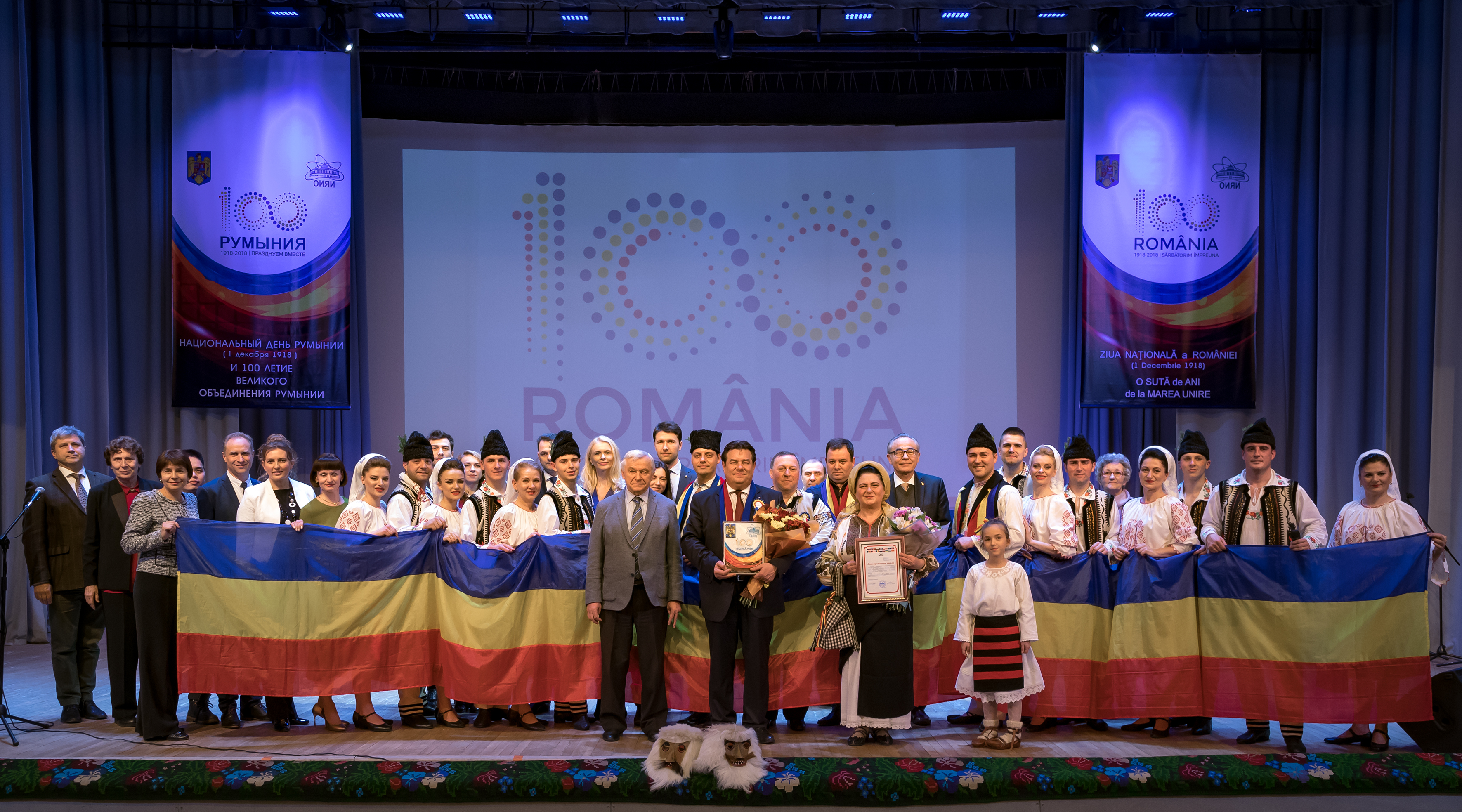 Photos by Elena Puzynina, JINR Scientific Information Department
"On behalf of the international community, I congratulate Romanian people on the holiday," JINR Vice-Director R. Lednický started his speech. "Ambassador Soare made great efforts to make this concert possible."
R. Lednický passed the greetings to Romanian people on behalf of the JINR Directorate and read out a welcoming speech which, in particular, said: "The Embassy of Romania in the Russian Federation plays a big role in extending cooperation of Romania with JINR. We are happy to welcome the Romanian folklore ensemble "Țara Vrancei" in the JINR Cultural Centre "Mir". Romanian artists have visited Dubna several times. In 2010, a week of Romanian cinema was organized with the support of the Embassy. We are happy that Dubna is not the last city after Moscow in the tour of this ensemble. We hope to continue successful development of cultural links and wish people of Romania peace, welfare and prosperity!"
Vasile Soare added to the official speech several heartwarming words: "You already know me, I have been here before and I come to Dubna with joy every time. We cannot but present this outstanding, brilliant concert for you. Dubna gathers intellectual potential, talents. In Dubna, experiments are carried out that are not implemented anywhere else in the world, except in Romania may be. Nowadays, in the suburbs of Bucharest, the world-largest laser is being constructed (the ELI-NP project, the most powerful in the world laser facility – O.T.), and knowledge acquired by our staff members at JINR will help implement it. Romanian scientists have been working in the Joint Institute since its foundation. I greatly respect my compatriots and their colleagues for the fact that they devote their lives to science. And as a gift to all of you, here is a small piece of Romania, the authentic Romanian culture. The ensemble "Țara Vrancei" from my hometown Focșani will show you all Romania: with various costumes, songs and dances. A caravan of Romanian folklore "Romania turns 100!" which began in Dubna, will end on 17 December in Kursk."
Then, a truly bright and glorious concert started. Various folk-songs, starting from Christmas carols, a set of bright costumes, a whirlwind of dances, "musical pauses" between them for a soloist Romanian flute nay, a violin and a trumpet. Parallel to them, videos acquainting the audience with natural and architectural sites of Romania, its folk-crafts, scientific achievements, industry and sports were demonstrated on the screen of the big concert hall of the Cultural Centre "Mir". It was a full dive into the Romanian culture!
Olga Tarantina, JINR Weekly Newspaper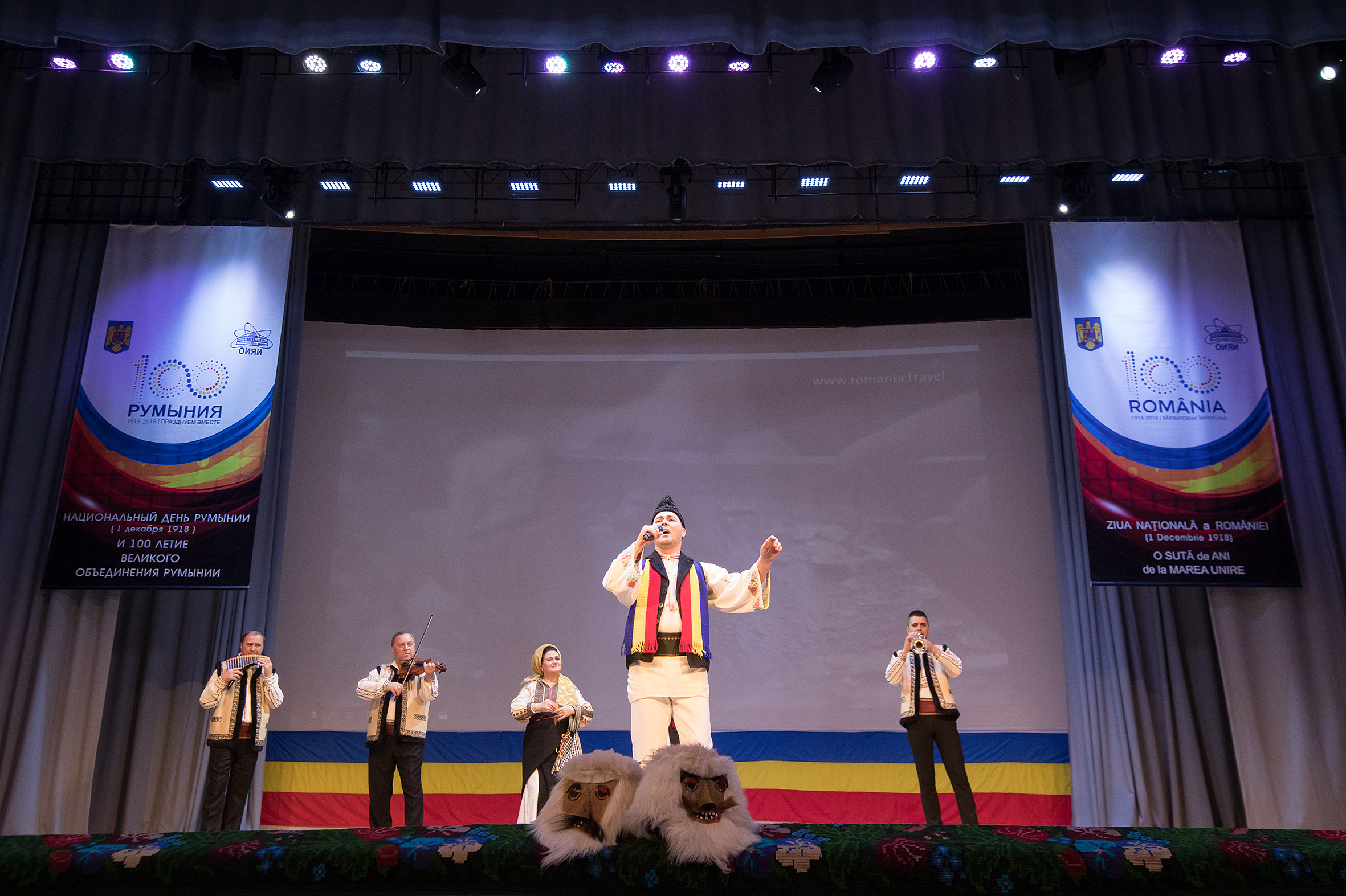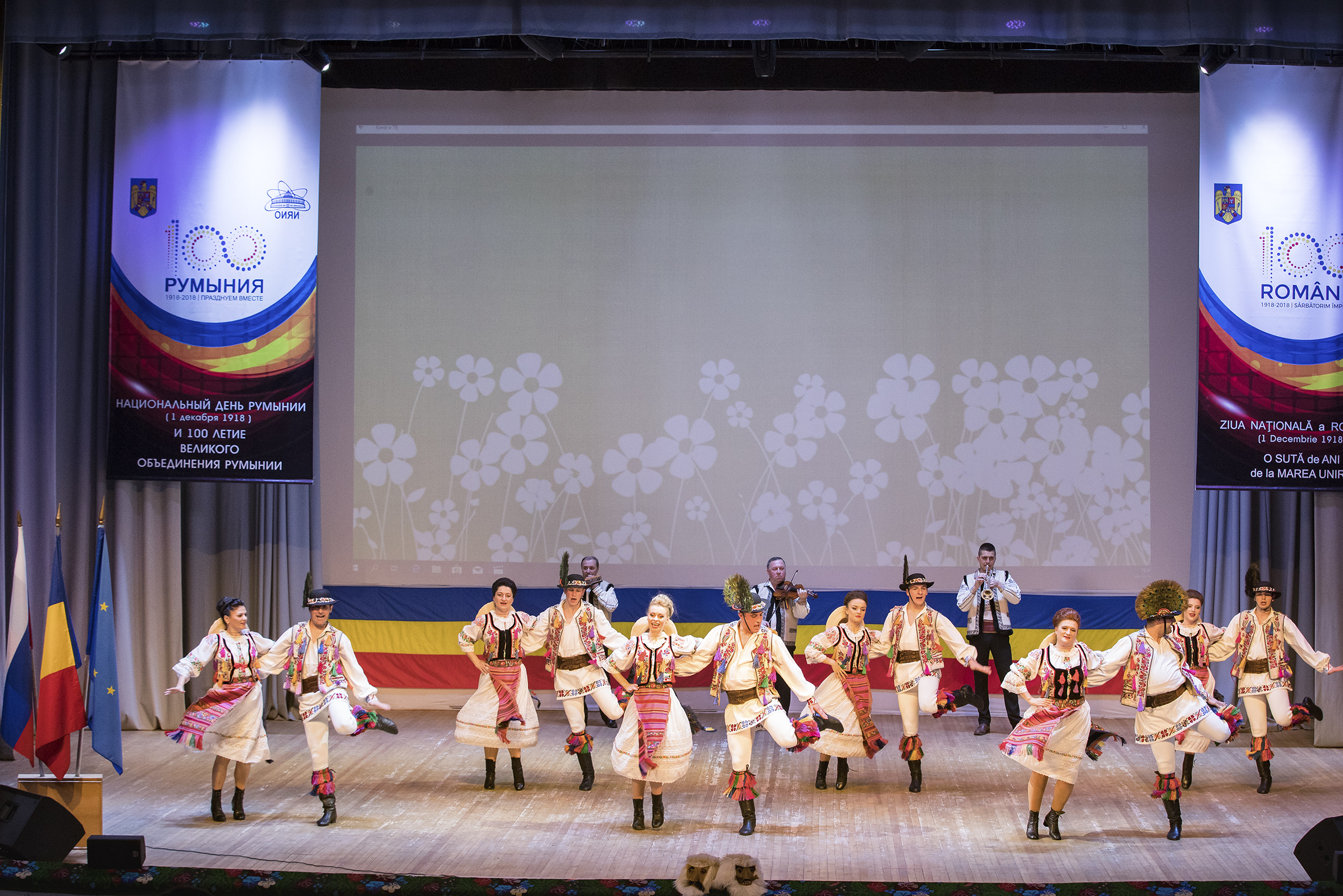 Photos by Igor Lapenko, JINR Scientific Information Department