5th Meeting of BRICS Education Ministers was held in Beijing
Education, 07 July 2017
The 5th Meeting of Ministers of Education of the BRICS countries was held on 5 July 2017 in Beijing, China. The Russian delegation was headed by Deputy Minister of Education and Science of the Russian Federation Lyudmila Ogorodova.
In her welcoming speech, L.M. Ogorodova especially emphasized a role of the Russian initiative – the BRICS Network University, in development of educational cooperation between the BRICS countries. Today, the Network University is the only really acting association of universities of the BRICS countries. L.M. Ogorodova invited Ministers of Education to consider supporting of this ambitious project.
Education Minister of China Chen Baosheng addressed the audience with a detailed report "Strengthening pragmatic cooperation and promotion of joint development", in which he pointed to the achievements of China in the fields of equal access to quality education. He also outlined the main directions of possible cooperation of the BRICS countries in this area.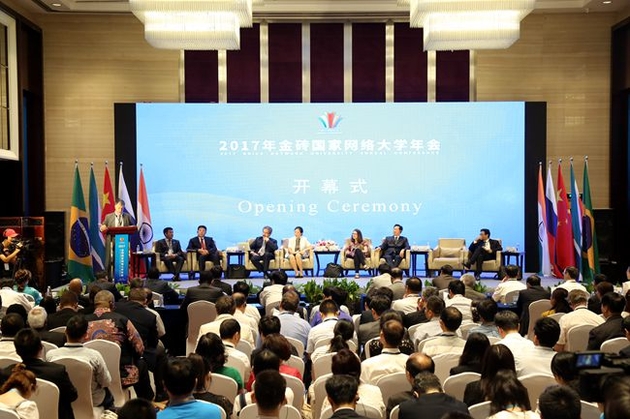 5th Meeting of BRICS Education Ministers was held in Beijing, press service of the Ministry of education and science
While responding, the Ministers of Education of the BRICS countries spoke about the activities of their ministries in terms of organization of mutually beneficial cooperation, unanimously supporting the Russia's initiative on the BRICS Network University.
In her response L.M. Ogorodova informed the participants about joint efforts on development of professional and technical education, the need to develop comparable education statistics, organization of cooperation in the fields of electronic education.
Following the results of the meeting, the Beijing Declaration was signed. The Declaration calls for support of the BRICS Network University and usage of the UN as the primary platform of educational, research and innovative cooperation of universities; it affirms the importance of professional education for the cooperation of the BRICS countries.
The Chinese side made a proposal to organize a conference of researchers in the fields of education, as well as a BRICS summer youth camp. A delegation of South Africa made invitation to the Third conference of the BRICS Network University in Cape Town, as the Russian side drew attention of the meeting to the conference "Global economy and innovation in the BRICS countries" which will be held by the National Research University "Higher School of Economics" in September 2017 in Saint-Petersburg.
At the conclusion of the Ministerial meeting, the leaders of the BRICS countries delegations were received by Vice Premier of the People's Republic of China Liu Yandong.