About transhipment of MPD magnet in Bronka port
News, 29 October 2020
In the Multipurpose Sea Cargo Complex "Bronka", a high-tech operation was carried out to tranship the unique superonducting magnet MPD, which is the key element of the Russian collider NICA. It was reported on to the portal "Morskie vesti Rossii" by the press service of the stevedoring company.
The superconducting solenoid magnet for the MPD detector has been developed by the ASG company in Italy with a design by Russian scientists for the Joint Institute for Nuclear Research. The weight of the unique magnet is 71 tons, while the total weight of the detail of the collider with packaging transhipped in the Bronka port has reached 125 tons. The cargo operation was conducted by the most powerful in the world port crane Liebherr LHM 800 with a capacity of 302 tons. The magnet is the most expensive part of the collider. It took about a month for the cargo to come from Italy. The way from St. Petersburg will take about ten days.
"Transshipment of scientific equipment requires extreme attention to all the details, including the smoothness and uniformity of movements of handling equipment, accuracy of positioning, as well as experience and professionalism of the crane operators. That is why we are proud that Russian scientists entrusted transhipment of such important for Russian science equipment to Bronka. It confirmed once again the status of the port as the centre of project logistics of the North-West of Russia," CEO of the Bronka port Nikolay Negodov said. "The experience accumulated by our specialists in recent years, as well as technical capacities of the port, allow transhipping scientific equipment of any kind. That is why we are going to support Russian scientists in carrying out the most challenging logistic operations."
Photos and video: press office "Bronka Group" JSC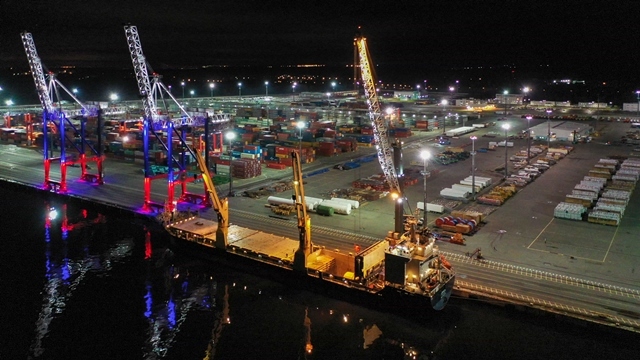 "The uniqueness of the MPD superconducting magnet transhipped in Bronka is that it provides a homogeneous magnet field of 0,5 Tesla with very high accuracy. There are no analogues in the world practice. Changing the collider's operation modes, it is proposed to study transition processes occurring when quark-gluon plazma is formed. Such processes take place in the first nanoseconds after the Big Bang. There is the Large Hadron Collider, it has completely different tasks. Our collider will study the transition processes that took place in the first fractions of a second after the Big Bang," Chief Designer of the NICA project Nikolay Topilin said.
---
NICA (Nuclotron-based Ion Collider fAсility) is a new accelerator complex being constructed at JINR to study properties of dense baryonic matter. Its main task is to study the structure of the Universe about a tenth microsecond after the Big Bang, which occurred about 13 million years ago. The launch of the magnet and full-scale tests are scheduled for mid-2021, the launch of the NICA accelerator is planned for 2022.