Anniversary photo exhibition dedicated to the memory of Yu. A. Tumanov
Culture
From 23 February to 28 March, the anniversary photo exhibition dedicated to the memory of Yu. A. Tumanov will be held in the JINR Cultural Centre "Mir". Yu. A. Tumanov was an outstanding Russian press photographer, a master of scientific photography. According to the figurative expression of Academician Alexei Sissakian (the JINR Director in 2006-2010), the world had seen Dubna through the lens of his camera for many decades.
The exhibition will be available daily from 1:00 to 7:00 PM at the address: 1, Vysotsky Alley. Admission is free. The festive opening of the exhibition will take place on 23 February, at 3:00 PM.
Jubilee photo exhibition in memory of Yuri Tumanov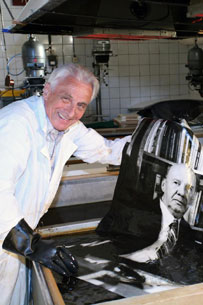 For more than 50 years of his career at the Institute, Yuri Tumanov captured the entire history of the international centre and the city of Dubna in his photos. He was the first in the city who became a professional videographer and shot his first reports. Thus, he turned into a kind of forerunner of city television.
Yuri Tumanov was not a scientist by profession but he worked during the "golden age" of physics, fell in love with this science and poeticised it. He created a portrait gallery of scientists, engineers, workers, and specialists engaged in fundamental research of the microcosm secrets. The press photographer organized and conducted photoshoots of the main results of scientific, methodological, and applied research, as well as new experimental physical facilities. Yuri Alexandrovich participated in the publication of books about world famous physicists: N. N. Bogoliubov, D. I. Blokhintsev, M. G. Meshcheryakov, B. M. Pontecorvo, G. N. Flerov, and others.
Yuri Tumanov was an active populariser of international scientific and technical cooperation. His works were displayed again and again at specialised photo exhibitions in Dubna, Moscow, Berlin, Warsaw, Geneva, Sofia, and in many scientific centres of the JINR Member States.
Yuri Alexandrovich was a member of the National Union of Journalists and a correspondent of the ITAR-TASS photo chronicle. He worked as a government reporter since 1961. One of his first tasks in this status was to take photos of Yuri Gagarin at a meeting in Vnukovo. He made many efforts to train young photographers, support amateur photographers. To immortalise the memory of the photographer, the memorial plaque was installed on the facade of the building where he worked.
Entrance to the events of the JINR Cultural Centre "Mir" is possible upon the presentation of a QR code.