At the meeting with BMBF in Minobrnauki
News, 14 November 2019
On 12 November 2019, a meeting with a delegation from the Federal Ministry of Education and Research (BMBF) of the FRG took place in the Ministry of Science and Higher Education of the Russian Federation. The delegation was represented by Volkmar Dietz, Director of the Large Facilities and Basic Research Department, Jürgen Kroseberg, an officer of the Department "Universe and matter", Thomas Gawlowski, an officer of the division "Cooperation with Eastern Partnership Countries, Russia and Asia", Maximilian Jedemann, an officer of the Division "Large International Research Facilities".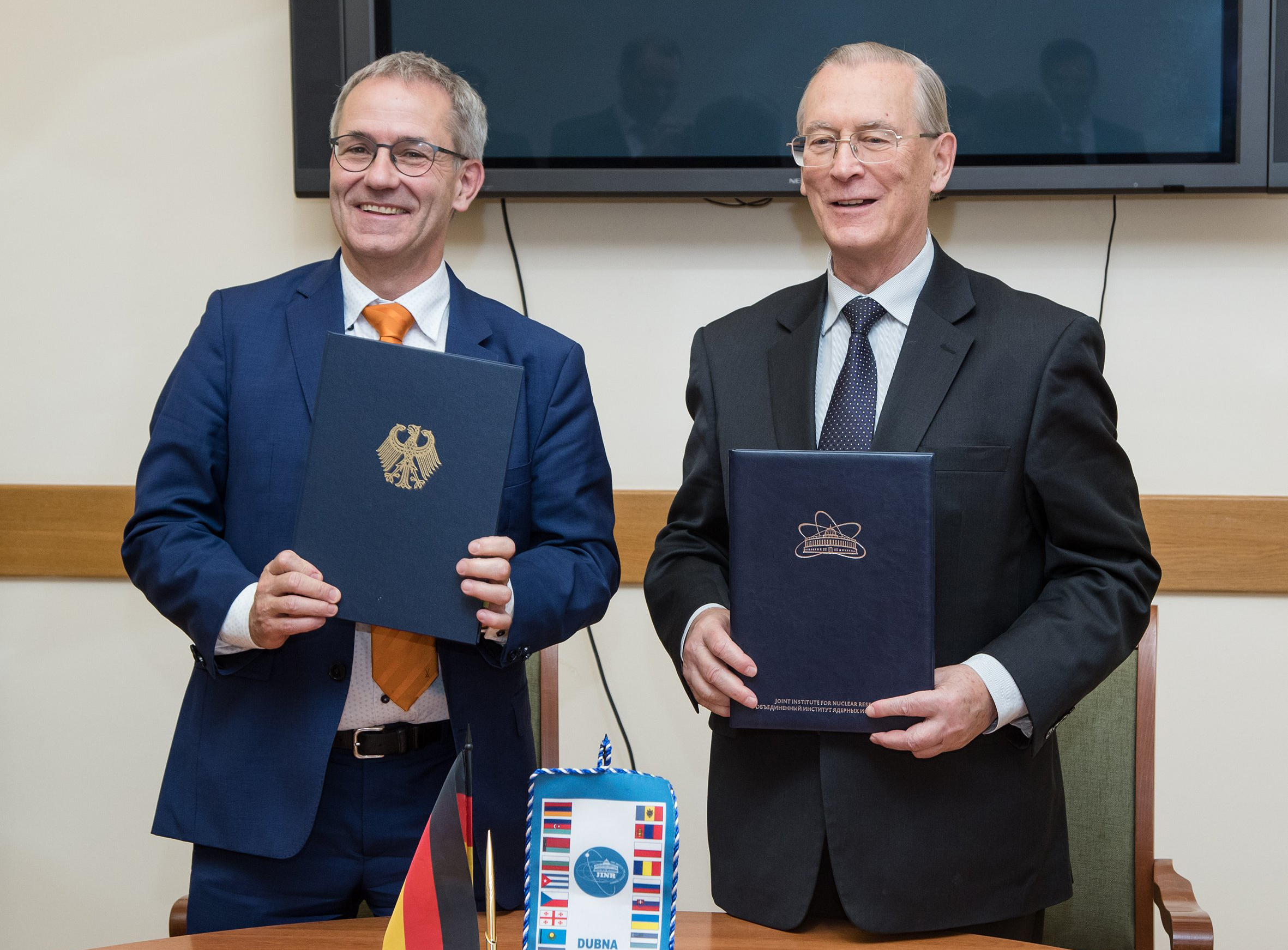 The meeting was attended by representatives of the departments of Minobrnauki Victor Mikhailovich Smirnov, Deputy Director of the International Cooperation Department, Andrey Vitalievich Anikeev, Deputy Director of the Department of State Scientific and Technical Policy. JINR Director Academician Victor Anatolievich Matveev, Deputy Head of the International Cooperation Department Anna Anatolievna Kotova represented the Joint Institute for Nuclear Research at the meeting.
During the discussion, the participants stressed the need in the further development of the cooperation between Russia and Germany and, in particular, with the Joint Institute for Nuclear Research. The German party highlighted its interest in participation in the mega-science projects NICA and PIC implemented in the Russian territory, as well as paid attention to scientific and educational activities in the fields of training the scientific staff. On 10 December 2018, the Roadmap of Russia-Germany cooperation for the next twenty years in the fields of education, science, research and innovations was signed in Moscow. In this regard, the intention was expressed to implement the actions specified in the plan and to strengthen cooperation between scientific centres and organizations.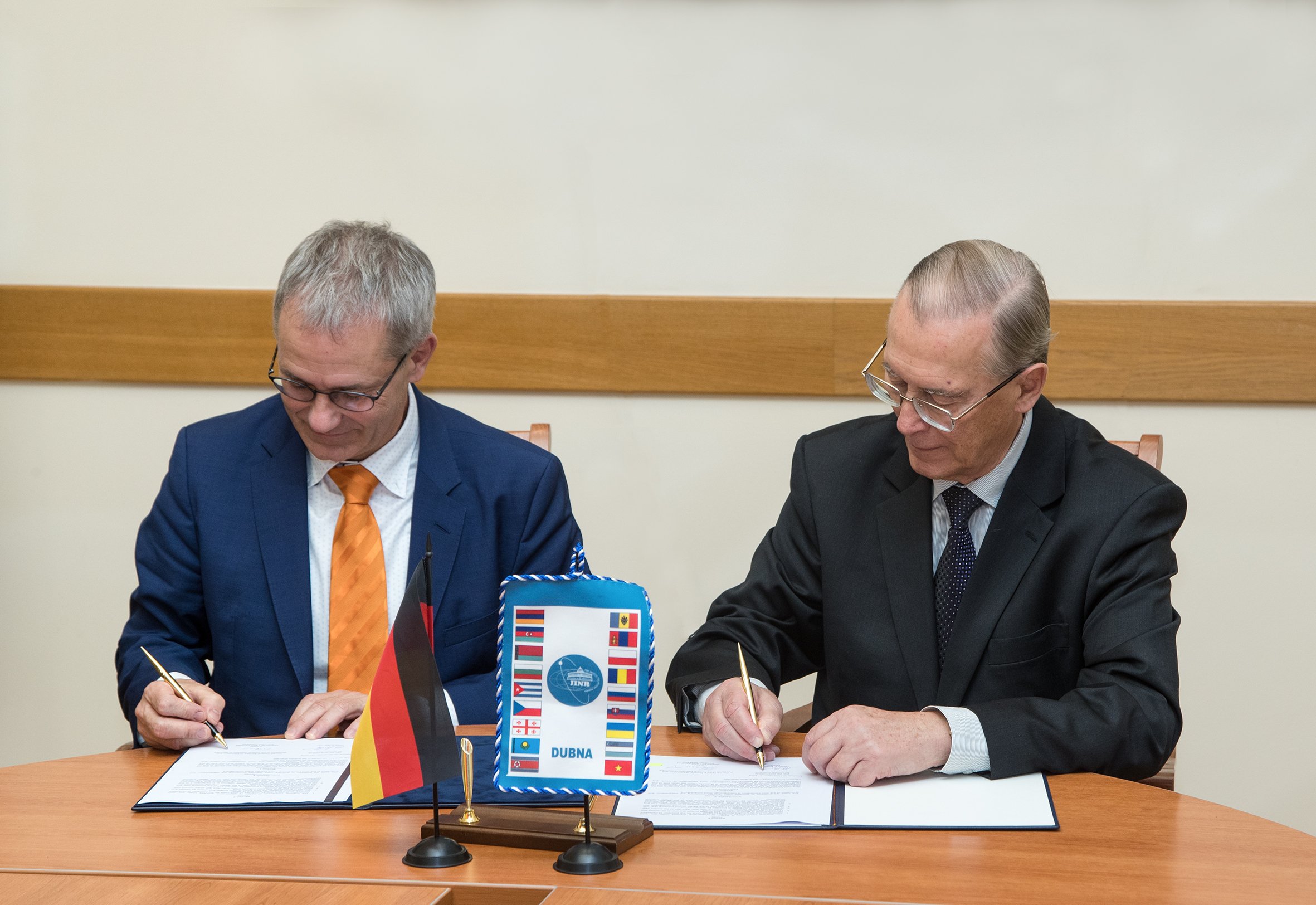 At the end of the discussion, Victor Anatolievich Matveev and Volkmar Dietz signed a joint declaration of intent. The document emphasizes successful 26-year cooperation between the BMBF and JINR. During this time, German scientists took part in several projects implemented jointly in the Institute's laboratories and German scientific centres, and these traditions should be maintained and strengthened.
"Cooperation with Dubna is long-term and successful," Volkmar Dietz said in his comments to the JINR Weekly Newspaper. "Scientists highly appreciate this cooperation that is very fruitful. We would like to continue the cooperation of scientists. And I am really glad that we managed to formalize it today to continue our work."
"Signing of today's document is a crucially important step that determines the strategy of our further relations with one of the most significant strategic partners – Germany – with which we have already many years of fruitful cooperation," V. A. Matveev noted. "Signing of the Roadmap between Germany and Russia opens to us opportunities for the cooperation development, and I believe that the next step will be the full associate membership of Germany in the Joint Institute. This provides the basis for the very fruitful joint participation in the NICA and FAIR international projects. So, it is a big day in the history of our Institute and our cooperation."
Galina Myalkovskaya, JINR Weekly Newspaper
photos by Igor Lapenko