AYSS volunteers: we made a good team
News, 13 May 2020
The coronavirus epidemic caught everyone unawares, although it is unclear whether it is possible to be prepared for such a thing. One of the first measures taken by JINR Directorate was the self-isolation of employees over 65 years old. Immediately after that, the JINR Council of the Association of Young Scientists and Specialists offered assistance with the delivery of food and medicines to people who are in self-isolation or quarantine. It started on March 26, just a few days after most of the Institute's employees switched to remote work.
During the month, the AYSS volunteers delivered food and medicines 59 times, 17 employees regularly use the services of volunteers, three of them are in quarantine. Almost immediately, we formed a friendly team in which each volunteer can do his part. There are dispatchers who communicate with those who seek help by phone or email. When the dispatcher has accepted the order, he passes it to a free volunteer. It is worth noting that the delivery speed can be the envy of any commercial service. All our volunteers are equipped with personal protective equipment, and their hands are thoroughly cleaned with antiseptic after each store and delivery. Delivery is always contactless: a volunteer buys food or medicine according to the list, brings them to the specified address and leaves them at the door to the apartment, and only then calls and informs about the delivery. Payment is also made contactless, via a mobile bank after receiving the order according to the receipt.
Here is what leading researcher of BLTP JINR, Alexander Leonidovich Kuzemsky writes:
"Life in isolation is difficult for several reasons. First of all, it is anxiety for your family. There is a pressure of news and forecasts. We have to rebuild the regime of work and life. Fortunately, I'm working on a book and I need mostly a computer and the Internet. Without the help of volunteers, it would be impossible to organize household, especially for me as a person with a large number of severe chronic diseases: this includes purchase of medicines and food. The help of volunteers is also invaluable on the moral side, you do not stay alone. Everything is very well organized. Heartfelt greetings and best wishes."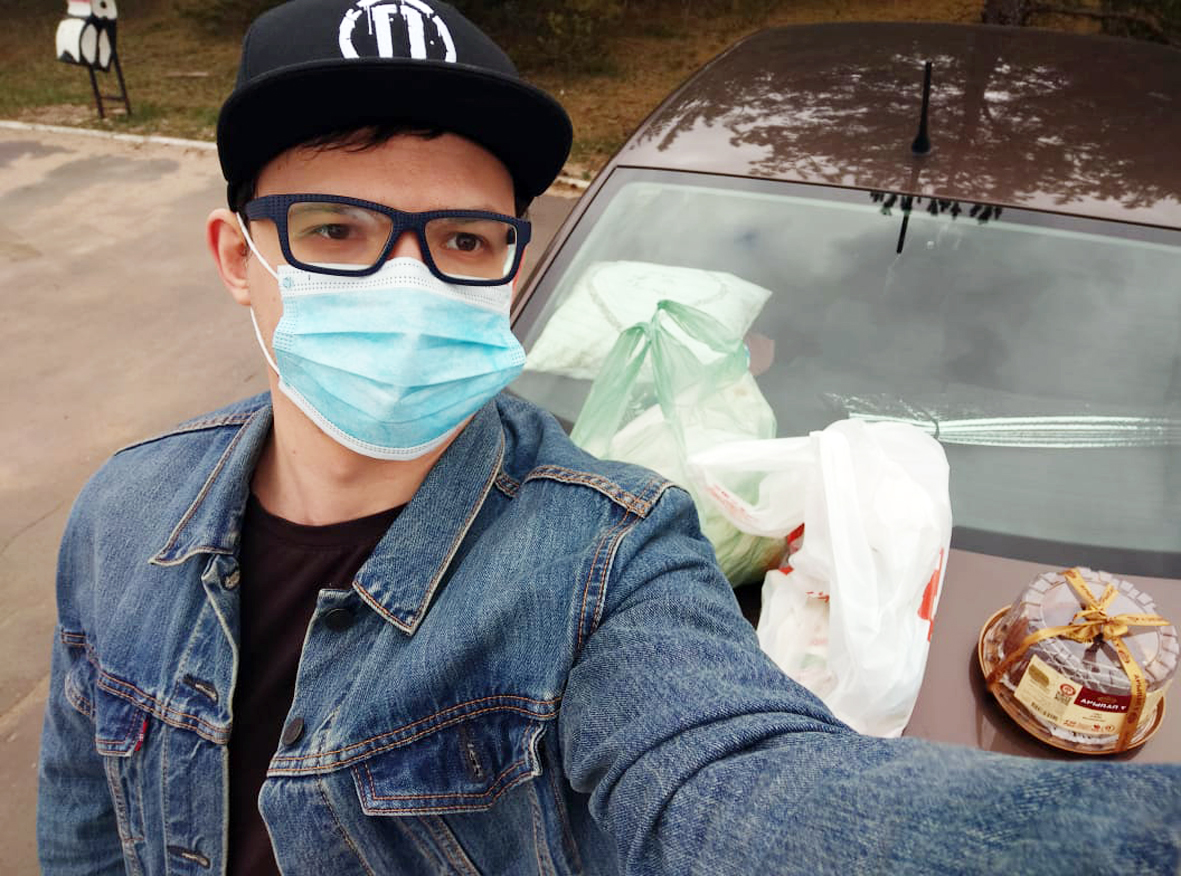 Some employees have their own favorites. Senior editor of the JINR Publishing Department Elena Nikolaevna Vodovatova is very grateful to our volunteer Artem Korobitsyn:
"I cannot thank Artem enough for his help. I am at risk for type 2 diabetes, overweight, vascular diseases, and autoimmune diseases. Therefore, I have been at home since 18 March (I went out only twice in March, and in April I did not go out at all). Most of food and medicines are delivered by the volunteers. When I tell my friends about this, I joke that Artem's wife is very lucky because he buys everything strictly according to the list, and if there are questions about volume or brand, he calls me back directly from the store. He does such a great job, it's true, no exaggeration. I make order for 10-12 days at a time, therefore bags usually are very heavy. But there are no complaints, everything is brought and raised to the third floor (there is no elevator in my house). He puts it at my door and rings the bell. Then he leaves. I pick bags up in a few minutes. That is, completely contactless delivery; I have never even seen him in person.
Since I have no relatives who could buy me food and medicines, and my friends are women of my age, the assistance of the volunteers is very much appreciated and necessary. Otherwise I would have picked up the virus in some store long ago. And so, I'm holding on and waiting for a vaccine or a cure for this infection. So, I'm very thankful that young scientists have shown this volunteering initiative: they spend their time and gasoline on us, despite being busy. I thought it was an initiative of the JINR Directorate, but this was a grass-roots initiative and that is especially nice. After all, civil society is emerging in our country."
Of course, not only Artem deserves to be thanked, but also the other volunteers. All of these people are ready to help at any time: Aidos Isadykov, Anna Bogomolova, Inna Kolesnikova, Artem Korobitsyn, Daniyar Djanseitov, Dmitry Pugachev, Egor Kosyachkin, Alexey Krasnov, Alexey Kurilkin, Alexandra Frisen and, of course, AYSS Chairman Nikolay Voitishin.
We are happy to assist anyone who asks for help. If you need help, please do not hesitate to email us help@jinr.ru.
Stay healthy!
AYSS volunteers