On 20 April 2018, the JINR Univesral Public Library invites to the 7th Biblionight. The topic of this year: «Let's all play!». 2018 is proclaimed the year of theatre, but the art of acting is only one meaning of the word "play". We decided to remember other kinds of plays and present them at our Biblionight.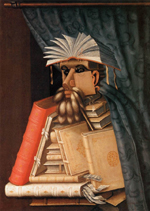 The painting by Guseppe Archimboldo "Librarian" became the "face" of the Biblionight-2018 . It is a playing picture full of books. Everything we do in the library is dedicated, first of all, to reading and books.
«Biblionight» is the annual festival of reading held in Russia and some CIS states. On this night, libraries, museums, galleries, bookstores, art spaces and clubs open their doors to visitors. The first event was initiated in 2012 by the library community and the Association of Culture Managers (ACM).
Programme of the Biblionight-2018 in the JINR Universal Public Library
5:00 PM – Bibliotwilight for children:
5:00 PM – Plays staged by the Theatre "Kvadrat" (lit. "Square"). "Mukha-Tsokotukha" (roughly, "The Clattering Fly") and "Tarakanishche" (lit.: "Giant Roach") by K.I. Chukovsky;
5:45 PM – 7:30 PM – Theatrical workshops, games and quests prepared by Blokhinka volunteers.
6:00 PM — Biblionight for adults:
6:00 PM – Master class by Oksana Pliskovskaya;
6:15 PM – Lecture from the "Prosvetitel" ("Educator") award: This year, Tim Skorenko, the author of the book "Изобретено в России. История русской изобретательской мысли от Петра I до Николая II" ("Invented in Russia") will deliver his lecture.
8:00 PM – The programme "Let's have a talk about A.P. Chekhov". Stories by Chekhov will be read out by actors of the theatre "Ecopolis" Yuri Zhuravlev, Ksenia Morozova, Anna Ulyanova, and Elena Khoptyar;
8:00 PM – «Taburetka» (lit. "Chair") headed by Tatiana Romanova;
8:30 PM – Quize prepared by the Blokhinka Literature Club;
8:30 PM – Start of the Mafia game;
8:30 PM – Start of the quest for adults;
9:00 PM – Demonstartion of the game of the "Debates" club;
10:00 PM – Game by the Blokhinka English Club;
10:30 PM – the Games Club "Let's all play!";
Photodrying, art exhibition by Olga "Numb" and other entertainments!

More details…

Lecture from the "Prosvetitel" award

This year, the lecture from the "Prosvetitel" award will be delivered by Tim Skorenko, the author of the book "Изобретено в России. История русской изобретательской мысли от Петра I до Николая II" ("Invented in Russia").
The topic of the lecture is «Modern kinetic art». Tim Skorenko is a writer, a poet, a performer and a journalist. He is a member of the Russian magazine staff of "Popular mechanics". Tim graduated from the Belarusian National Technical University. (Wiki)
"The lecture will outline trends in modern kinetic art and its various directions; different types of kinetics will be considered: mechanical and electronic sculptures. The lecture will be delivered in the form of a dialogue with the audience." (Web site of Tim Skorenko)

The beginning of the lecture is set on – 6:15 PM.

Chair

One more tradition of Biblionights is the Chair competition created by T.I. Romanova. Let's remember our childhood: climb up a chair and read out your favourite poems!

Photodrying

Bring your photos of favourite places in Dubna, enjoy photos by other citizens and take those that you like the most.

As usual, thematic exhibitions, literature quizes, special souvenirs and many other fascinating things are waiting for you!

Supported by:

JINR, AYSS JINR, «Prosvetitel» (Educator) Award, Theatre "Kvadrat", DiT-a Photo, Entertainment Club for Children "Panda", the "Ecopolis" Theatre

Admission is free

Venue: JINR Universal Public Library: 13, Blokhintsev street

Phone: +7 (496) 216-64-37

Check out the information on the events in:

Facebook: http://www.facebook.com/lib.jinr, https://www.facebook.com/events/2019555124949653/

VK: http://vk.com/lib.jinr, http://vk.com/biblionoch.dubna