City awards to cultural workers
News, 01 April 2019
Annually, on 25 March, a professional holiday of cultural workers is celebrated in Russia, a holiday of creative professions and artists as well as protectors and popularizers of cultural heritage. On this occasion, a festive ceremony of awarding honorary diplomas of the Head of the Dubna city district to the laureates of the city competition "Muse-2019" was held in the Municipal Cultural Centre "Oktyabr" on 30 March 2019.
This year, Head of the Dubna city district M. N. Danilov awarded honorary diplomas in the fields of culture and arts to five staff members of the JINR Cultural Centre "Mir": D. N. Minaeva (nomination "Service to profession"), L. N. Orelovich, N. V. Nikolaeva, O. A. Suvorova, L. A. Blagova (nomination "For long-term and fruitful work"). Such prestigious acknowledge of activities of the main cultural centre in the Institute's part of the city became a big and serious event for its staff members. Director of the Cultural Centre "Mir" T. V. Romanenkova comments on this event: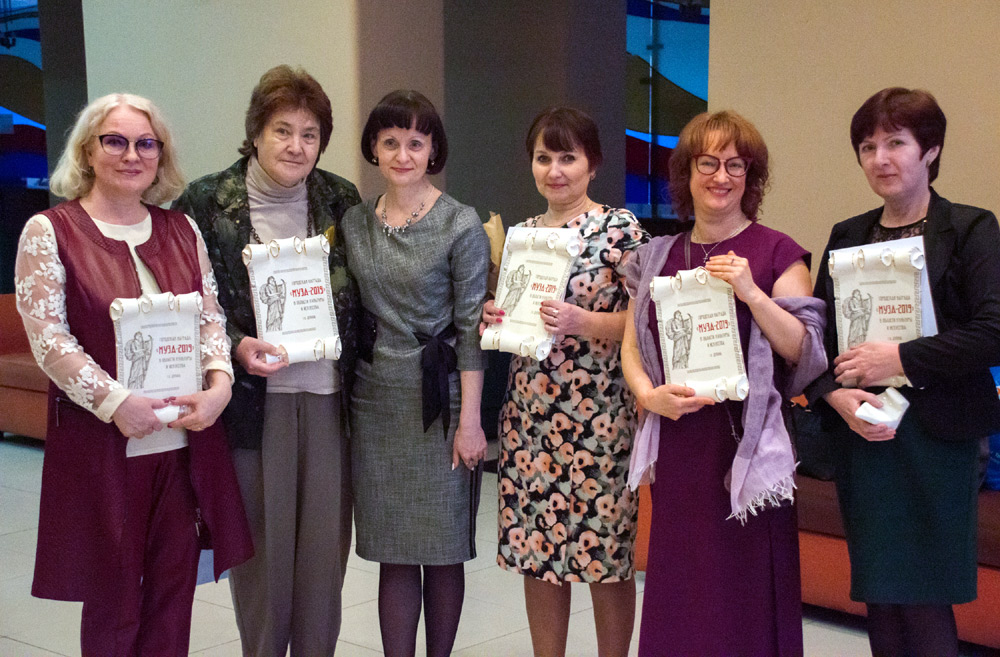 "This year, the contribution made by the Cultural Centre "Mir" to the cultural life of the city was noted for the first time in several years. There are no doubts that the staff of the Cultural Centre awarded with honorary diplomas made a valuable contribution to the formation of the cultural environment in our magnificent city by their longstanding fruitful work. Thus, Diana N. Minaeva, Head of the "Belcanto" choir, Honorary Cultural Worker of the Russian Federation, started her work in the Centre in 1967! Deputy Director of the Centre Luibov N. Orelovich has been working in the Centre since 1981. Luibov A. Blagova came to work in the Centre in 1988, Olga A. Suvorova – in 2000, Natalia V. Nikolaeva – in 2001. I heartily congratulate my colleagues on the deserved evaluation of their work! I would also like to congratulate our colleague, Director of the Blokhintsev Universal Public Library of JINR Irina E. Leonovich who was awarded in the nomination "Service to profession". The contribution of the Joint Institute for Nuclear Research represented by its Director RAS Academician Victor A. Matveev was also highlighted in the nomination "Patron of the year".
Summing up the results of the awarding ceremony of Dubna cultural workers, I would like to note that the Dubna administration presented a glorious holiday thus highlighting the importance of their distinguished work. Head of the city kept on repeating sincere congratulations on the stage to laureates of particular nominations able, according to him, to gift people with light and decorate their lives."
Luibov Orelovich,
Photo by Oleg Orelovich