Discussing mega-science research at Spring School of Dubna University
News, 22 April 2021
On 24 – 25 April 2021, the State University "Dubna" will hold the Spring Online School "Scientific research in mega-science projects" with wide participation of leading JINR specialists.
The School aims to introduce a new generation of researchers to the tasks that are now at the forefront of scientific knowledge, unique research methods from fundamental theory to innovative engineering solutions, prospects for the scientific career in mega-science projects. The School may be of special interest for Bachelor students and graduates who face the choice of a future master's course.
To make the School convenient, there will be three sections: physics of quark-gluon matter, intelligent design of electronics for mega-science facilities, physics of the atomic nucleus and elementary particles in the laboratories of the Joint Institute for Nuclear Research.
The School will be held online on Google Meet via a single link.
Registration for the School is available here.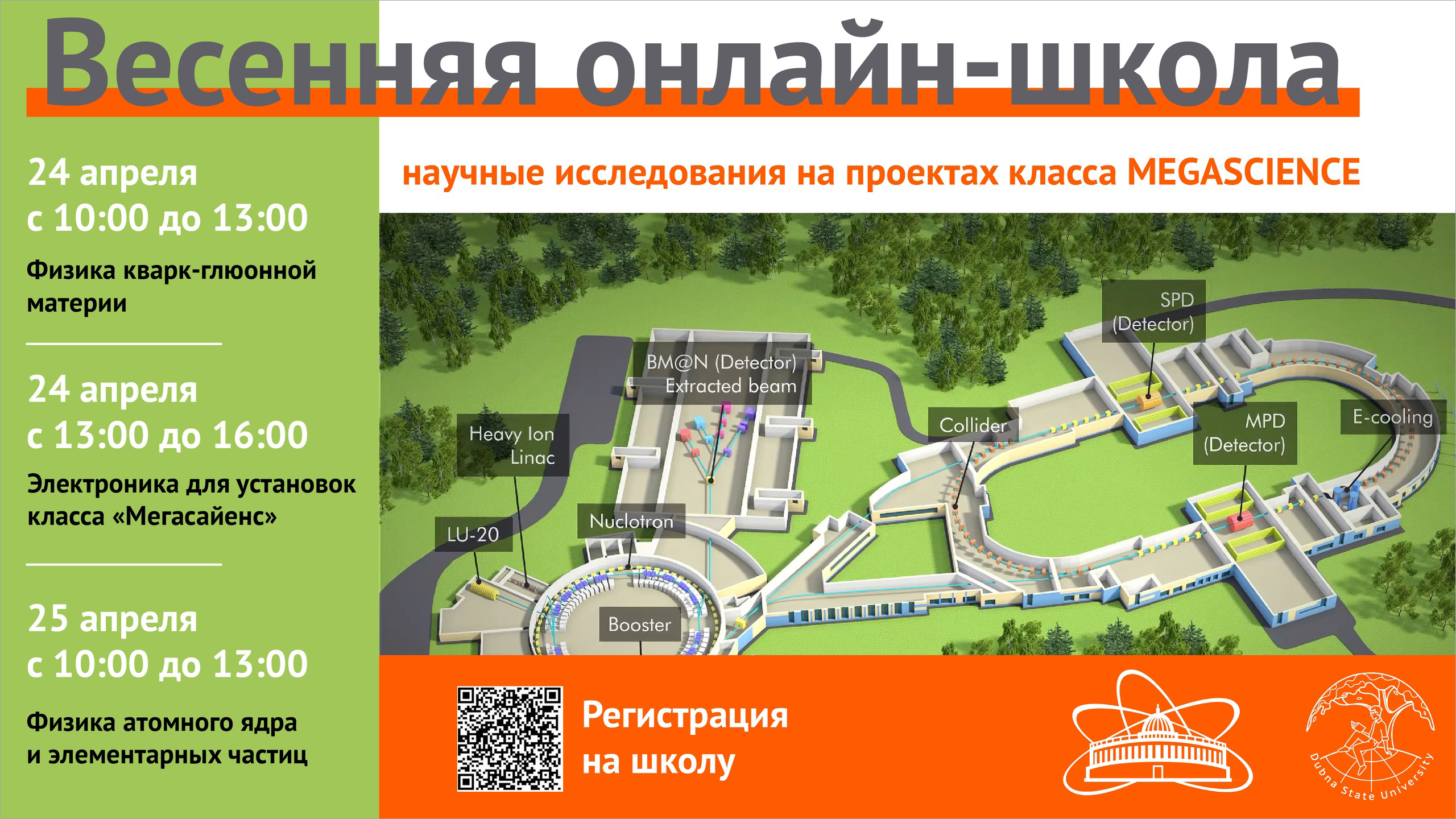 Programme of the School:
24 April, Saturday

Section "Physics of quark-gluon matter"

– A. V. Sadofiev "The simplest form of nuclear matter"
– L. V. Bravina "Search for a new form of matter, quark-gluon plasma in nucleus-nucleus collisions: anisotropic flux, the birth of strange and charmed particles"
– S. V. Shmatov "Physics at the Large Hadron Collider"
– E. E. Kolomeitsev "What don't I know"


25 April, Sunday

Section "Intelligent design of electronics for mega-science facilities"

– D. N. Bogoslovsky "Programmed logic integrated circuits in modern electronics"
– O. V. Strekalovsky "Meeting the future with technologies of the National Instruments company"
– N. V. Gorbunov "From students to projects"
– Yu. V. Macknev, O. A. Andreev "Synthesis of intelligent devices and systems"


Section «Physics of the atomic nucleus and elementary particles in the laboratories of the Joint Institute for Nuclear Research»

– A. V. Karpov "Review of studies of the Laboratory of Nuclear Reactions"
– E. V. Lychagin "Review of studies of the Laboratory of Neutron Physics"
– A. O. Sidorin "The NICA project"
– A. A. Baldin "Methodology of scientific research. Fundamental and applied physics at the NICA accelerator complex"