First meeting of Working Group on Strategic Issues
News, 23 July 2021
On 22 July 2021, the first meeting of the Working Group on Strategic Issues (WGSI) was held in a mixed format. The group was established by the decision of the Committee of Plenipotentiaries of JINR in March 2021.
Experts and specialists from 15 JINR Member States appointed to its membership by decisions of Plenipotentiary Representatives, as well as Plenipotentiaries of the Czech Republic, Cuba, Georgia, Poland, Slovakia, and Vietnam took part in the event. Moreover, the President of the Vietnam Atomic Energy Institute (VinAtom) attended the meeting.
The JINR party was represented by JINR Director Academician Grigory Trubnikov, Scientific Leader Academician Victor Matveev, members of the WGSI Secretariat headed by JINR Vice-Director Latchesar Kostov created for the organisational support of the WGSI.
Opening the event, JINR Director Grigory Trubnikov noted that the WGSI meeting is crucially important for the preparations for the upcoming November session of the Committee of Plenipotentiaries.
JINR Vice-Director Latchesar Kostov in his welcoming speech spoke about the WGSI organisational basics and expressed confidence that this working group would be a reliable tool contributing to closer participation of the Member States in the JINR activities, increase the spread of information and the degree of elaboration of issues for discussion by Plenipotentiaries at CP meetings.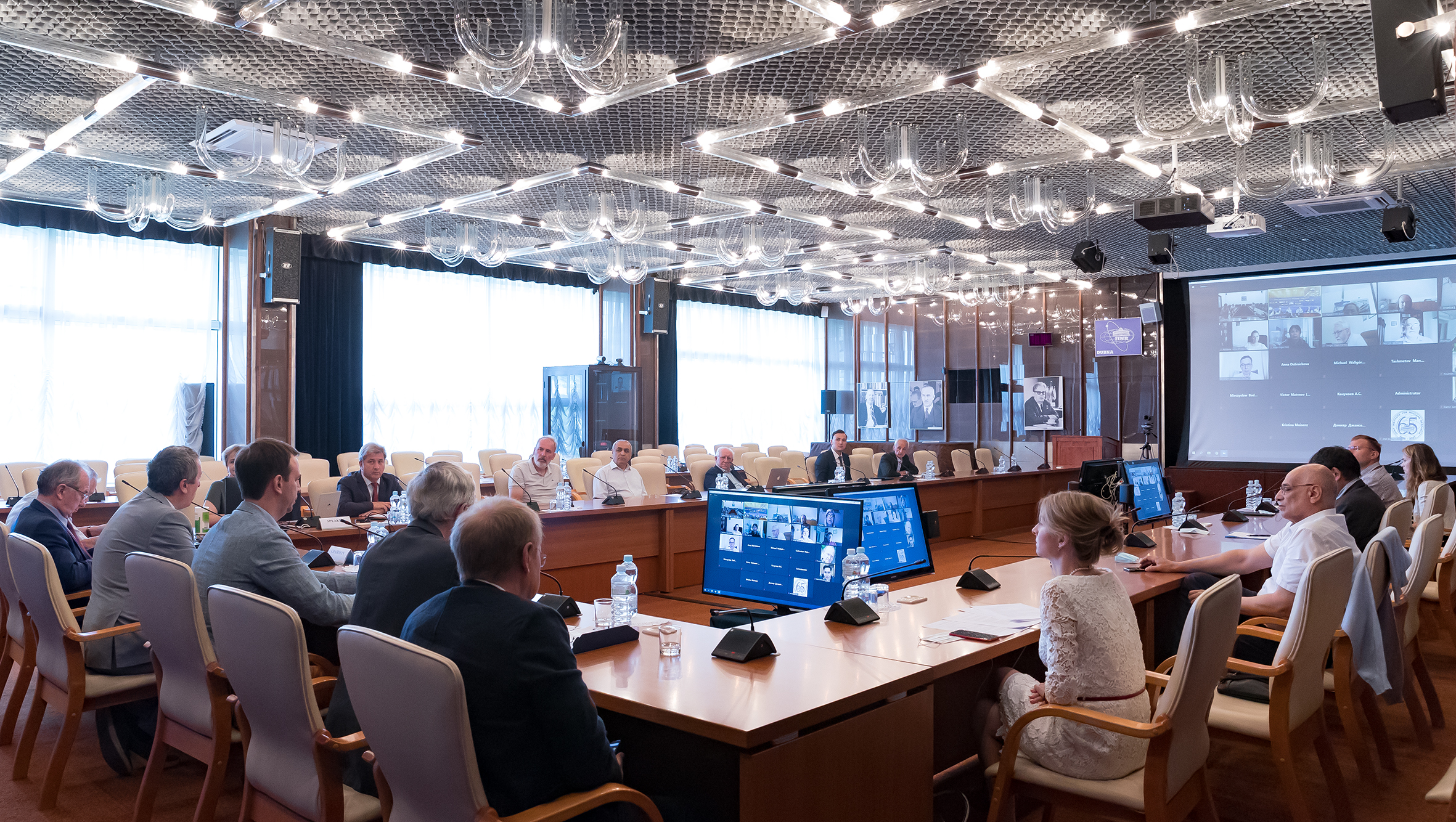 After hearing the proposal of Lchezar Kostov, participants of the meeting decided to elect the representative of the Czech Republic Ivan Štekl as the WGSI Chairman.
Continuing the meeting, JINR Director Grigory Trubnikov presented a brief overview of major results and events of the Institute's life over several months since the new JINR Directorate took up the duties. The JINR Director in his report shared his view of the WGSI tasks and its operation for the near future.
Participants of the event considered the draft of regulations on associate membership in JINR presented by JINR Special Representative to Russian and International Organizations Boris Sharkov. Adviser to the JINR Directorate Marina Tumanova presented the draft regulations on the JINR flag. At the end of the discussion, the WGSI members made the proposal on submitting the drafts of these documents for discussion by Plenipotentiaries at the upcoming November CP session in Sofia with a view of the comments made.
During the meeting, the WGSI members paid attention to the coordination of principles and rules of their further work. There were proposals put forward on the issues for the agenda of future WGSI meetings. It is assumed that the principles and rules of the WGSI operation will be presented to the CP members at the upcoming session for approval.
A general discussion and signing of the final protocol concluded the meeting. Taking into account the comments made by the WGSI members, the recommended drafts of the documents will be soon available on the JINR website.
Photos by Elena Puzynina