JINR and AAEA held fourth coordination meeting
News, 16 March 2023
On 9 March 2023, the 4th coordination meeting of JINR and the Arab Atomic Energy Agency (AAEA) took place in the format of a videoconference. The discussion focused on the launch of a competitive long-term JINR for AAEA Fellowship Programme, as well as other cooperation formats with the scientific community of the Member States of this organization. Special Representative of the JINR Director for Cooperation with International and Russian Scientific Organizations Boris Sharkov represented JINR. AAEA General Director Salem Hamdi represented the Agency.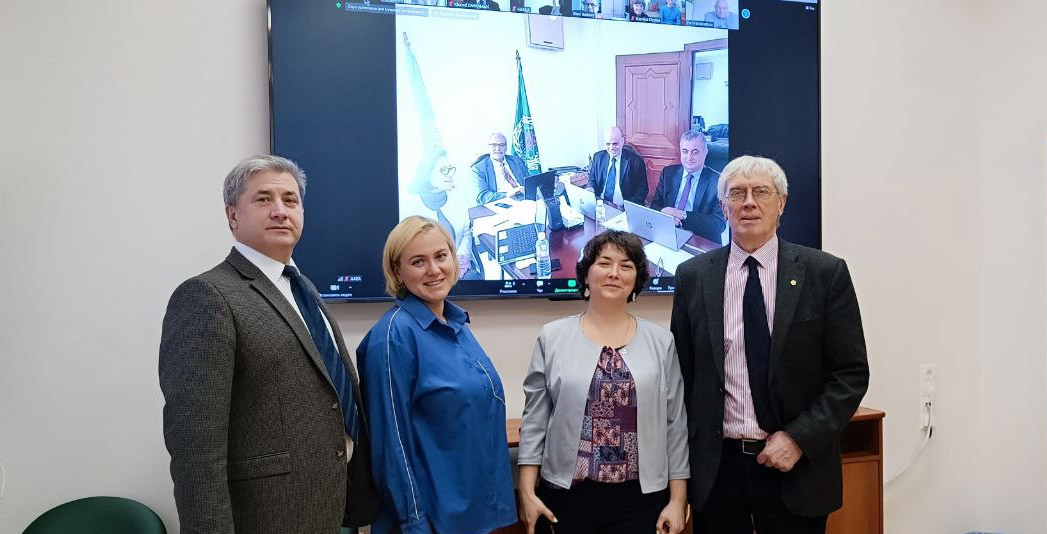 In her speech, Deputy Scientific Secretary Otilia Culicov presented in detail the specialised JINR for AAEA Fellowship Programme. The parties agreed on the terms of submission and consideration of applications, conditions, and other organizational issues related to the implementation of the Programme. The Agency's leaders announced the intention to start the implementation of the Programme as soon as possible. Thanks to it, young scientists from the AAEA Member States have an opportunity to take part in international research and gain access to the unique scientific infrastructure presented at JINR.
One of the most significant topics for discussion initiated by the AAEA leadership was the further steps towards preparation for the opening of an Information Centre at the headquarters of the Arab Agency located in Tunis. Head of the Department for Elaboration and Development of Educational Programmes of the University Centre Yuri Panebrattsev presented the capabilities of the virtual laboratory and related educational programmes. They are expected to become one of the areas of cooperation on personnel training and an important part of the activities of the planned Information Centre. Representatives of the Agency stressed that they consider the possibility of opening the JINR Information Centre at their headquarters as one of the most important tools for promoting scientific research and providing information about scientific achievements among its Member States. The AAEA representatives expressed confidence that the organization of the JINR Information Centre will become an impetus for the development of JINR cooperation with the countries of the Middle East region and North Africa in matters of knowledge transfer and personnel training. In the future, the AAEA may become the first international organization on the basis of which the JINR Information Centre will open.
The parties agreed to jointly develop a roadmap, under which the steps to implement the outlined plans will be taken. At the end of the meeting, Salem Hamdi invited the JINR delegation to visit the AAEA headquarters in May and take part in the meeting of the Governing Council and informed about the plans for the participation of the AAEA delegate at the next meeting of the JINR Committee of Plenipotentiaries.