JINR got a new patent
Patents, 18 September 2019
The Licensing and Intellectual Property Department of JINR announces that on 27 August 2019, the Joint Institute for Nuclear Research received a patent for the invention "Method of simulating chemical behaviour of atoms of superheavy elements". The author of the work is Vladimir P. Domanov.
JINR staff congratulates the author on receiving the patent for his invention!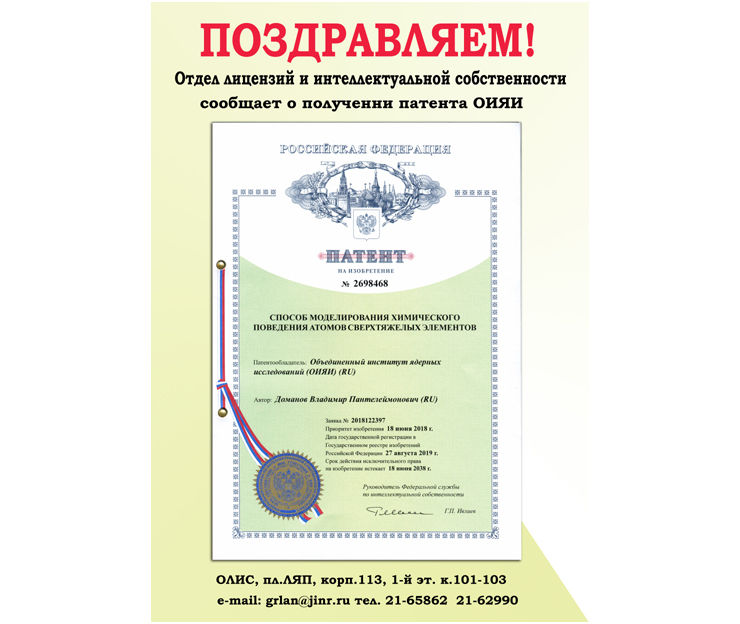 More details about the invention
Invention relates to nuclear chemistry. Method of simulating chemical behaviour of atoms of superheavy elements (SHE) in gaseous phase consists in the fact that target irradiated on a beam of accelerated particles is used as a generator of radionuclide, which is chemical analogue of identified SHE. Isolation of the light radionuclide-analogue from the irradiated target is carried out by heating it to high temperatures, providing for evaporation of this radionuclide with its subsequent treatment with chemical reagents in order to obtain volatile compounds, which are analyzed, for example, in gas thermochromatography conditions. Extrapolation of obtained data enables to estimate the volatility of identified SHE (in form of similar compounds) and predict some other physical characteristics. The irradiated target can be used repeatedly, which will provide obtaining a set of experimental data using relatively simple means.
EFFECT: the advantage of the invention consists in simplifying both the experimental base and the experiment itself, which is carried out in off-line mode.
Please, pay attention
Before publishing the article on a scientific-technological development, JINR employees may address to the Licensing and Intellectual Property Department for making an application for a patent.
Address: DLNP site, bld.113, 1st floor, rooms 101-103
e-mail: grlan@jinr.ru
tel.: +7 (496) 216-58-62, 216-29-90.