JINR Weekly Newspaper turns 65
News, 07 November 2022
On 7 November, the Weekly Newspaper of the Joint Institute for Nuclear Research "Dubna: science, community, progress" turned 65. Exactly that much time has passed since the publication of the first issue in very young Dubna.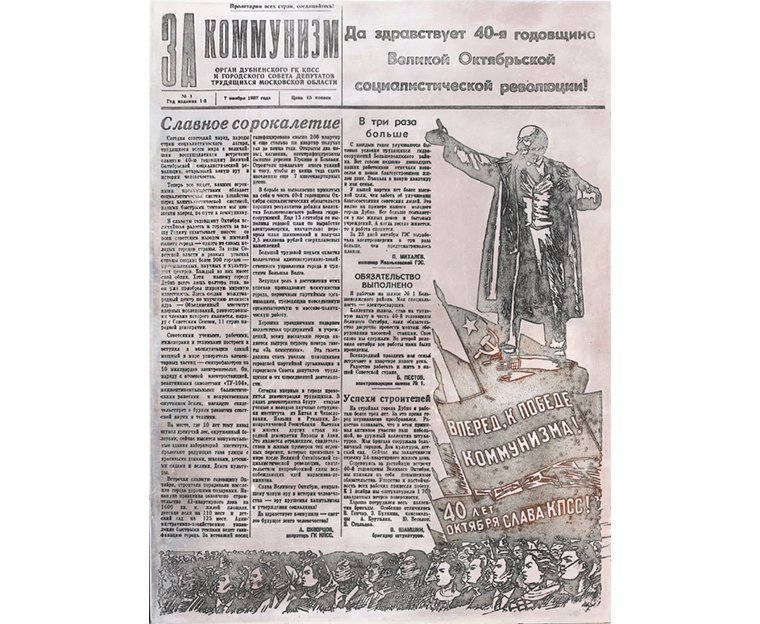 Throughout all these years the newspaper has been a chronicle of the Institute and the city, a public tribune for scientists, engineers, workers, specialists of city-forming enterprises. It has informed the readers about the scientific achievements of JINR and cooperation of the international centre in Dubna with research laboratories of the world. Prominent physicists, leaders of scientific schools who established the international scientific centre in Dubna took the floor through columns of the newspaper.
Creative efforts of journalists, high culture of language and style, the variety of themes, attracting a wide range of authors provided the newspaper with sustainable credibility among readers. The editorial board of the Dubna Weekly Newspaper has been awarded diplomas of regional, USSR, and Russian publishing competitions, including of JINR Member States. The newspaper won the international prize named after Professor Ya. A. Smorodinsky for the promotion of science and international cooperation, which was established by JINR.
The first newspaper of Dubna has stood the test of time keeping its readers and the best of its traditions which are professionalism of journalists, information value, and analytics, and now the newspaper continues to follow its motto "Accessibly and precisely about key things in science".
The Directorate of JINR congratulates the editorial board, typographers of the Institute who print the newspaper, and authors on the jubilee and wish further creative success in popularisation of scientific knowledge and comprehensive coverage of the activities of our international scientific centre!