Major work starts to boost the luminosity of the LHC
World science, 15 June 2018
Geneva, 15 June 2018. The Large Hadron Collider (LHC) is officially entering a new stage. Today, a ground-breaking ceremony at CERN celebrates the start of the civil-engineering work for the High-Luminosity LHC (HL-LHC): a new milestone in CERN's history. By 2026 this major upgrade will have considerably improved the performance of the LHC, by increasing the number of collisions in the large experiments and thus boosting the probability of the discovery of new physics phenomena.
The LHC started colliding particles in 2010. Inside the 27-km LHC ring, bunches of protons travel at almost the speed of light and collide at four interaction points. These collisions generate new particles, which are measured by detectors surrounding the interaction points. By analysing these collisions, physicists from all over the world are deepening our understanding of the laws of nature.
While the LHC is able to produce up to 1 billion proton-proton collisions per second, the HL-LHC will increase this number, referred to by physicists as "luminosity", by a factor of between five and seven, allowing about 10 times more data to be accumulated between 2026 and 2036. This means that physicists will be able to investigate rare phenomena and make more accurate measurements. For example, the LHC allowed physicists to unearth the Higgs boson in 2012, thereby making great progress in understanding how particles acquire their mass. The HL-LHC upgrade will allow the Higgs boson's properties to be defined more accurately, and to measure with increased precision how it is produced, how it decays and how it interacts with other particles. In addition, scenarios beyond the Standard Model will be investigated, including supersymmetry (SUSY), theories about extra dimensions and quark substructure (compositeness).
The High-Luminosity LHC will extend the LHC's reach beyond its initial mission, bringing new opportunities for discovery, measuring the properties of particles such as the Higgs boson with greater precision, and exploring the fundamental constituents of the universe ever more profoundly. CERN Director-General Fabiola Gianotti
The HL-LHC project started as an international endeavour involving 29 institutes from 13 countries. It began in November 2011 and two years later was identified as one of the main priorities of the European Strategy for Particle Physics, before the project was formally approved by the CERN Council in June 2016. After successful prototyping, many new hardware elements will be constructed and installed in the years to come. Overall, more than 1.2 km of the current machine will need to be replaced with many new high-technology components such as magnets, collimators and radiofrequency cavities.
The full press release on interactions.org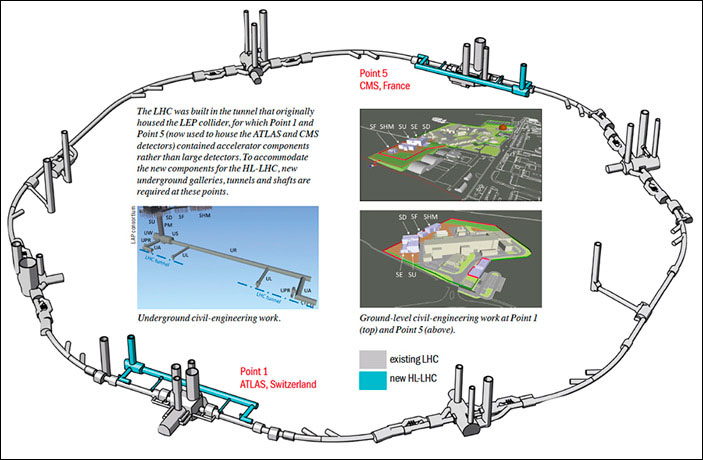 New components for the HL-LHC (blue). © cerncourier.com