Memorial seminar of Wang Ganchang
Seminars
On Wednesday, 5 June 2019, a seminar "Wang Ganchang: the great Chinese scientist at the origin of JINR" in memory of a prominent Chinese scientist, JINR Vice-Director (1958–1960), Academician of the Chinese Academy of Sciences Wang Ganchang will be held in the JINR Scientists' Club. The start of the seminar is set at 2:30 PM.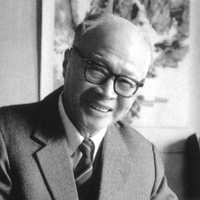 Wang Ganchang, a prominent Chinese scientist and researcher, Doctor of Philosophy, Professor, Academician of the Academy of Sciences of China. Vice-Director of JINR (1958-1960), one of the founders of the Institute.

A prominent scientist in the fields of elementary particle physics and nuclear fusion. One of the activists in the implementation of the nuclear programme of the PRC, one of the creators of the Chinese atomic weapons. Honorary Doctor of the Moscow State University. Winner of the State Prize of China in science and for advances in science and technology. Co-author of the "antisigma-minus hyperon" discovery made by scientists of JINR.
Programme of the seminar:
2:30 – 3:30 PM

– Welcoming speech by JINR Director V. A. Matveev

– Mr. Wan Gang, Director of CIAE, "Wang Ganchang: the great Chinese scientist at the origin of JINR"

– V. A. Nikitin, Chief Researcher of VBLHEP JINR, "Prof. Wang Ganchang, one of the JINR founders"


3:30 – 3:45 PM – Coffee break


3:45 – 5:45 PM

– Chen Dongfeng, Director of the Nuclear Physics Department, "Neutron facilities at China Advanced Research Reactor"

– Han Wenze, Senior Expert of the Nuclear Physics Department, "High intensity laser and application at CIAE"

– Li Xiaomei, Senior Expert of the Nuclear Physics Department, "R&D and Applications of Advanced Gas Detectors"

– Lin Chengjian, Senior Expert of the Nuclear Physics Department, "Fusion and Fission Studies at CIAE"

– A. S. Fomichev, Head of the FLNR sector, "Research with radioactive ion beams at JINR"