New JINR patent
Patents, 17 October 2018
The Licensing and Intellectual Property Department of JINR announces that on 13 September 2018, the Joint Institute for Nuclear Research received a patent for the invention "Method for preventing reduction of muscular force in acute radiation injury in experiment". The authors of the work are Ivanov Aleksander Aleksandrovich, Krasavin Evgeny Aleksandrovich, Lyakhova Kristina Nikolaevna, Severyukhin Yuri Sergeevich, Molokanov Aleksander Grigorevich.
JINR staff congratulates the authors on receiving the patent for their invention!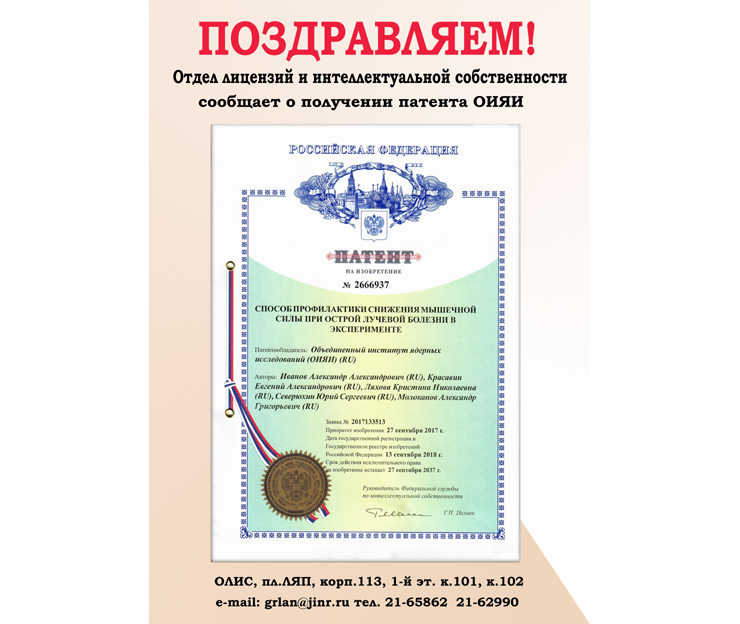 More details about the invention
Invention relates to experimental medicine, astronautics, in particular, to ensure the physical working capacity of astronauts with corpuscular irradiation, and also the preservation of the patients' life status in proton therapy of oncological diseases. Animal after a single non-uniform proton irradiation in doses capable of causing acute radiation injury is administered Semax 0.1 % nasal drops intranasally. Semax injected three times a day, 1 drop into each nostril, using the attached pipette from 1 to 7 days after exposure to radiation.
EFFECT: method ensures the preservation of the muscle strength index of animals at a normal level during the development of acute radiation injury after uneven proton irradiation.
Please, pay attention
Before publishing the article on a scientific-technological development, JINR employees may address to the Licensing and Intellectual Property Department for making an application for a patent.
Address: DLNP site, bld.113, 4th floor, rooms 408, 415
e-mail: grlan@jinr.ru
tel.: +7 (496) 216-58-62, 216-29-90.