New tradition in Dubna
Culture, 19 December 2019
From 10 to 12 December, the festival of films of the JINR Member States for children "Films of our friends" took place in the JINR Cultural Centre "Mir". The festival was supported by the JINR national groups and national cultural centres (Moscow).
On 10 December, on the opening day, a meeting with an RSFSR honoured artist, honoured artist of Russia Natalia Bondarchuk was organized. In 2016, Natalia Sergeevna established the International film-theatre school n.a. Sergei Bondarchuk and the Film-theatre association for children "Let's film together!" There are branches of the School in Spain, Ireland, Malta, France, Crimea, Italy, and Moscow. For more than 30 years Natalia has been directing the children theatre "Bambi".
The first day of the Festival was marked by the screening of the feature film "The secret of the Snow Queen". The director of the film N. Bondarchuk noted that she came up with the idea to film the fairytale after the journey to Yamal. She wanted to show how people live in the North. Natalia played grandmother Nenga in the film and she even handled a deer by herself.
News coverage by TV Channel 360° Dubna
The next day of the festival was dedicated to Polish movies. The film "Akademia Pana Kleksa" was screened. Then, the scientific show by Pana Kleksa and the meeting with representatives of the Polish cultural centre took place.
The third day of the festival was marked by the Czech cinema. The Czech national group of JINR developed an interactive programme and screening of the film "Dívka na kosteti" in the JINR Universal Public Library. Later on, the film "Tri orísky pro Popelku" beloved by many generations was shown in the Cultural Centre.
"Organization of this interesting and complex event demanded to join efforts of numerous people and organizations," Director of the Cultural Centre T. V. Romanenkova noted in the interview to the "Vstrecha" newspaper. "First of all, I would like to express my deep gratitude to JINR Director Victor Anatolievich Matveev for the financial support of all our projects and initiatives, including this one. Secondly, we thank our business partners and co-organizers, namely the Czech and Polish national groups of JINR, the Czech Centre in Moscow, the Polish Cultural Centre, as well as the Ministry of Culture of Russia and the Gosfilmofond for providing to us license film prints… I hope that this year we have established a strong festival tradition, and the other JINR Member States will also join the festival in the future."
Full version of the interview with Tatiana Romanenkova for DubnaTV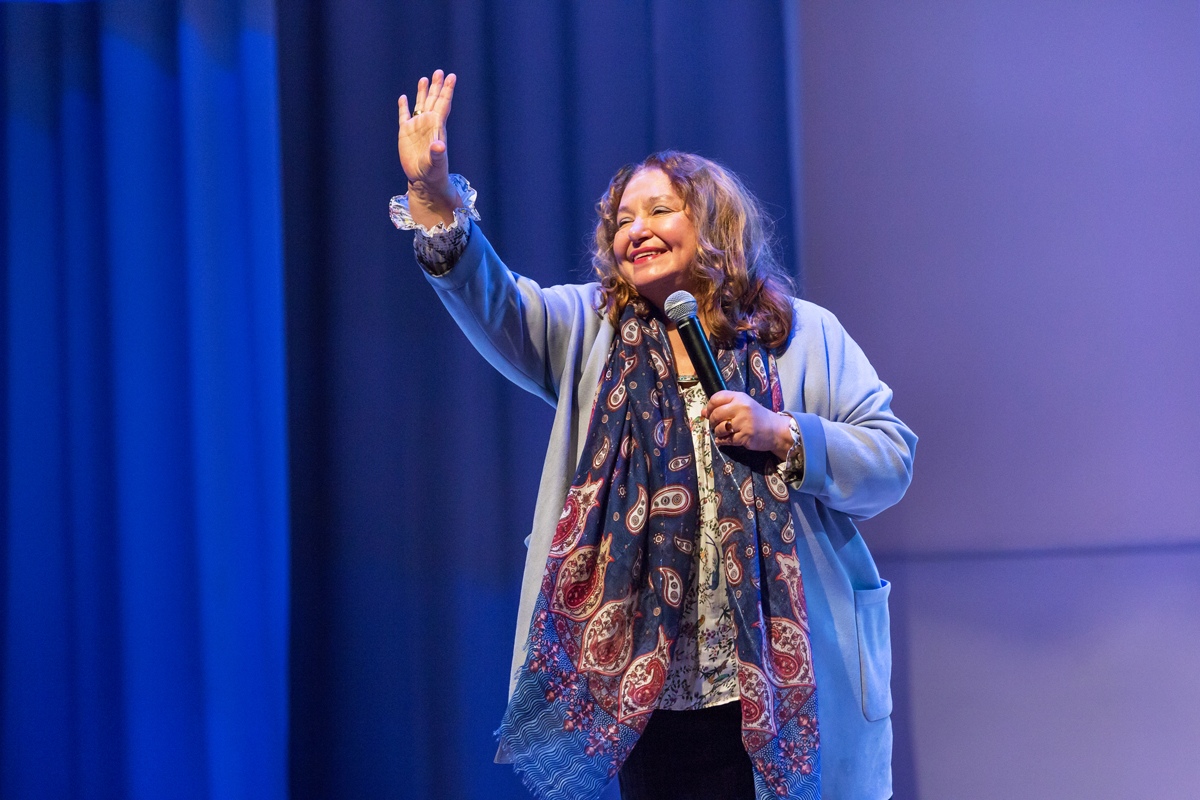 Interview with Natalia Bondarchuk. Video © DubnaTV
JINR Weekly Newspaper,
Photos by Svetlana Seredina and Natalia Nikolaeva