Prime Minister Mikhail Mishustin recognized NICA as investment of Russian Government in high technologies
News, 18 January 2021
At today's operational meeting with Deputy Prime Ministers, Prime Minister of the Government of the Russian Federation Mikhail Mishustin paid special attention to the Year of Science and Technology announced by the President of Russia and noted the JINR flagship megascience project NICA as an example of the targeted investment by the Government of the Russian Federation in the high-tech sector.
From the opening speech by Mikhail Mishustin:
The President declared this year the Year of Science and Technology. The Government pays special attention to the support of these fields. It is science that determines the image of the future. The way Russia will develop in the near future. How our citizens will live. Ultimately, it is the prestige of our country in the international arena.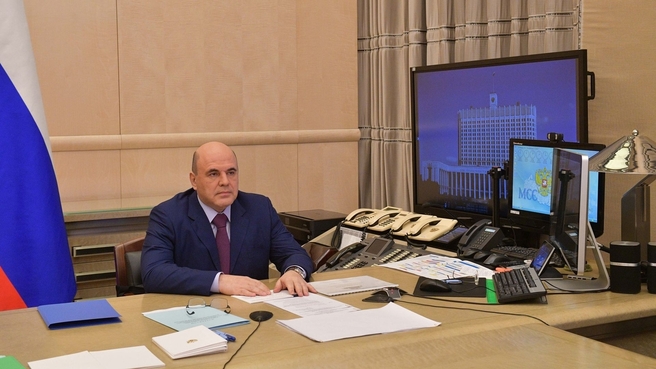 Photo © government.ru
We invest in high-tech megascience projects, such as NICA. We took part in the launch of the first stage of this complex last year. We also allocate funds for applied developments in various realms, like health care, education, industry, space. In total, the federal budget of this year has more than 350 billion rubles for holding applied scientific research.
The effectiveness of the activities of organizations that receive subsidies and grants from the budget for scientific research and experimental scientific developments for civil purposes will be evaluated. Discoveries and inventions acquired in such institutes and laboratories should have practical significance and should be protected by intellectual property legislation. At the same time, not less than half of the funds for their creation should be obtained from extra-budgetary sources.
Information about activities for which state money is used will be included in the unified state information system.
All this will allow controlling more effectively the way the budget funds are spent and supporting the most promising projects."
In addition to the support of science and technologies, the agenda of the meeting included the large-scale optimization of the state management, measures to improve living conditions of citizens in the Far East, the control over the operation of energy and housing facilities in the regions in low temperatures. More details about the meeting are available on the website of the Russian Government.
Following information by government.ru