Participants of project "Hello, Russia!" got acquainted with JINR achievements
Education, 13 August 2021
More than two hundred children from 14 to 19 years old – winners of various Olympiads and competitions from different countries of the world and participants of the project "Hello, Russia!" – visited Dubna on 13 August 2021.
Rossotrudnichestvo has been implementing the "Hello, Russia!" programme of cultural and educational trips since 2014, which has helped 750 young compatriots from more than 60 countries of the world visit Moscow, St. Petersburg, Kazan, and other Russian cities.
The aim of the active programme of visits to Russia is acquaintance with Russia's multinational culture, immersion in professional communities, as well as acquiring up-to-date knowledge about successful professional implementation. One of the striking examples of it is the Joint Institute.
In Dubna, young guests visited the interactive exhibition "JINR Basic Facilities" where they got acquainted with the history and achievements of the Institute, the Museum of Cruise Missiles, and also took a sightseeing tour of the city.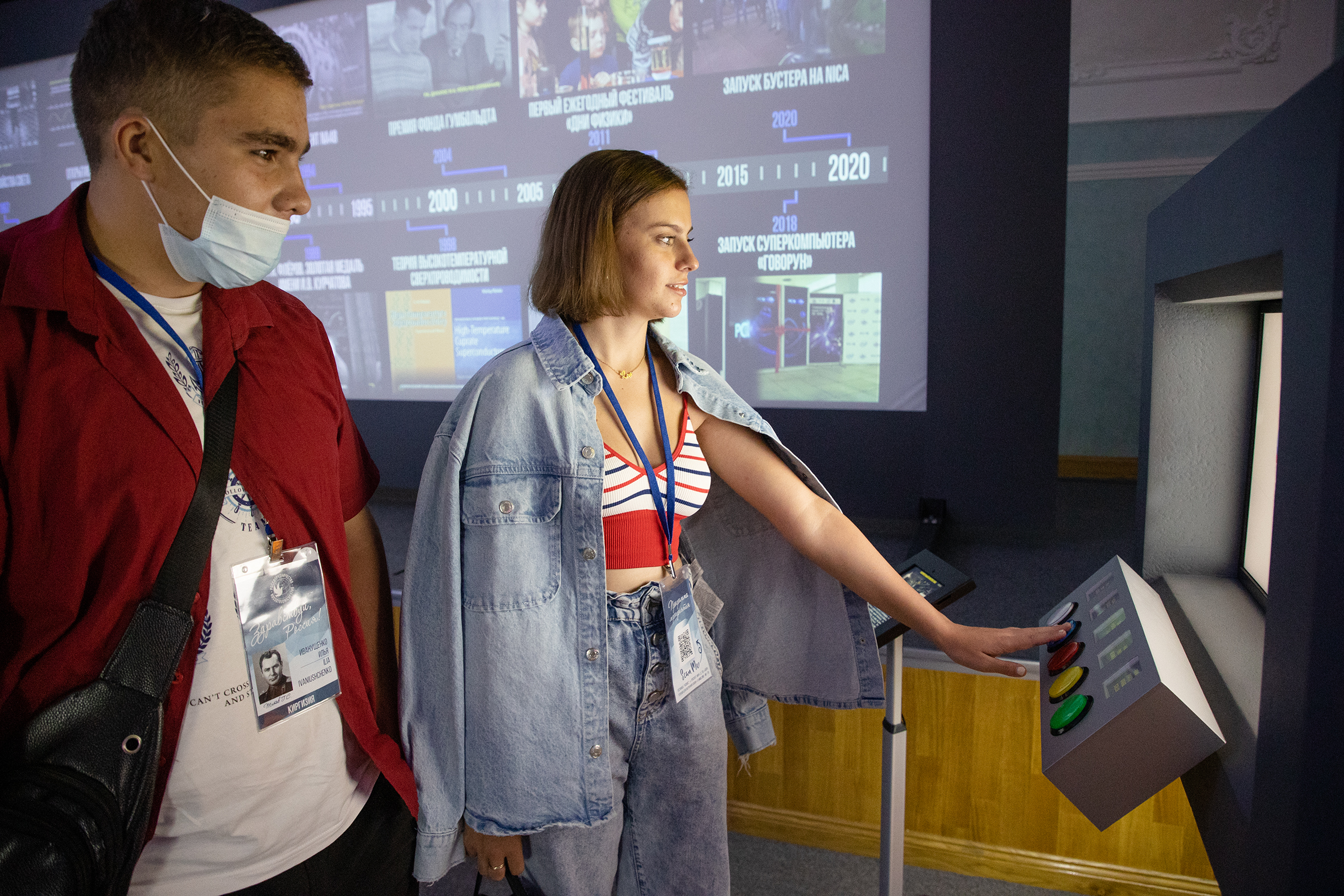 JINR has been hosting children under the "Hello, Russia!" programme for several years. Schoolchildren from Serbia, Romania, Egypt, Bulgaria, the CIS countries, the Baltic States, and many others have visited Dubna today. All of them are winners of various contests, Olympiads, competitions. There are athletes and dancers among the visitors, there are children studying humanities, and there is also a group of school students who have won Olympiads in Physics – these students are going to commit their lives to fundamental science and engineering in the future.
"The exhibition is really interesting, but I would like it to be longer," Ariadna Pavlenko (Estonia) shared her impressions. "We liked everything, we feel the scale, especially we were impressed by the large Mendeleev's Periodic Table."
Dmitry Ryzhov (Spain, Madrid) won the Spanish stage of the "Living Classics" recitation competition at the Centre of Russian Culture: "We are Russians: my parents go on business trips to Spain. I am 17 years old now, 7 of them I live in Spain, I graduated from school this year. I am applying for a journalist department in Moscow, Russia. I am impressed by the programme's intensity: there's so much here, we are taken everywhere and shown everything! In addition to JINR, we were told about scientific research in the fields of aviation at TsAGI. I liked the JINR exhibition: everything is interactive – you can touch it, feel it – it's a great job!"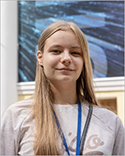 Alexandra Nichipurenko (Moldova, Chisinau) became a participant of the programme by recording a poem dedicated to Victory Day and posting it on her Facebook page: "I learned that I will fly to Moscow from my teacher: I have never been to Moscow before, and this is an interesting experience for me. Having learned interesting things about JINR, I will tell our teacher and the schoolmates about it at a physics lesson."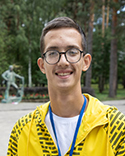 Abubakr Sidik Kuranbayev, 2nd-year student at MRSU and volunteer of the "Hello, Russia!" programme, told about the exciting everyday life of the project's participants: "In addition to visits to landmarks, children had meetings with various interesting personalities who share their experience and creative achievements in the evenings in the hotel where children live." Participants are in a homely, friendly atmosphere, and we, as supervisors make this atmosphere brighter so that they can trust, open up, tell about themselves, and feel comfortable hereIt helps children look at Russia from a good, friendly angle, have good communication and a great vacation at the same time."
Photos by Igor Lapenko