Photo exhibition "Sozopol. Near and far" by Margarita Fedina
Culture
On 28 August (Saturday), the festive opening ceremony of the photo exhibition "Sozopol. Near and far" by Margarita Fedina, a famous travel photographer, a member of the Union of Photo Artists of Russia, will be held in the JINR Blokhintsev Universal Public Library (13/7 Blokhintsev st.) at 4:00 PM. This is a joint project of Blokhinka and the Bulgarian Cultural Institute in Moscow within the framework of the Year of Bulgaria at the Joint Institute for Nuclear Research.
"For the 18th anniversary of my acquaintance with the beautiful small Bulgarian town, I want to show the Russian audience portraits of people who live and work in Sozopol. These are my good friends, casual acquaintances, and people I don't know at all. Old people and children, mature and young people. I have known and taken photos of many of them for more than ten years. Many of my friends have raised children and got grandchildren. I don't go to Sozopol often currently. And every time I wonder who I will see, who I will meet, and who is no longer there."
Margarita Fedina is a professional photographer with a rather narrow specialisation: historical architecture and interior design. Since 2009, almost 100 books with her photos have been published in Russia, Belarus, and Latvia. On a regular basis, Margarita cooperates with the Marriott, Hilton, Palmira, Holiday Inn hotels, and other construction and restoration companies. She also devotes her free time to photography. Her favourite topics are city, architecture, and people. She still takes pictures for her personal projects.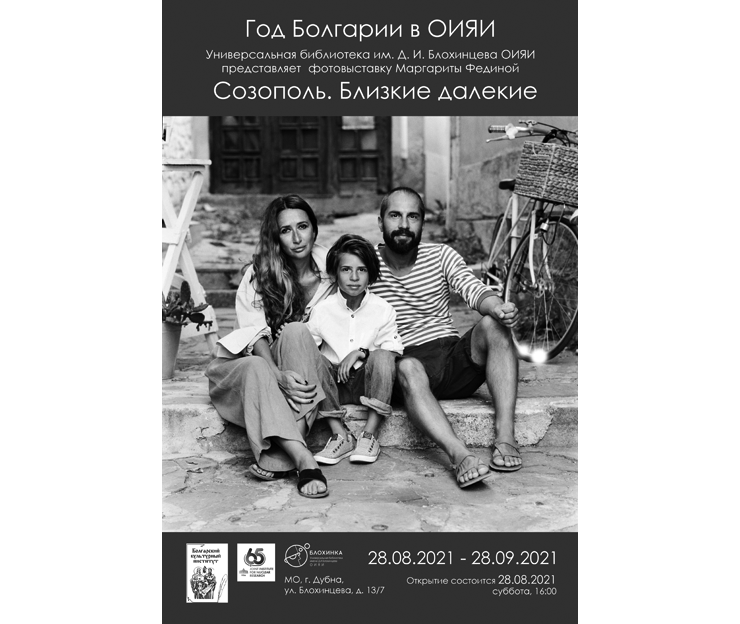 M. Fedina has the award of the Ministry of Culture of the Republic of Bulgaria for her contribution to the development of cultural cooperation between our countries. She is the author of more than thirty solo exhibitions, six of which are dedicated to Bulgaria and Sozopol.
The exhibition "Sozopol. Near and far" will be available until 28 September.
Free access.