Development of the JINR educational programme
News, 24 March 2014
A meeting of the working group on discussion of directions of development of the JINR educational programme was held on 24 March 2014 in the Green Hall of ICH. The meeting was attended by representatives from several JINR member states which have shown initiative: Armenia, Belarus, Bulgaria, Georgia, Kazakhstan, Poland, Romania, Russia, Slovakia and the Czech Republic.
UC Director S.Z. Pakulyak informed members of the working group on readiness of the new competitive Summer Student Program, which will be started in the summer of this year, about the first applications received, the principles of selection of participants and possible financing scheme. The working group discussed the UC project "Development of modern education programs", approved by the 38th meeting of the PAC for CMP and the 114th session of the JINR SC. The UC presented the project goals and objectives and expertise in implementation of such tasks. In particular, a prototype of a virtual laboratory in physics of nuclear fission was shown; an initiative of the prototype creation was generated during the implementation of a joint project with the RSA.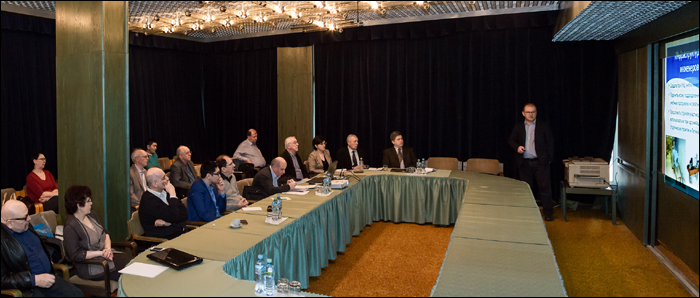 Participants of the working group discussed and unanimously approved the project of establishment of scientific and engineering department of the UC which was presented four days earlier at a meeting of the JINR Finance Committee. This department could be deployed on the basis of the building 118 of FLNP and its linear electron accelerator which is being constructed in the frames of preparation for JINR's participation in the project of the International Linear Collider (ILC). This building has the necessary biological protection and spacious enough. This linear accelerator may be the first project of the UC scientific and engineering department assigned for establishment of educational programmes and training on accelerator technology, as well as for laboratory and scientific tasks with synchrotron light.
Director of the company "RONIK – Accelerator technology" A. Matthies proposed another project for the UC scientific and engineering department. He presented a detailed and financially feasible plan for training opportunities in the fields of accelerator technology and radio-pharmaceutics based on a small serial cyclotron, which the company RONIK is willing to provide as its contribution; opportunities to receive substantial support from partners of the company RONIK were also presented. This project already interested a number of representatives of the JINR member states.
In opinion of participants the establishing of the scientific and engineering department in the foreseeable future can be enriched with other educational facilities and stands, created in the laboratories of the Institute.
The working group requested UC Director to prepare a draft decision of the working group, which will be sent to members of the JINR FC and PACs.