Student summer practice started at the UC
Education, 19 May 2013
The first stage of the traditional International student summer practice started on 13 May 2013 at the JINR University Centre. Students from the Arab Republic of Egypt came to participate in this stage of the practice. Nineteen students from universities of Cairo, Alexandria, Al Faiyum together with their supervisors will spend three weeks in Dubna. This time the course will be devoted to lectures and practical training on research projects at JINR Laboratories, which will be supervised by specialists of several JINR laboratories. The present practice of ARE students is the fifth, the first practice was organized in 2009.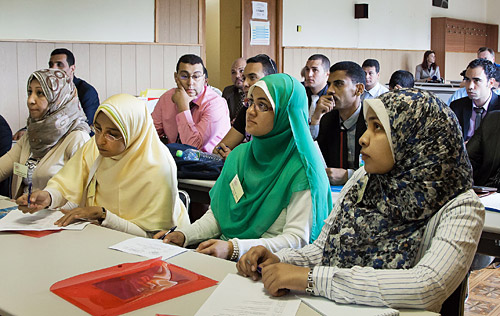 UC Director S.Z. Pakulyak and the head of the practice from the ARE side Wael Ghed made their presentations at the opening of the practice. ARE Minister of Scientific Research and Technology Nadia Zakhary accompanied by Director General of the ARE Foundation for Basic Research Mahmoud Sakr and other officials also participated in the opening ceremony. Nadia Zakhary had long talks with ARE students, explored their scientific interests and answered their questions.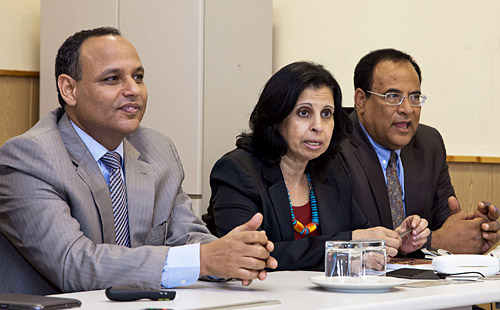 Mrs. Minister commented on her participation in the event: "First of all, I'd like to note that an agreement on cooperation between RFBR and the ARE Foundation for Basic Research, which allows developing of bilateral projects, was signed today in the Russian Academy of Sciences. JINR is the great organization which holds fundamental research as well as applied research, such as nuclear medicine, information technology and others. Our students have a good opportunity to apply the knowledge gained here in Egypt".
During the practice students will be acquainted with major JINR directions for scientific research and will perform training research projects which will be supervised by specialists of FLNP, LIT, DLNP and LRB. The practice will be concluded on 31 May with the defense of the students' projects.
Olga Tarantina
Photo by Elena Puzynina