INFN (Italy) President visited Dubna
News, 15 June 2011
President of the National Institute of Nuclear Physics (Italy) Professor Roberto Petronzio visited the Joint Institute for Nuclear Research on 14 June 2011. The two scientific centers signed an agreement on extending cooperation in the implementation of projects of mutual interest.
INFN President was accompanied by INFN Director of International Affairs Roberto Pellegrini and Science Attaché of the Italian Embassy in RF, INFN Representative to JINR Pietro Fré.
The Italian scientists visited the Veksler and Baldin Laboratory of High Energy Physics, where a project on design of the nuclotron – a new collider of heavy ions based on a modernized superconducting accelerator, is being implemented. The project is of great interest to the Italian side: research in the fields of quark-gluon plasma is one of the priority topics of INFN activity.
The guests were able to picture to themselves JINR-Italy cooperation when shown the memorial office of Academician Bruno Pontecorvo, a great Italian scientist who had been living and working in Dubna for many years, which is kept with solicitude.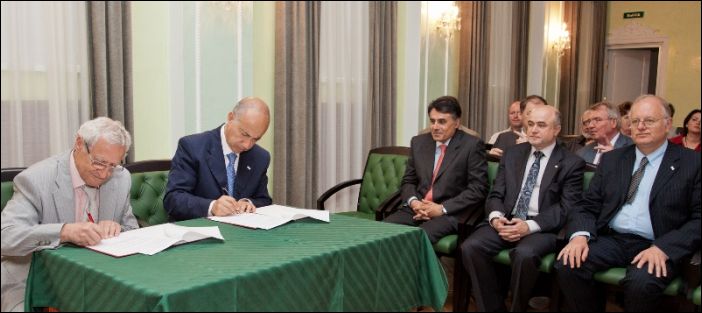 JINR Acting Director Professor M.G.Itkis and INFN President Roberto Petronzzio sign the agreement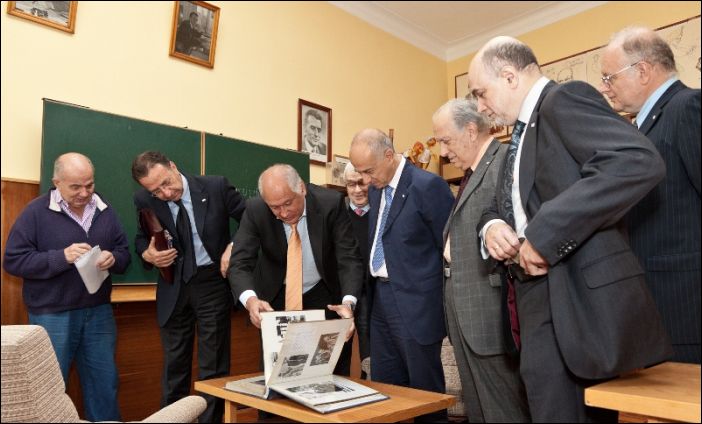 Memorial office of Bruno Pontecorvo. Extreme left – Doctor of Physics and Mathematics (DLNP JINR) Gil Pontecorvo