JINR delegation in Cuba
News, 12 May 2011
At the invitation of JINR Plenipotentiary of Cuba Jorge L. Fernández Chamero JINR delegation headed by JINR Acting Director M.G.Itkis visited Habana on 25-30 April 2011. The delegation included JINR Director Assistant G.M.Arzumanian and FLNP Director A.V.Belushkin.
On the first day of the visit detailed negotiations with J.Chamero were held. The negotiations were directed at renewal of participation of Cuba in JINR's activities.
On the resumes of the negotiations a memorandum which contains intentions of the sides to restore cooperation of Cuba with JINR and proposed steps for implementation of that issue was signed. However, for final adoption of the memorandum it will be considered on Cuba's governmental level, and then at the Committee of Plenipotentiaries of the JINR Member States. One of items of the memorandum presupposes a round table in Dubna to be held on the eve of November meeting of the Committee of Plenipotentiaries 2011.
Summing up the main conclusions of the visit to Habana was held in State Department of Cuba where JINR delegation was heartily welcomed by Scientific Assistant President of the Republic of Cuba Fidel Castro Díaz-Balart.
At the end of the meeting Fidel Castro Díaz-Balart showed interest according to participation of Cuba in Joint Institute for Nuclear Research, and suggested work out in detail an issue of conclusion of an agreement on cooperation between JINR and the Centre of Advanced Research of Cuba (CEAC – Centro de Estudios Avanzados de Cuba). M.G.Itkis thanked Fidel Castro Díaz-Balart for reception and invited him to visit JINR at his convenience.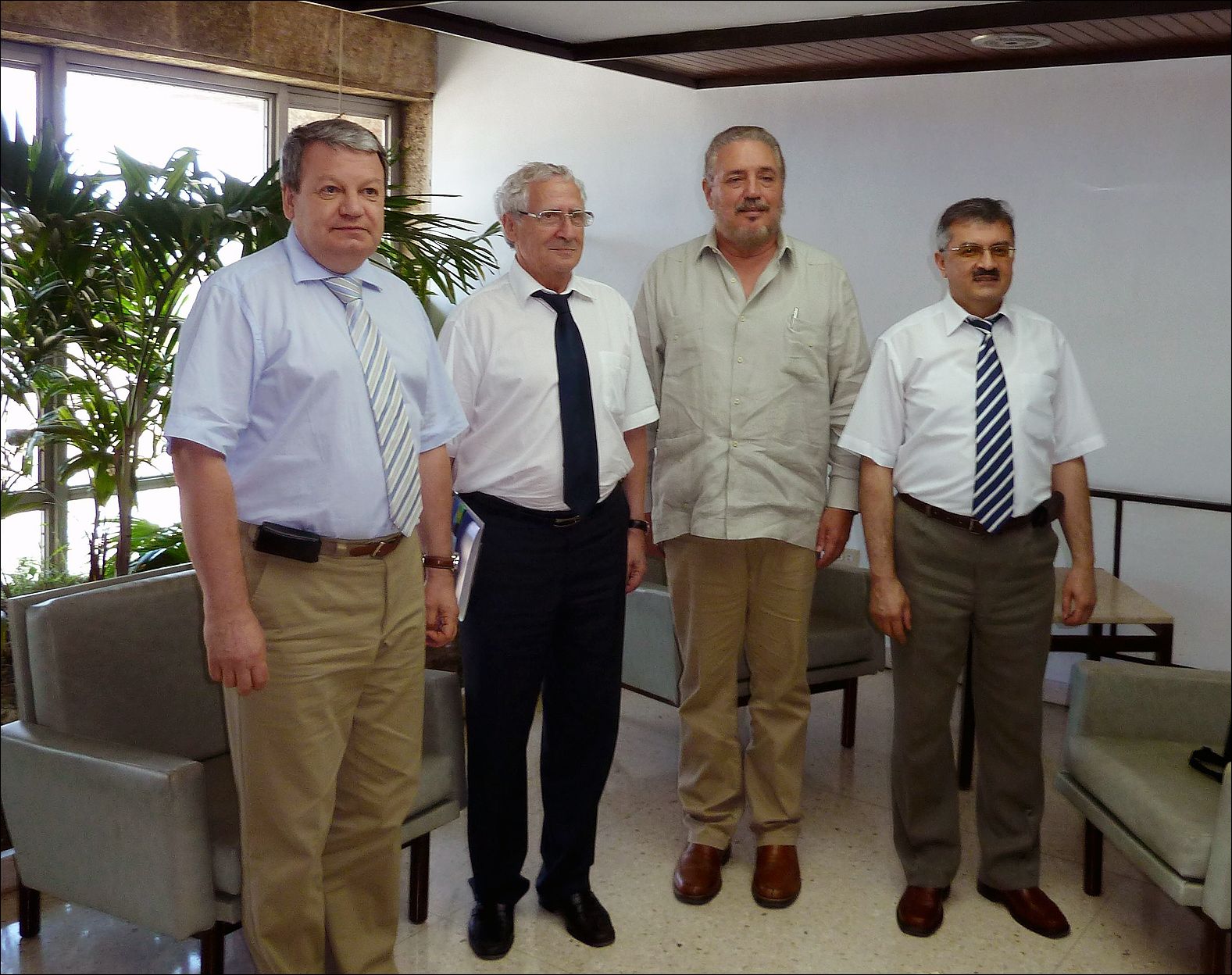 In the photo A.V.Belushkin, M.G.Itkis, F.Castro Dias-Balart, G.M.Arzumanian