Mongolia-JINR: cooperation is in progress
News, 15 March 2010
A representative delegation of the Mongolian Embassy headed by Extraordinary and Plenipotentiary Ambassador of Mongolia in the Russian Federation Mr. Doloonzhin Idehvkhehten with his spouse visited Dubna on 12-13 March 2010. Adviser of the Ambassador on Economic Issues Mr.B.Ehrdehmbilehgt with his spouse and the Second Secretary of the Embassy Mr. Zh.Bayarkhuu. It is worth noting that this visit of Mr. Idehvkhehten to JINR is his first working visit after he was appointed Ambassador of Mongolia in the RF.
The delegation was welcomed by JINR Director A.Sissakian and was acquainted with the JINR history, the major directions of JINR activity and perspectives of JINR development. The contribution to science of Mongolian scientists was noted, primarily the contribution of Academician N.Sodnom in formation and development of our Institute, traditional participation of Mongolian physicists in implementation of the JINR scientific-research programme. Plans for the International Conference "New perspectives of cooperation with JINR (From particle physics to nanotechnologies)" on 31 May – 6 June in Ulan-Bator were in focus of the visit. JINR Vice-Director M.G.Itkis, LRB Director E.A.Krasavin, LNP Deputy Director professor D.Sangaa, Deputy Chief Scientific Secretary D.V.Kamanin, leader of the national Mongolian Group O.Chuluunbaatar and ICO staff member responsible for relations with Mongolia M.G.Loshchilov participated in the meeting.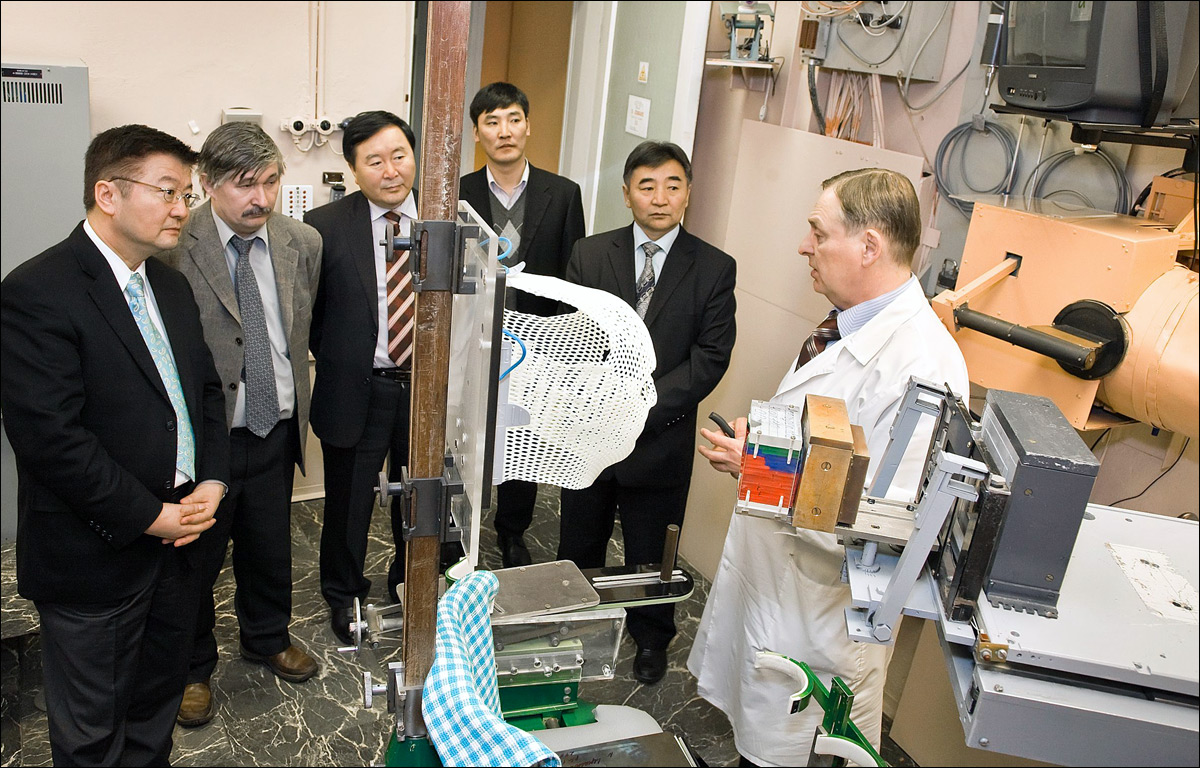 Photo by Pavel Kolesov
In VBLHEP Deputy Director of the Laboratory G.V.Trubnikov acquainted the guests with the Synchrophasotron, the Nuclotron and the NICA project. Trubnikov noted good work of the Mongolian employees in JINR; he also expressed wishes to forward young Mongolian scientists to JINR, and to VBLHEP, in particular.
The visit to the SPC "Aspect" caused a special interest of the Ambassador and the delegation participants. Products of SPC "Aspect" could be supplied to Mongolia both for the surveillance of the transition of radioactive materials abroad and for control of the drinking water conditions.
In FLNR Scientific Secretary S.I.Sidorchuk acquainted the guests with activities of the Laboratory on synthesis and search of super heavy elements in Nature and applied research. The Ambassador was interested in possibilities of building accelerators in FLNR for scientific centers in JINR member states.
In DLNP Director Assistant on innovative projects E.M.Syresin and Head of Department G.V.Mitsin acquainted the guests with a facility for radiation therapy and diagnostics on medicine beams; he also demonstrated the phasotron set-up to them.
At the end of the day the delegation visited the University "Dubna", where the Ambassador, as former Minister of Environment and Tourism of Mongolia, was especially interested in the work of the Ecology Chair. The number of possible trends of cooperation was discussed, in particular, the urgency for Mongolian students to learn the Russian language.
D.V.Kamanin
M.G.Loshchilov