Strengthening of scientific contacts with Hungary
News, 11 March 2009
An important and a long waited event happened at the Institute's life at 12.40 p.m. on 10 March – the membership restoration of the Republic of Hungary at JINR was officially started.
JINR director academician A. Sissakian and the Minister without portfolio responsible for research and development K. Molnar signed the "Protocol of Intentions on planned joint activity at the Joint Institute for Nuclear Research in Dubna" at the Russian Government reception house. The intention to consider "the possibility of the participation of the Republic of Hungary at JINR activities as a full member" was expressed at this laconic document, the National Office for Research and Technology (NKTH) became a coordinating structure on this matter from the Hungarian part. The fact, that a meeting of the Minister Molnar and JINR director was inscribed into the extremely busy schedule of the governmental visit, demonstrates the importance of this event for the Hungarian side.
At present Hungary participates at JINR activities according to the Agreement with the Hungarian Academy of Sciences. JINR Days in Hungary that were successfully held in Budapest at the beginning of December 2008 gave an impulse to the reintegration process.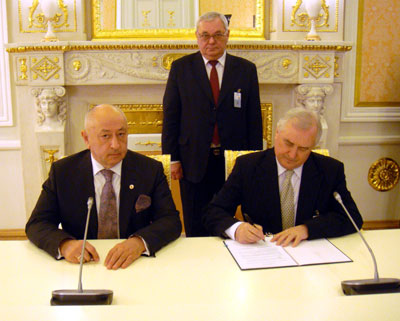 In the photo: director A. Sissakian, Minister Molnar, in the background Science and technology attache at the Hungarian Embassy in the Russian Federation G. Graczka.