President of Bulgaria on his participation in CP JINR session
Organization, 27 November 2021
The website of the President of the Republic of Bulgaria published information about the participation of the head of the country Rumen Radev in the ceremonial meeting of the session of the Committee of Plenipotentiaries of the Joint Institute for Nuclear Research on 23 November in Sofia.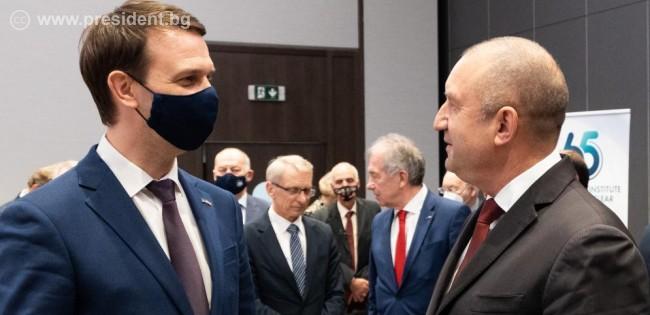 Photo © www.president.bg
"This forum proves the Bulgarian contribution and its scientists to the development of the Institute's scientific programmes," the president's address to participants of the session is cited in the article. Noting that 2021 was declared the Year of Bulgaria in the Joint Institute, the President of Bulgaria highlighted that under the chairmanship of Bulgaria in the Committee of Plenipotentiary Representatives of the JINR Member States in 2014-2017, there were significant decisions made to develop the Institute. One of them was the launch of the construction of the Superheavy Element Factory and the laying of the first stone of the NICA megascience project. They greatly contributed to the development of the Institute and high technologies at large.
"I am sure that we will continue working together for future generations to provide them with a life on a clean planet, we will work for the benefit of all mankind," the President of Bulgaria said in his greeting to participants of the CP session.
Heads of diplomatic missions of a number of JINR Member States in Bulgaria, leaders of the Bulgarian scientific community took part in the event. The ceremonial meeting in Sofia was held within the framework of the CP session of JINR in Bulgaria dedicated to the celebration of the 65th anniversary of JINR and as part of the Year of Bulgaria in JINR.