Retrospective in memory of Jiří Menzel
Culture
From 23 September to 1 October 2020, the retrospective will be held in memory of a classic film director of the Czechoslovak "new wave" cinema Jiří Menzel, who passed away on 5 September at the age of 82. In the frames of five film screenings organized by the film club of the JINR Member States, 6 most renowned films by Jiří Menzel, including his Academy award-winning movie "Ostře sledované vlaky" (Czechoslovakia, 1966, 92 min.), will be shown. Films will be demonstrated in original language with Russian subs.
On 23 September and 1 October, screenings will be preceded with a lecture about the life and art of Jiří Menzel. The lecture will be read by a movie scholar and an expert in Czechoslovak cinema Victoria Levitova.
Retrospective screenings of films by Jiří Menzel are organized by the film club of the JINR Member States and will be simultaneously held in Dubna and Moscow. The Dubna sites for film screenings will be Blokhintsev Universal Public Library (13, Blokhintsev str.) and the JINR Cultural Centre "Mir" (1, Vysotsky alley). Screening in Moscow will be organized in the Moscow Tretyakov Gallery that is a partner of the film club of the JINR Member States along with the Czech Cultural Centre and the Slovak Institute in Moscow.
The author of graphical design of the retrospective (posters and brochures about life and art of J. Menzel in Russian) is a classic of Russian design Petr Bankov.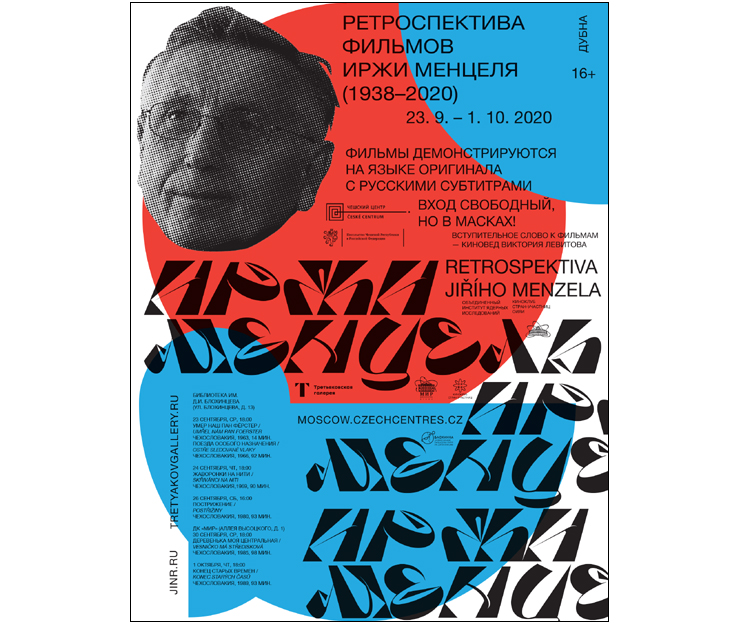 Schedule of screenings in Dubna
Blokhintsev Universal Public Library (13, Blokhintsev str.)
23 September, Wed., 6:00 PM (solemn opening ceremony of the retrospective)

– Umřel nám pan Foerster
(Czechoslovakia, 1963, 14 min.)
– Ostře sledované vlaky
(Czechoslovakia, 1966, 92 min.)


24 September, Thu., 6:00 PM

– Skřivánci na niti
(Czechoslovakia, 1969, 90 min.)


26 September, Sat., 4:00 PM

– Postřižiny
(Czechoslovakia, 1980, 93 min.)
JINR Cultural Centre "Mir" (1, Vysotsky alley)
30 September, Wed., 6:00 PM

– Vesničko má středisková
(Czechoslovakia, 1985, 98 min.)


1 September, Thu., 6:00 PM (solemn closing ceremony of retrospective)

– Konec starých časů
(Czechoslovakia, 1989, 93 min.)
Schedule of screenings in Moscow
State Tretyakov Gallery, movie hall of the Engineering building, 12, Lavrushinsky lane
24 September, Thu., 7.00 PM

– Umřel nám pan Foerster
(Czechoslovakia, 1963, 14 min.)
– Ostře sledované vlaky
(Czechoslovakia, 1966, 92 min.)


26 September, Sat., 2.45 PM

– Skřivánci na niti
(Czechoslovakia, 1969, 90 min.)


27 September, Sun., 4.30 PM

– Postřižiny
(Czechoslovakia, 1980, 93 min.)


27 September, Sun., 6.30 PM

– Vesničko má středisková
(Czechoslovakia, 1985, 98 min.)


30 September, Wed., 9.15 PM

– Konec starých časů
(Czechoslovakia, 1989, 93 min.)

Brief information about the films (in Russian)