Russia-Slovakia: agreement on mutual recongition of academic degrees
News, 25 November 2019
On 19 November, in Minobrnauki of Russia, a workshop of Minister of Science and Higher Education of the Russian Federation Mikhail Kotyukov and Minister of Education, Science, Research and Sport of the Republic of Slovakia Martina Lubyová was held.
The parties discussed the present state of and prospects for the cooperation and signed an agreement on mutual recognition of education, qualifications and academic degrees. "It is a very important document that will significantly simplify the life of those who have already got an education in our country and expands opportunities to enter Russian universities. Moreover, we have agreed to prolong our scientific contacts. This year, we are planning to sign once again the Memorandum on the implementation of scientific and research projects," Mikhail Kotyukov said.
In 2018, with the financial support of the two ministries, 3 joint projects were successfully completed in which scientific and research organizations and universities of Russia and Slovakia took part. The Russian and the Slovak parties allotted 15 million rubles and 300 thousand euros correspondingly for the implementation of all these projects.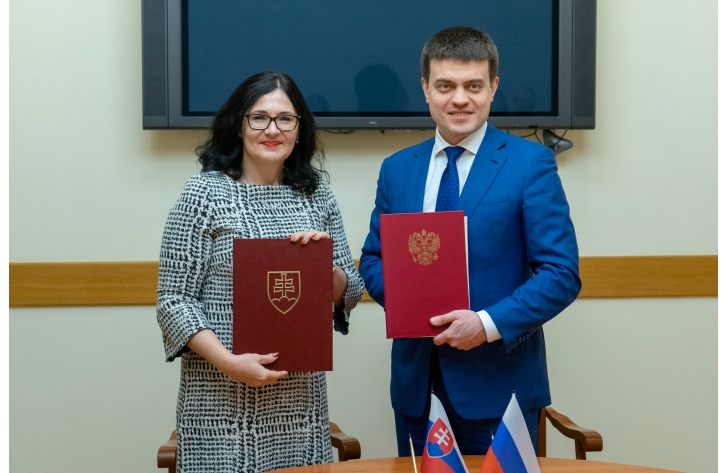 Slovakia takes an active part in the activities of the Joint Institute for Nuclear Research in Dubna (JINR) being one of the leading Member States in terms of the amount of joint research and scientific and technical contacts. 13 scientific and research, scientific and technical organizations and universities of Slovakia cooperate and support contacts with JINR. Among them, there are the Comenius University, the Institute of Physics SAS, the Slovak University of Technology in Bratislava and the Šafárik University in Kosice.
"It is a historic moment in the cooperation of our countries. The agreement will make the life of thousands of people easier. We are happy when students study abroad and we are even happier when they come home to work. We welcome gaining of international experience and support scholarship programmes and student exchange," Martina Lubyová noted.
Taking into account a mutual interest in further implementation of joint projects, the ministries agreed to accelerate the drafting of the Memorandum of understanding on the procedure of holding a competition for grants in the framework of the scientific and technical cooperation.
Following information of Minobrnauki