"SpectraViewer" software for visualization of spectroscopic data
Patents, 30 July 2019
The Licensing and Intellectual Property Department of JINR announces that on 16 July 2019, the Joint Institute for Nuclear Research received a certificate of state registration of the software programme "SpectraViewer" for visualization of spectroscopic data". The authors of the work are A. S. Kirilov, I. V. Gapon, L. A. Truntova.
JINR staff congratulates the authors on registration of their programme!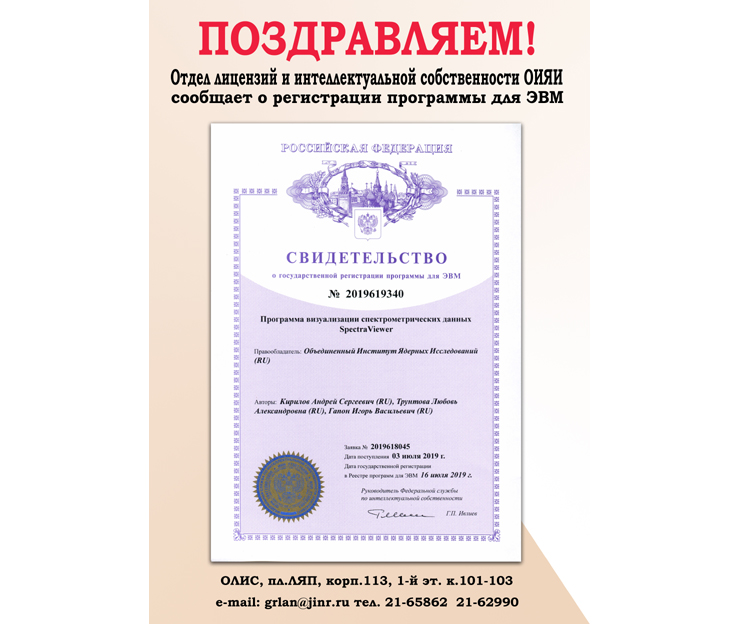 More details about the software
Программа Spectra Viewer предназначена для визуализации спектрометрических данных с монодетекторов, а также с 1D и 2D позиционно-чувствительных детекторов. Данные для визуализации могут быть получены из файлов или напрямую – с контроллеров DAQ. Визуализация одномерных спектров выполнена традиционно. На график можно накладывать произвольное количество других, выбирая по желанию цвет или тип линии, маркер и т.д. Для визуализации двумерных данных использована карта плотности, дополненная одномерными графиками суммированных спектров по осям Tof и X. Кроме того, в области ограниченной курсорами, ведется подсчет общего числа нейтронов. Трехмерные данные отображаются в виде трех карт плотности для массивов, полученных при суммировании исходного спектра по осям Tof, X и Y соответственно. Программа реализована на языке Python с использованием библиотеки PyQt4 (PyQt5), пакетов matplotlib и numpy.
Computer type: based on the processor Intel, AMD, x32, x64.
Language: Python 2.7 and 3.7 with the use of the PyQt4 (PyQt5) library, matplotlib and numpy packages.
OS: Windows 7 and more recent versions.
Size: 1.33 Mb
Please, pay attention
Before publishing the article on a scientific-technological development, JINR employees may address to the Licensing and Intellectual Property Department for making an application for a patent.
Address: DLNP site, bld.113, 1st floor, rooms 101-103
e-mail: grlan@jinr.ru
tel.: +7 (496) 216-58-62, 216-29-90.