Strengthening meridian of JINR Information Centres
News, 16 April 2022
A JINR Information Centre was opened on the platform of the Yerevan State University (YSU) and the A. Alikhanyan National Laboratory. On 15 April, representatives of JINR, YSU, and the A. Alikhanyan National Laboratory signed an agreement on the Centre's opening during the visit of the delegation of the Joint Institute headed by JINR Director Grigory Trubnikov to Yerevan.
Commenting on the opening of the JINR Information Centre, RAS Academician Grigory Trubnikov drew the audience's attention to the importance of involving young people in science. "The current signing of the trilateral cooperation agreement gives a great opportunity to discuss joint plans and prospects. The network of JINR ICs draws a meridian line between the North of Russia and the South of Africa. In addition to our eastern Information Centres in Petropavlovsk-Kamchatsky and Vladivostok, JINR Information Centres operate in Arkhangelsk, Rostov-on-Don, Sofia, Vladikavkaz, Cairo, Somerset West. The new Information Centre will strengthen this meridian," the JINR Director emphasised. He also noted that the YSU-JINR cooperation could be enhanced in terms of the Innovation Centre being created in Dubna. For instance, senior students of YSU could take part in its projects and research.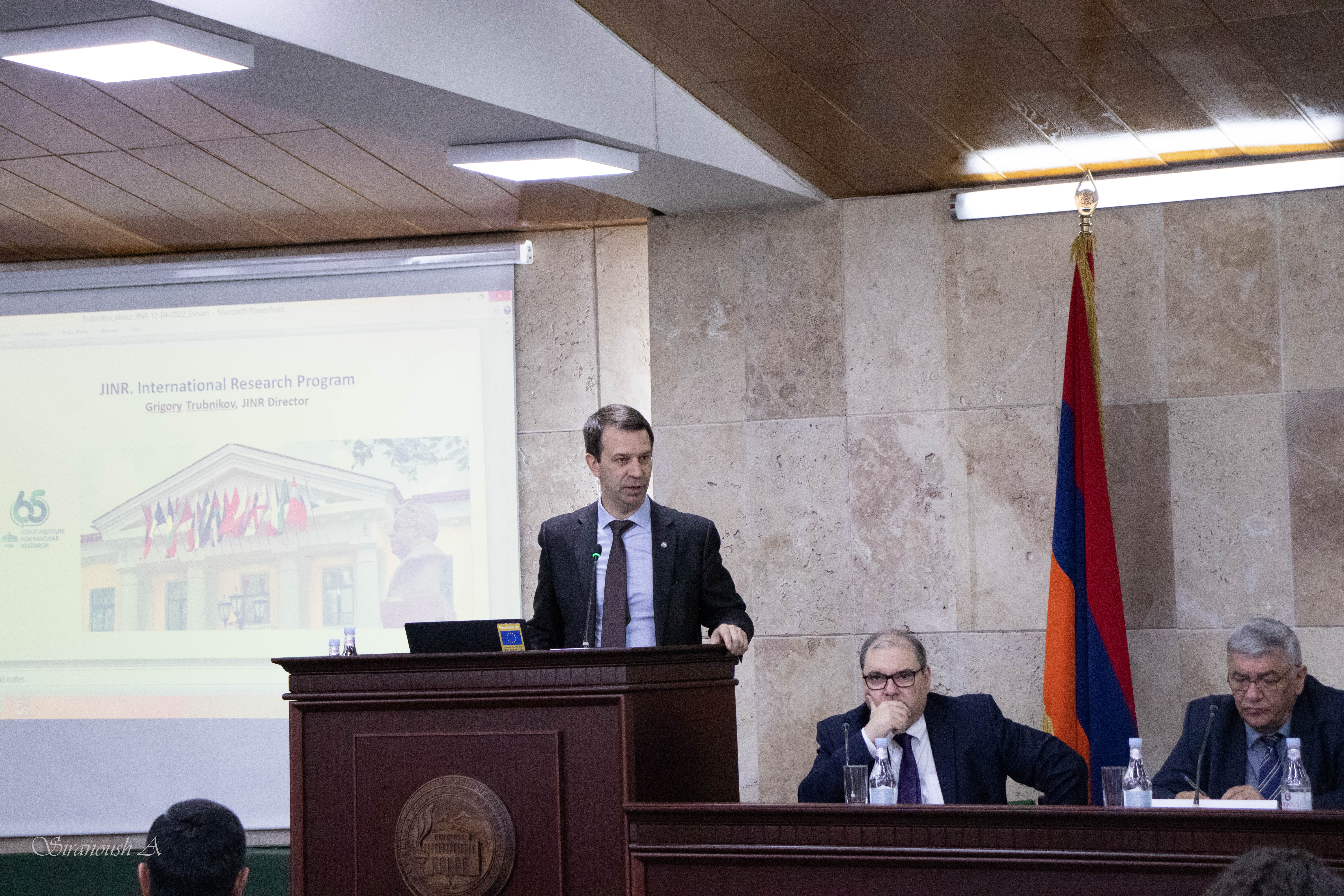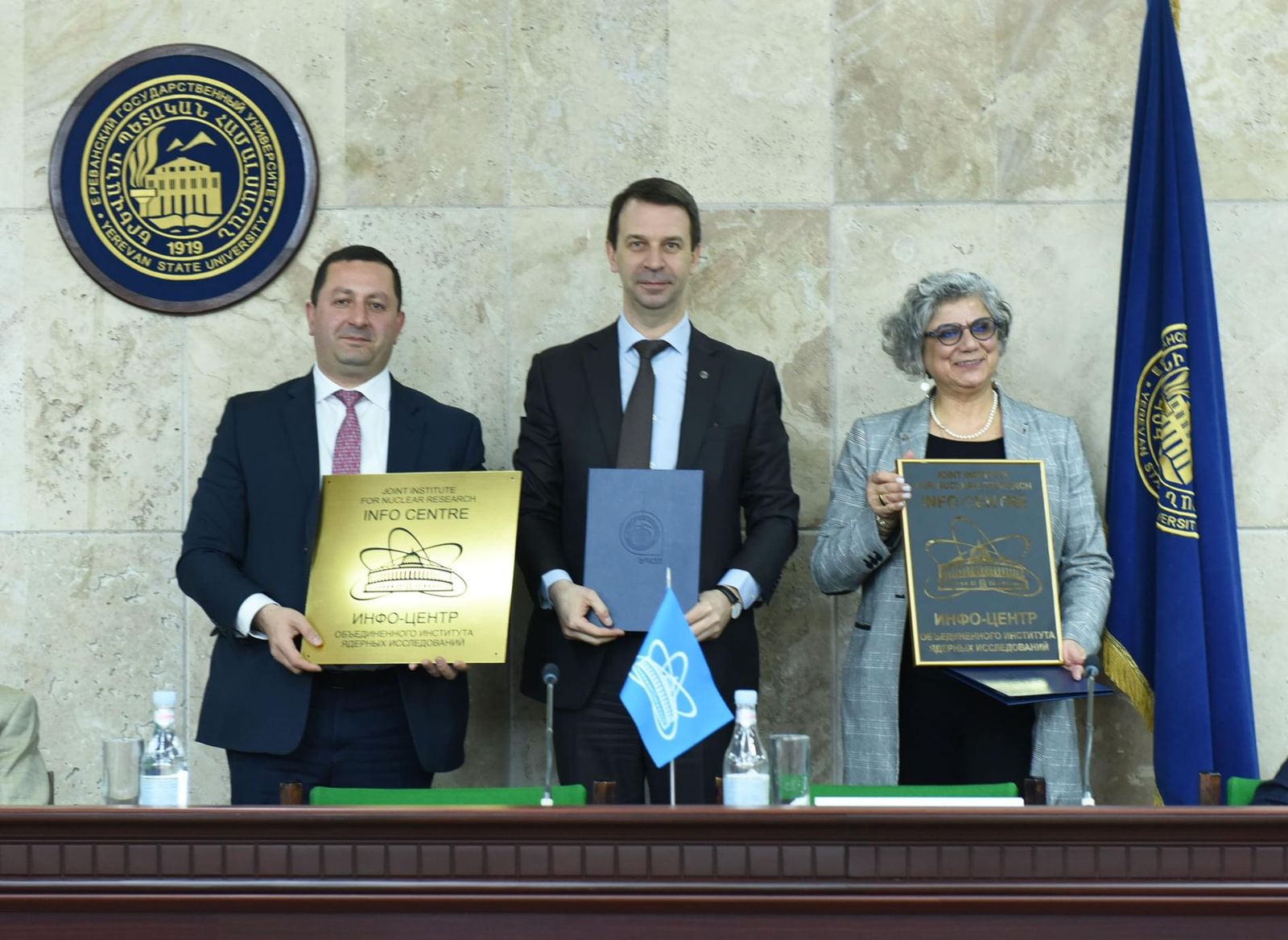 In his speech, Rector of YSU Hovhannes Hovhannisyan highlighted that the Joint Institute had always been a reliable partner of YSU. "We hope that the opening of the JINR Information Centre at the University will make it possible to get acquainted with Institute's scientific programmes, as well as to involve students in scientific research conducted at JINR," he said. The Rector of YSU also noted that the cooperation between the University and the Information Centre would allow improving scientific programmes, joining international projects, and bringing research and publications by YSU students and scientists to a new level.
A member of the Scientific Council Ani Aprahamian took part in the opening ceremony of the Information Centre at YSU. She expressed confidence that the decision on the creation of the JINR IC will be as efficient as all previous agreements between JINR and scientific and educational centres of Armenia.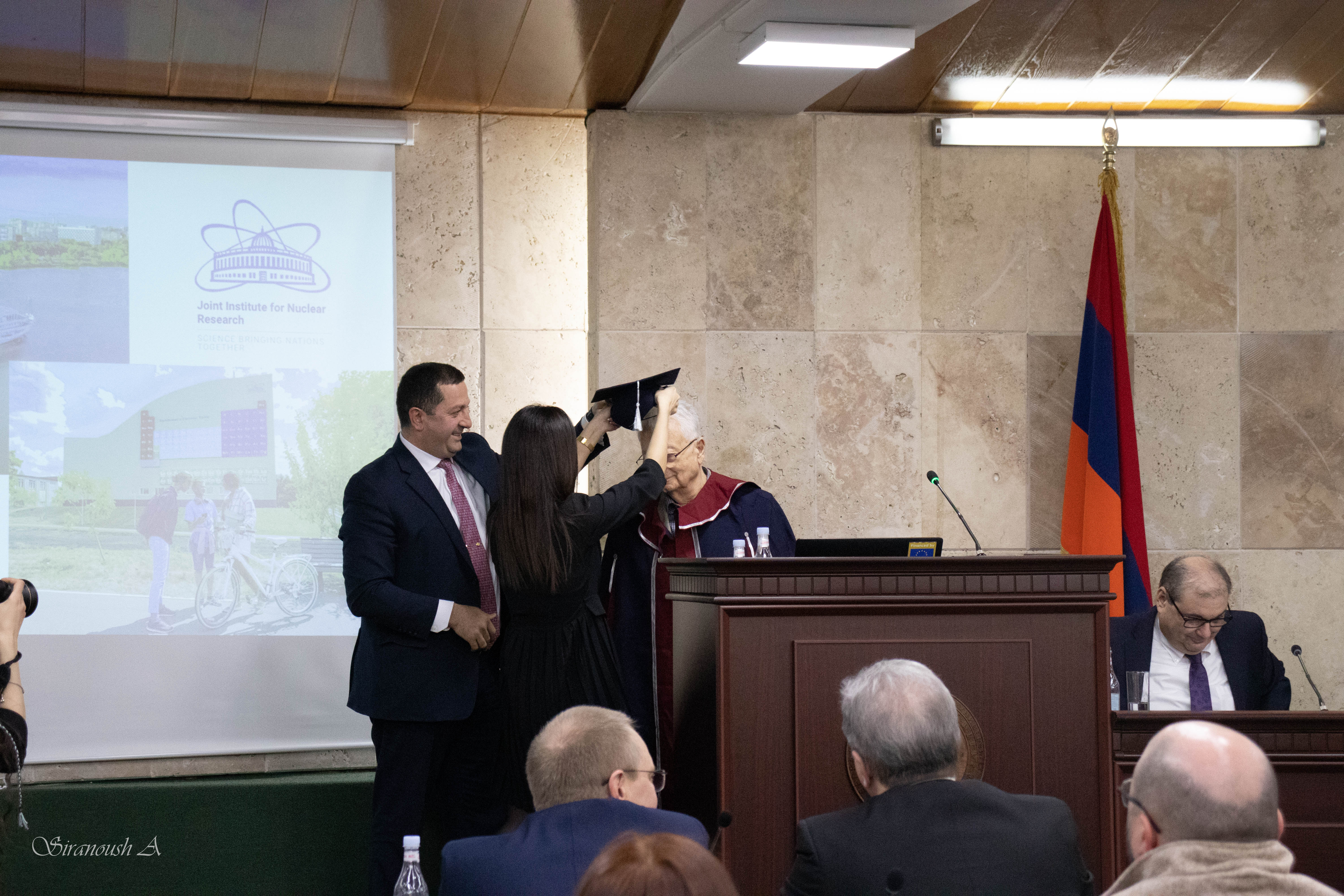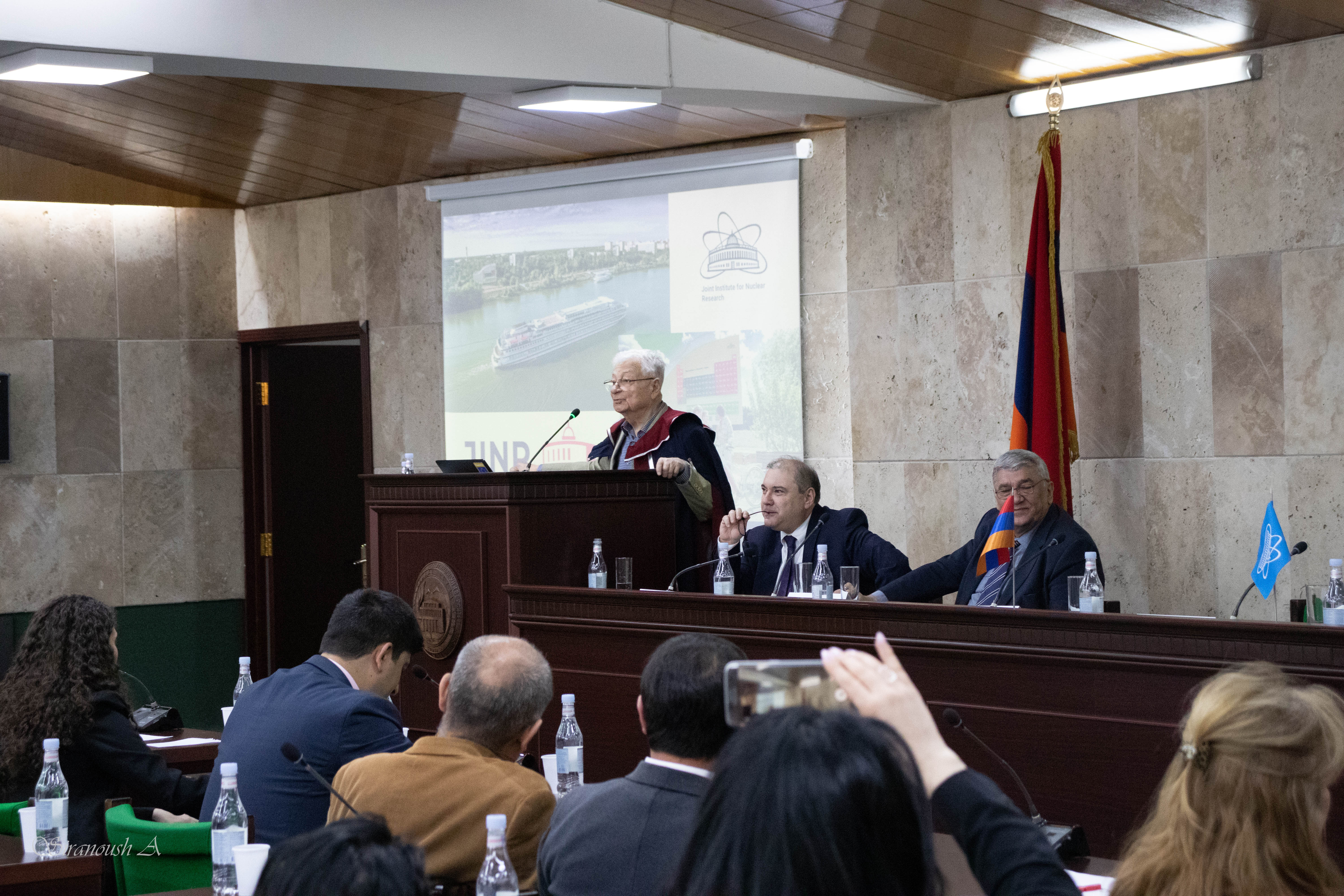 Speaking at the opening ceremony, Head of the JINR International Cooperation Department Dmitry Kamanin noted that JINR Information Centres "allow communicating with each target audience in understandable terms, no matter it is a school student, a student, or a teacher."
FLNR JINR Scientific Leader RAS Academician Yuri Oganessian was awarded the title of Honorary Professor of the Yerevan State University at the festive ceremony. In his turn, Academician Oganessian highlighted that "it is very pleasant and very honorable for him to be one of the holders of this title", because, in his opinion, "all modern intelligentsia of Armenia graduated from this University".
It is noteworthy that the format of JINR Information Centres suggests workshops, online excursions into the Institute's laboratories, lectures by the staff. It aims to promote academic mobility of young people. At the same time, Information Centres serve to raise awareness about the Institute in regions.