JINR workshop "Element 105": registration ends
News, 15 May 2018
We would like to remind you that you can apply for participation in the JINR physics workshop "Element 105" at the Summer School 2018 until 20 May 2018.
On 1 April 2018, registration for Summer School 2018, a unique educational event that is held in the format of an educational field camp, was opened for school and university students as well as scientists, journalists and everyone who seeks to grasp the unexplored horizons of knowledge.
The Joint Institute for Nuclear Research from Dubna, "Russky reporter" and "Kot Shredingera" magazines are among committed partners of the School. Both lecturers having academic degrees and skilled craftsmen are invited to be teachers of the School.
The first course of the Summer School: from 7 to 17 July 2018.
Registration of participants was opened on 1 April 2018
We are glad to announce that this year JINR will renew its physics workshop "Element 105" at the Summer School 2018 that will be held on 7 – 17 July in the "Volga" Recreation Centre not far from Dubna.
Follow up-to-date information in the VK group of the School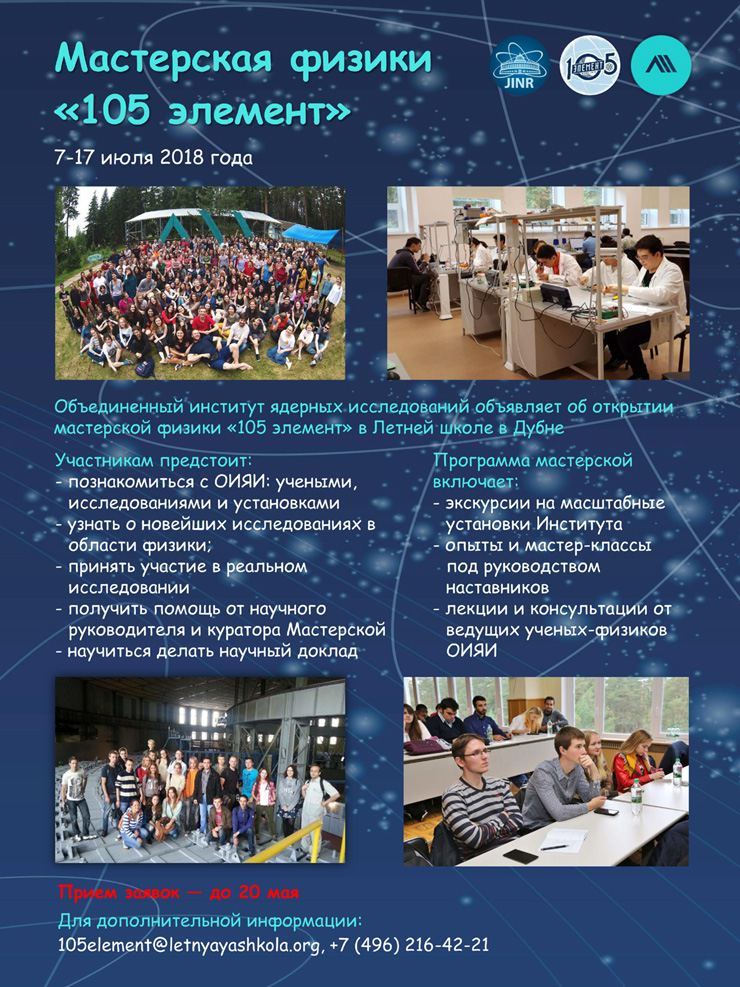 The Summer School was initiated in 2004 and today is one of the largest educational non-profit projects, which comprises nearly 30 workshops attracting participants from all over Russia and abroad. Famous researchers, scientists, journalists, designers and faculty members of the leading Russian universities, including MSU, MIPT, MEPhI, MIREA, RSUH, the Higher School of Economics and the University «Dubna» are invited as lectors. Among them are professors and associate professors of the JINR-based Departments.

School participants live in a tent camp on the bank of the Volga river and are responsible for its arrangement and for food. The School also offers an extensive entertainment programme: concerts, holiday celebrations, photo exhibitions, film screenings and open presentations of workshops' assignments. In 2016 and 2017, for its unconventional approach to education, the Summer School was listed as one of the finalists for the Prize of the Ministry of Education and Science of the Russian Federation "Commitment to science".