The Federation Council discussed the scientific strategy of the Russian Federation
News, 21 March 2018
The bill "On scientific, scientific-technical and innovative activities of the Russian Federation" was discussed in the Federation Council.
On 20 March 2018, the Parliament hearings were held in the Federation Council dedicated to the topic "About scientific, scientific-technical and innovative activities in the Russian Federation". Chairman of the Committee on Science, Education and Culture L.S. Gumerova coordinated the event. The main report was delivered by Deputy Minister of Education and Science of the Russian Federation Grigory Vladimirovich Trubnikov.
G.V.Trubnikov in his report reminded that more than 20 corrections had been made in the current law on science (Federal law № 127 of 23 August 1996 "On science and state scientific and technical policy") since its adoption 22 years ago. G.V.Trubnikov noted that law drafters had the task of preparing a brand new document that would not only provide implementation of the strategy for scientific and technological development of the Russian Federation but also form "modern interrelation between science, economy and society".
Deputy Minister highlighted that the bill introduces a new concept of assuring maximum frankness of financing scientific, scientific and technical and innovative activities. It also specifies the role of key subjects of scientific activities and sets brand new ways of evaluating effectiveness of their work.
– It is the first time when the status of centres on commercialization of results of intellectual activities – business incubators and business accelerators – is proposed to be codified, – G.V.Trubnikov said.
He highlighted that the bill takes into consideration a special role of RAS and other state academies of sciences in development of Russian science.
The full text is available on the web site of the Ministry of Education and Science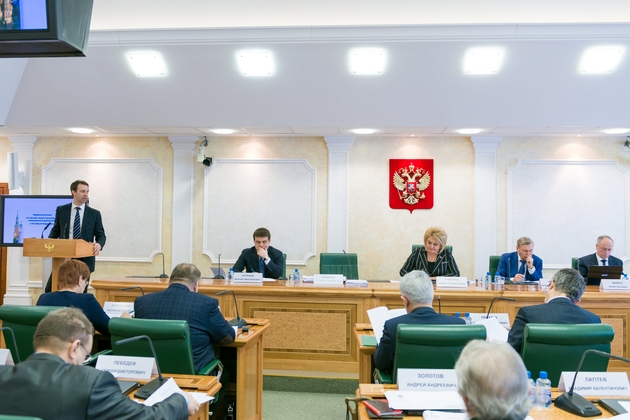 Photo by the media office of the Russian Ministry of Education and Science
G.V. Trubnikov in the interview to "Kommersant.ru":
"Such strategies are adopted in all developed countries. However, Russia is not just a developed country. I think that our country is one of the leaders in technological and scientific fields. We should keep up with this status, participate in competitive struggle that is quite aggressive. Countries definitely consider partners' experience while developing own strategies. We are not pioneers, of course, we also rely on basic strategic documents of some countries. We have some strong institutes: Primakov National Research Institute of World Economy and International Relations, HSE, MSU, SPBU and many other leading universities that analyze scientific strategies of other developed countries along with other issues. The Russian Academy of Sciences, the Ministry of Foreign Affairs, NRC "Kurchatov Institute" and the Joint Institute for Nuclear Research take an active part in analyzing strategies of developed countries."