The stadium is brought to a new level
News, 06 June 2018
On 5 June, the opening ceremony of a modernized jogging track, a bicycle rental and renovated gym of the JINR Stadium "Nauka" was held.
JINR Director V.A. Matveev, Head of the city M.N. Danilov, Chairman of the Dubna Council of Deputies S.A. Kulikov, and other participants of the ceremony were greeted in the gym by young participants of the section of rhythmic gymnastics, and basketball players held a demonstrative training session. Then a football match between the teams of JINR and the city of Pavlovichi was held at the stadium. The first combination of the match was played among Academician V.A. Matveev, M.N. Danilov and S.A. Kulikov.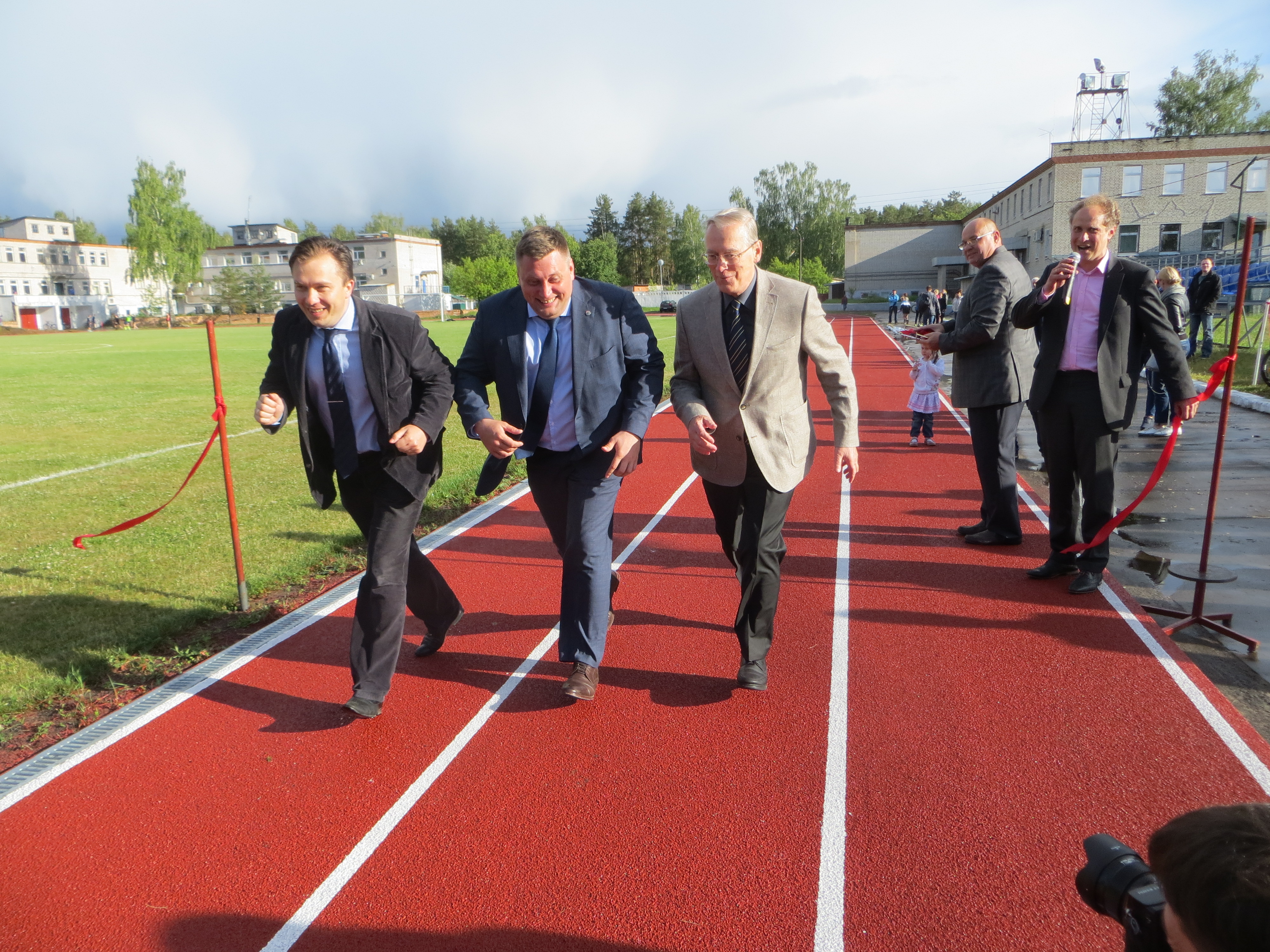 Photo by Olga Tarantina
Commenting on the event for journalists, V.A. Matveev said: "As we see, our city and the Institute are vividly developing. We are now implementing promising projects that are impossible without participation of young people. We want talented youth from Russia and abroad to come to Dubna. That is why we must do everything possible to so that young people can do sports, breathe fresh air and, most importantly, look forward with hope. I am proud that my colleagues, all of us, have been able to do something for young people, for the city. I want to wish everyone great success and good mood!»
"The stadium is an import object for the city, – Head of Dubna M.N. Danilov noted. – It is a place of attraction, one can come here to do sports. JINR has upgraded jogging tracks and the gym. There is still a number of renovations to be carried out, and I think that this place will become a place of attraction for Dubna citizens in the nearest years. A bike rental is one more miracle. We want to return Dubna to the status of a city of bicycles, and we will launch a project of integrated development of the transport infrastructure considering that, so there will be normal bike tracks in the city. Today's event became the first step towards it, and I hope that these bikes will be in demand among Dubna citizens. We express our gratitude to JINR for stimulating development of the city."
"Three years ago, we finished the first stage of renovation here and now we continue to reconstruct our sports facilities, – Director of the Social Infrastructure Management Office of JINR A.V. Tamonov noted. – Today, we have brought into operation a professional jogging track, opened a JINR bicycle rental and finished repairs of the gym that is actively used by sportsmen but has been in bad condition. Working out here, athletes will enjoy not only sports, but also a comfortable atmosphere."
The JINR Stadium "Nauka" is open, everyone can use it for jogging for free. There is only one requirement: the jogging track can be used only for jogging. Dubna citizens are now interested in this issue and ask in social networks whether it is possible to use the jogging track for riding bicycles and rollers or not. Unfortunately the answer is no. The coating is quite delicate, it is can be used only for spiked shoes, it is not suitable for wheels, rollers, bicycles and other vehicles that will simply damage the coating. I hope that new bicycle tracks will be constructed in Dubna so that cycling enthusiasts will be also able to approve themselves.
There are 30 bicycles in the rental that we are opening today. All of them have brands of JINR. The rental will work in the building of the former bicycle shop at the main entrance to the stadium during the working hours of the stadium: from 9 AM to 6 PM. Bicycles will be available only on the fee basis because they need maintenance and repairs. Prices, which are being discussed now, will be lower than in other existing rentals of Dubna and other cities as well. We have decided that, in accordance with modern standards of scientific centers, we should have such a service, such an infrastructure. Therefore, first of all, we will focus on young and elderly scientists who come to us for experiments, for summer schools, and secondly, on visitors of the city and its citizens.
We invite all sports fans to the stadium!
Photos of Sergei Kulikov
Olga Tarantina, JINR Weekly Newspaper