Understandable, entertaining, engaging science
Education, 26 August 2019
As a rule, the last days of August are devoted to preparations to a newly coming academic year, no matter whether it will take place in school, college, or university. In this regard, as well as taking advantage of a break in educational activities, the editorial board of the JINR Weekly Newspaper asked VBLHEP staff member Dmitry Dryablov to sum up the results of such activities and share plans for scientific and popularizing activities of the Institute.
Please, Dmitry, tell us how educational and popularizing activities are carried out in JINR. Is there a coordinating body? How do the Institute's departments cooperate in this field?
Nowadays, JINR conducts a wide range of educational and popularizing activities and constantly searches for extra ways to carry out them. Sometimes new methods of conducting such activities are several times more effective than the previous ones. For example, information in a text, photo and video versions on the JINR website, or, especially, on public pages of the Institute and its departments (and sometimes even on personal pages of staff members) in social networks greatly increased not only the speed of the information spread (which is highly important these days), but also significantly expanded the outreach. It is common knowledge that such information platforms are widely used by official bodies as well (press-offices of scientific centres and universities, embassies, ministries) and just interested people all around the world.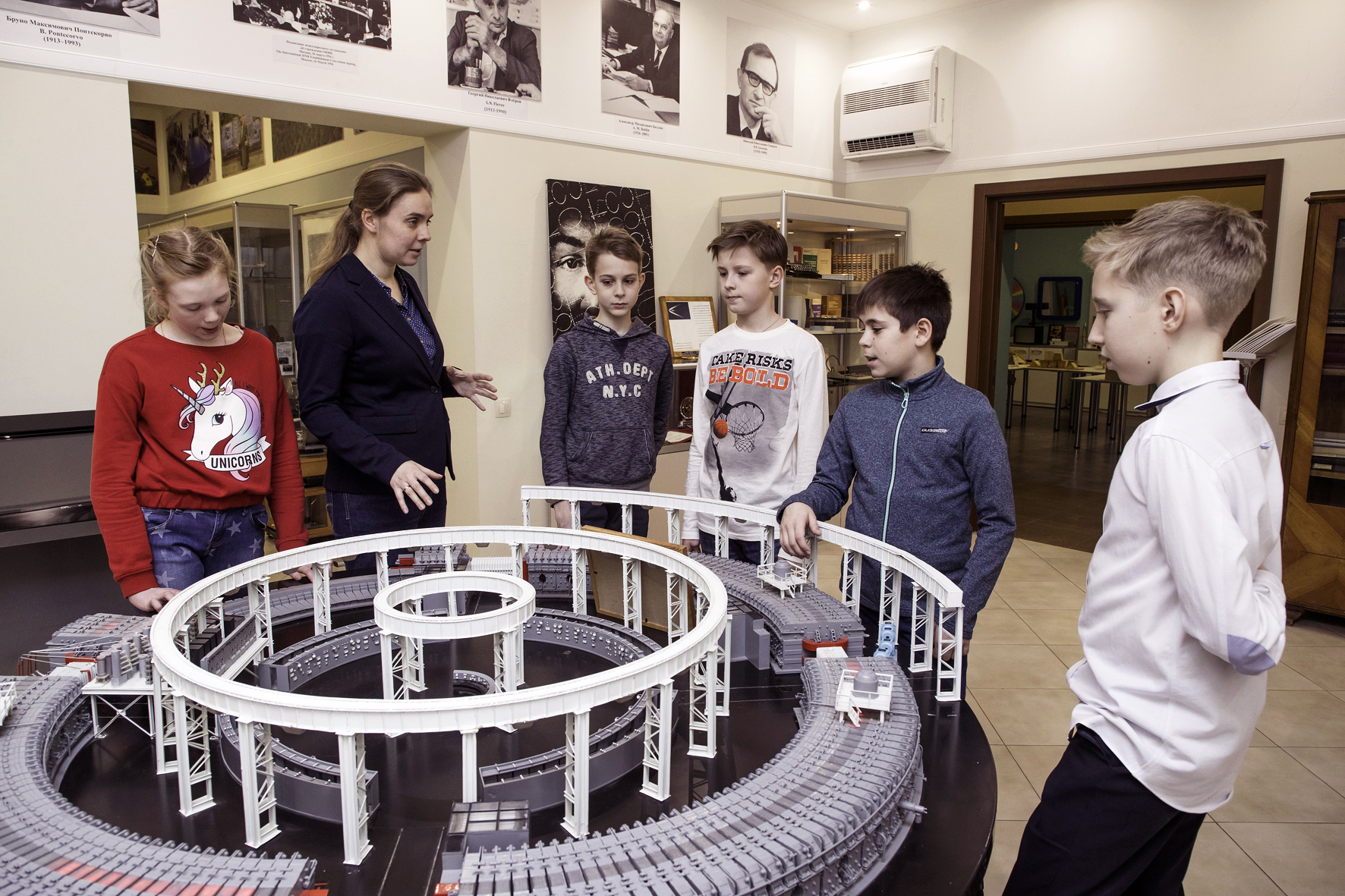 I would like to specify for whom and for what reason all this is carried out. Everyone knows what "popularization" means: it is a spread of scientific knowledge in a modern and understandable way for a diverse audience. What can we learn from this definition? For example, a scientist collects his thesaurus during his work life, and this thesaurus can be understood by specialists in the same field only. To achieve higher efficiency in work of scientists all around the world (as for JINR, all its laboratories can be considered as separate "countries"), this information should be spread via the most effective channels not only among scientists of the field but among scientists working in other fields as well. Moreover, information itself should undergo certain changes to become more understandable for people with a particular level of knowledge. Information about scientific and social activities of the Institute is necessary for other people as well: for all other staff members of the Institute (at least, for motivation and understanding of the importance of a joint aim), for students and school children from all over the world (first of all, to help them choose a career), for school and university teachers (to achieve even more powerful spread of information among students about the cutting edge of science), for all other citizens (there are many tasks: to search for common points with relevant fields, to enhance the prestige of the profession of a scientist, to report on the budget to citizens, to create a feeling among citizens of being involved in ambitious research on nature, etc.). It is necessary to find appropriate ways of presenting information to each group. It is a complex and creative process considered as research. We should consider JINR educational activities aimed to evoke and enhance interest in science among the mainstream audience. As our experience showed, it is important for a young generation even in terms of the development of critical reasoning, i.e. for more thoughtful behaviour in the world replete with information. Of course, a concurrent "applied" reason for such activities is to increase the Institute's recognition and thus attract the talented youth to science.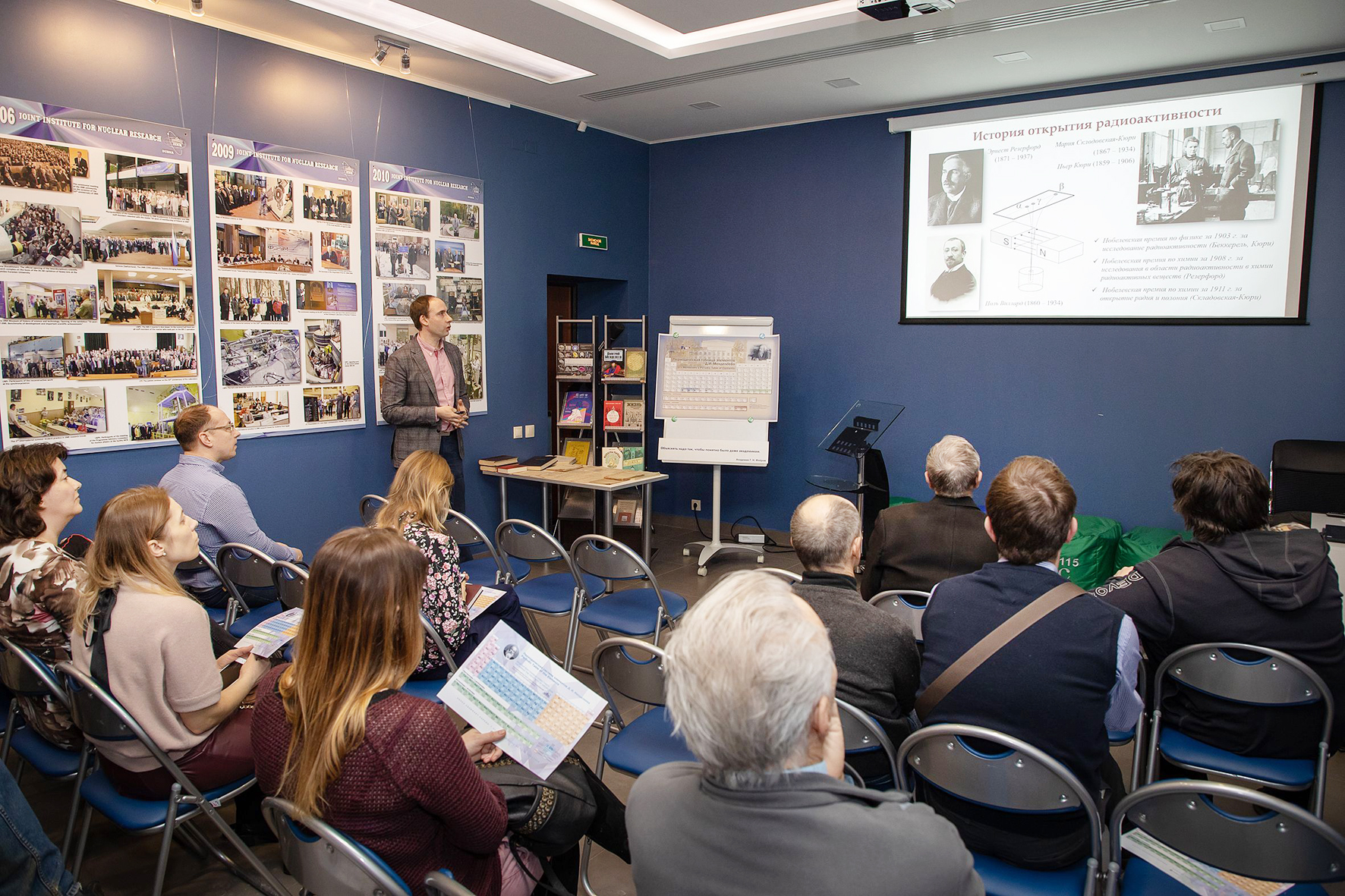 In recent times, JINR staff members, individually or in groups, tried to organize popularizing events on this or that field. The lack of free from work time was an obstacle to the effective development of these activities. Now, I can enumerate several coordinating bodies of JINR engaged in organization of popularizing and educational activities. I am sorry if I do not mention everyone. First of all, the JINR University Centre. By the way, the Institute took part in the World Conference of Science Journalists (WCSJ2019) for the first time this year thanks to the UC activities. The conference took place in Lausanne. The Museum of History of Science and Technology of JINR, the Universal Public Library of JINR, the Scientific Information Department conduct such activities. And, of course, your Newspaper with its online version and a public page on a social network. I do not see a joint coordinating body and I am not sure that it is needed. All these departments actively search for and temporary attract to the implementation of their projects JINR staff members. I can tell you about the most fascinating existing events and ideas in greater detail later.
Okay, but first, we are interested in experiments with liquid nitrogen you have been demonstrating since 2014. Now, after five years of experience in it, it is possible to sum up the results. Could you please remind how did it start? At the levels of the idea, its implementation, supporters.
I will try to recall. Before these experiments, there were more or less fruitful attempts of Nikolay Anfimov, Oksana Koval (DLNP), and mine to organize popular science lectures in Dubna schools delivered by the JINR staff. I remember that schools did not want to allot additional academic hours for such lectures. I think it was Oksana who greatly promoted these lectures, especially in School #9. In January 2014, a concept of a permanently operating popular science lecture course for everyone interested started to be implemented. In May 2014, the Museum of History of Science and Technology of JINR joined once again to the international campaign "The Night of Museums"; the programme of fascinating experiments for attracting more visitors, especially children, to the Museum was worked out. In the frames of this programme an organizer of the event, a staff member of the Museum Anastasia Zlotnikova offered me to demonstrate spectacular popular science experiments with liquid nitrogen.
One should understand that there are many JINR staff members who deal with liquid nitrogen in their work. Furthermore, there have been and there are employees who demonstrate similar experiments to school students. I was just the first who was offered to take part in the programme, and experiments with liquid nitrogen of JINR have been associated with me since then, although, to be honest, it is not right.
Preparing to experiments in the JINR Museum I got support and advice from the Directorate and many other staff members of the VBLHEP Accelerator Department, the staff of the nitrogen factory of the Chief Engineer's Office helped me. Strange as it may seem but some offers are coming from the Dubna online forum (recalling the "crystal" rose and imitation of Terminator freezing from the eponymous movie). Anastasia Zlotnikova, Roman Pivin (VBLHEP), and Alexander Ermakov (FLNR) joined me in the first performance. We tried to analyze the acquired experience in demonstration of experiments with liquid nitrogen, to choose the safest and most spectacular ones (levitation with the use of a superconductor, extremal fogging, the Leidenfrost effect, etc.) to provide as much scientific information as possible in an engaging manner. Our main objective was to disguise scientific knowledge, which sometimes went beyond the experience of the audience, in the charm of a spectacular performance. I remember that one event gathered so many visitors in the Museum that the floor of the old building could not bear them. The effect caused by experiments with liquid nitrogen exceeded all possible expectations. Then, TV coverages, photos and videos were published on social networks; there were many favourable feedbacks about "The Museum Day". It was obvious that it was necessary to develop experiments not only with liquid nitrogen but also on other scientific fields.
Is it possible to quantify the outreach? The geography of spectators also interests us: what regions visited events and thus learned about JINR?
I do not have precise statistics. In the first years, there were about 30 performances and more than 1,000 participants annually. Of course, I was not the only one to demonstrate experiments. In addition to people mentioned before, there were Artem Galimov, Oleg Kunchenko (VBLHEP), Igor Pelevanuik (LIT), Oksana Koval (DLNP). And I should note again that I could forget someone.
We did not advertise our experiments. People learned about us by themselves, and this shows that there is a need in such events. In the beginning, we demonstrated experiments with nitrogen in schools, summer city camps, at city events (Day of the City, the Youth Day, Days of Physics, and others) and accompanied them with lectures on JINR activities. Citizens of the left-bank part of the city were especially interested in it. Foreign students, generally participants of the UC International Student Practices, saw our performances in the frames of excursions to VBLHEP. We changed the level of demonstrations according to the level of preparedness of the audience to perceive scientific information. We have tried to explain the major physical phenomena of the world to graduates of infant schools several times.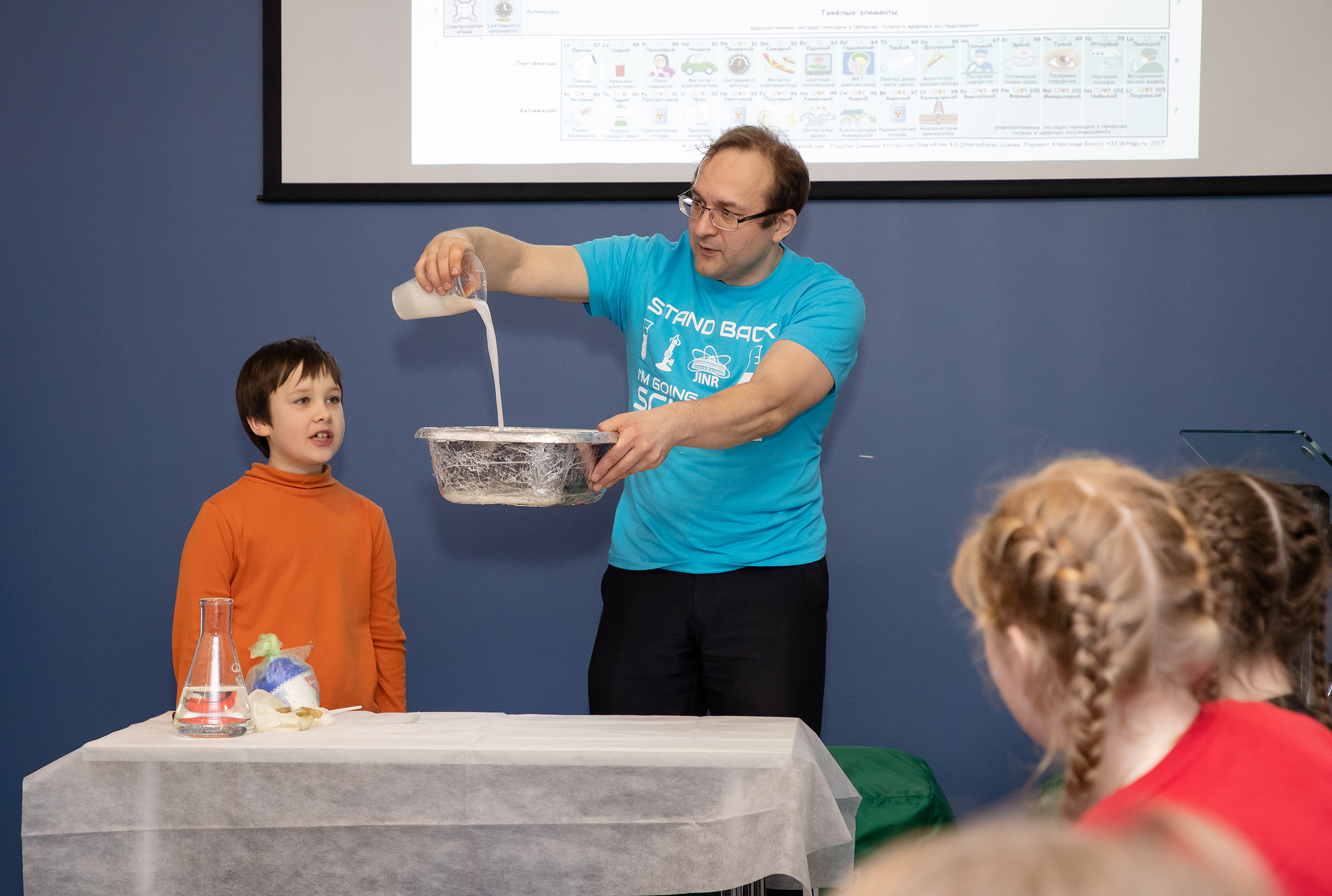 Recently, the geography of performances has become much wider, and we do not have time to satisfy all the applications. We have not managed to organize a trip to St. Petersburg. However, the staff of the Institute perform in Moscow at various events. I remember experiments demonstrated to students of the boarding school of the Defense Ministry of the Russian Federation, experiments shown at a large-scale festival Nauka 0+, international tourist exhibitions "Intourmarket", the festival "From heart to heart" where funds were raised for the "Sunflower" Foundation to help children suffering from autoimmune diseases. At the requests of schools, we performed in the Moscow and Tver regions. My rare experiments made in the frames of advertising performances of the Centre for Applicants of the Dubna University and demonstrated to high-school students of the Moscow and neighbouring regions were a special success (and most importantly, I got feedback!). I would like to highlight a trip supported by the UC and Dmitry Klimansky (VBLHEP) to the rehabilitation centre for minor children and the orphanage in the Chelyabinsk region. By the way, several months after the trip, Dmitry got a message that several children from the orphanage decided to try to enter physical faculties of local universities.
This great need in popular science experiments grew to the development of various thematic programmes. Konstantin Khramko (FLNP) and Tatiana Bulanova (LRB) design and demonstrate original chemical experiments at various city and all-Russian events. JINR staff members and Dubna citizens develop own experiments in the "Club of Future Scientists" (Dmitry Tsyrkov, Vadim Skoy, Anastasia Zlotnikova and others), in the group "Crazy lectures of genius scientists" (Natalia Rybnikova, Oksana Koval, and others).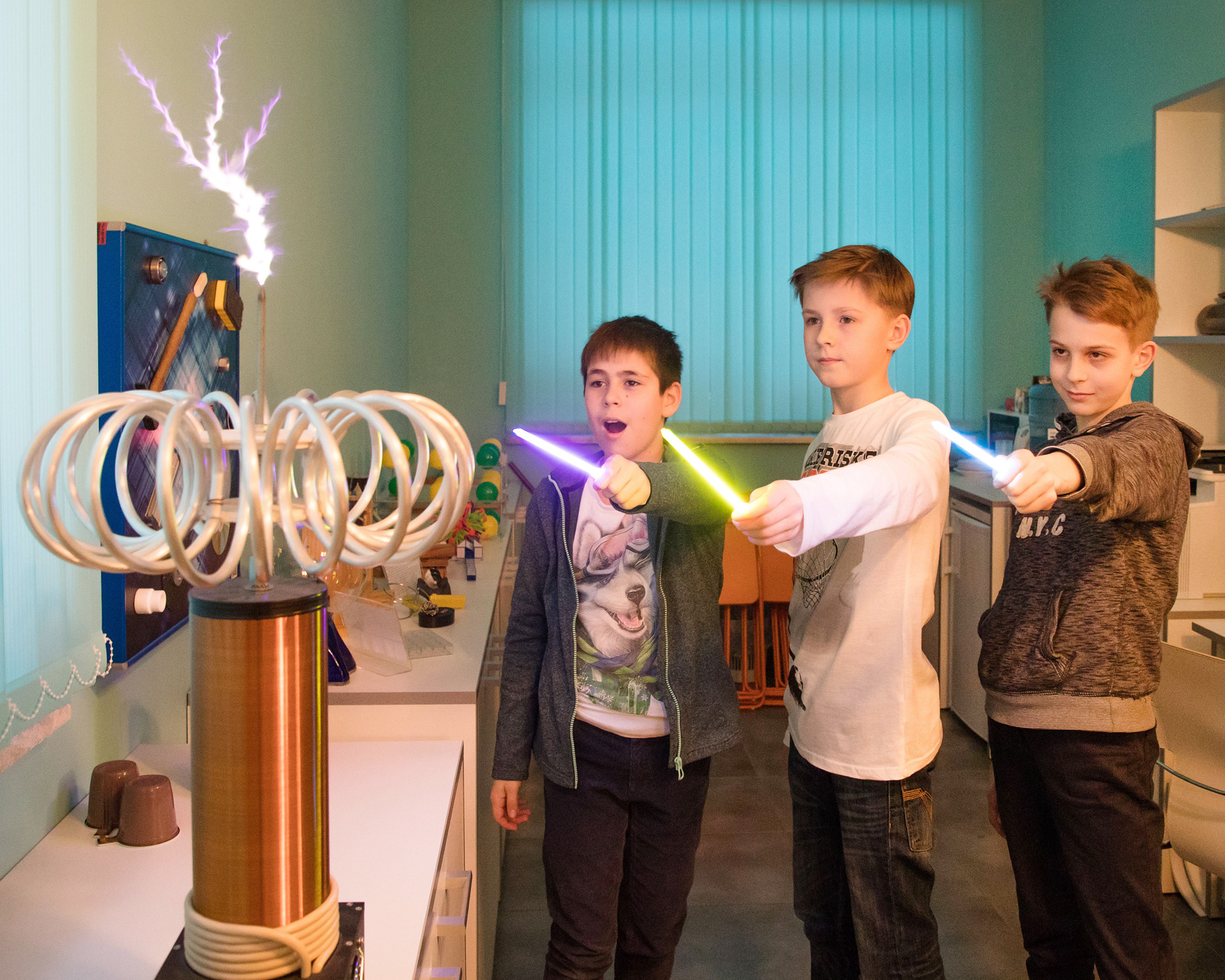 Experiments are the most spectacular and impressing part of work. However, there are also lectures, excursions and many other events we just do not manage to keep track of. Please, tell us about them, including how you come up with ideas to organize them: do participants find you themselves or do you offer them your programmes? What event in your opinion was the brightest one?
I can tell you only about some of the brightest events. The UC organizes crucially important and necessary events for school children, students, and teachers. More than 480 Russian-speaking teachers of physics took part in annual schools for teachers in JINR and acquired unique knowledge. About 380 teachers participated in similar schools in CERN. That means that several times larger amount of school children from Russia and the CIS countries will get the motivation to study natural sciences. Since 2004, three stages of three-week International Student Practices have been held to spread information about the Institute. Since 2014, 6-8 – week Summer Student Practices have been held, and 15 % of their participants stay in JINR.
Nowadays, the UC Social Communication Group actively popularizes science. They organize the JINR participation in large-scale festivals, such as the All-Russian scientific festival "Nauka 0+" in Moscow and Dubna (more than 10,000 people may learn about JINR during one such event!), Geek Picnic, and educational events, for example, the Moscow International Education Fair, the Dubna Forum "Professions of the Future", the Festival "Children are our future", etc. The issue of the JINR participation in such events is considered only after the request of main organizers. Sometimes JINR rejects to take part in events. As a rule, participation in scientific festivals supposes the combination of lectures prepared exactly for the level of the audience, popular science experiments, and demonstration of models of the Institute's facilities.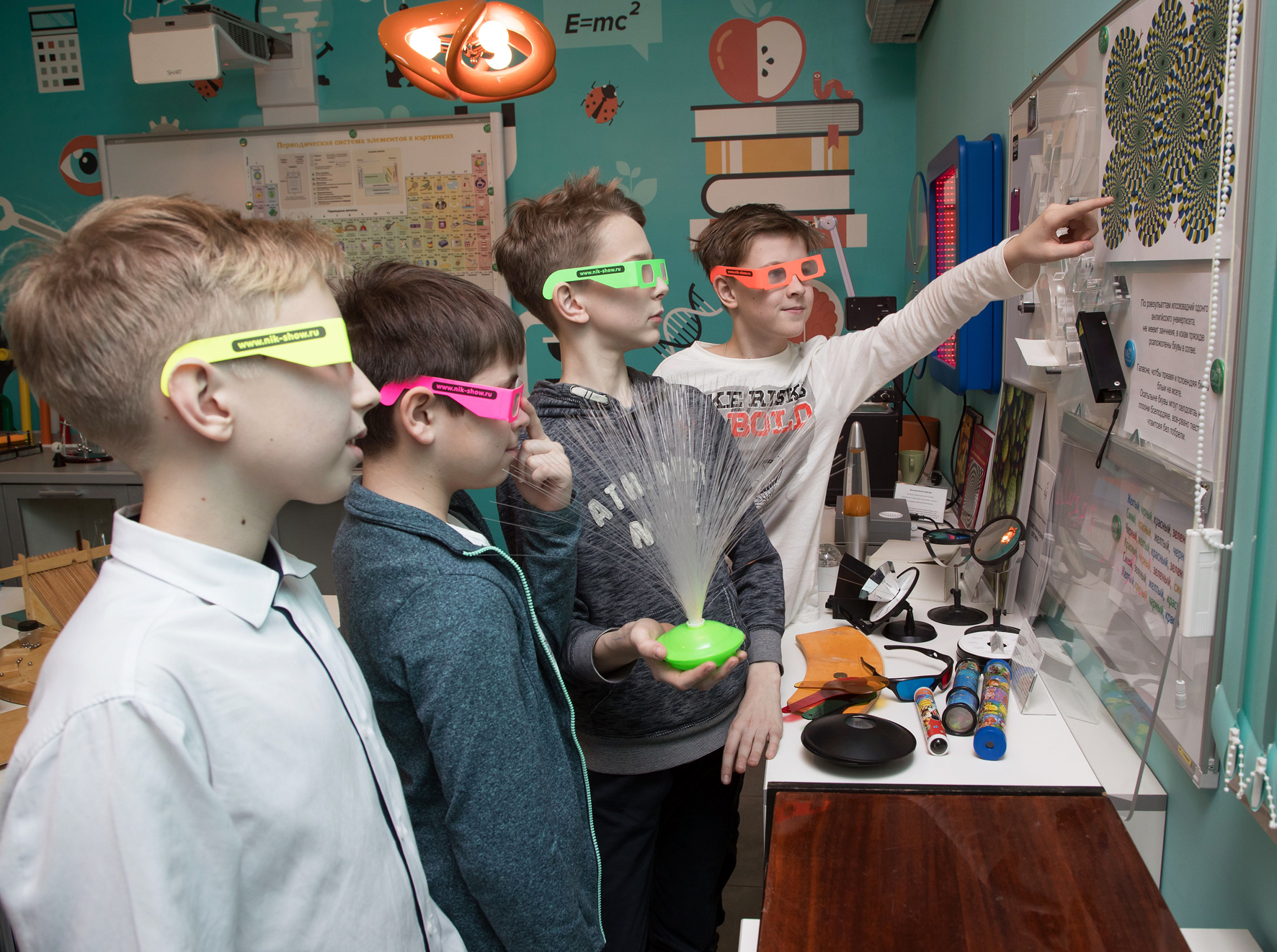 Continuing the development of lectures, the Social Communication Group organized the educational lecture course for school students in Dubna secondary schools. 23 popular science lectures of JINR scientists are offered now on the lecture course website. Any staff member of the Institute can join the project as a lecturer. Schools can submit a request. I have delivered three lectures in schools for the last half a year. Moreover, school students were supposed to evaluate my performance and answer several questions about the quality of a lecture. I learned many fascinating facts about myself from these answers! One more interesting new idea was online excursions during which staff members would answer questions of virtual guests in real-time mode being at facilities of laboratories.
Real excursions to the laboratories are one of the most demanded popularizing events in the Institute. On the other hand, I may criticize organization of excursions because of the incredibly large number of applications to JINR and several "intermediaries" between guests and guides who do not even contact with each other. FLNR and VBLHEP are the most visited laboratories. Last year, 77 excursions with the participation of approximately 1,700 people were organized. More than half of the visitors were schoolchildren and students. Scientists from laboratories take part in excursions and deliver lectures. It looks something like this in figures: VBLHEP – 15 employees; FLNR, DLNP, FLNP – 10 staff members from each laboratory; LRB, BLTP, LIT – five specialists from each laboratory.
I would like to note that the JINR Museum and the Universal Public Library surprise with their creative approach to events. They accumulate an extremely large number of ideas, and then check their effectiveness here. Thus, it was in the Blokhintsev Public Library where the first online excursion to CERN was held (organized by Ivan Belotelov), and the flashmob on the synthesis of dubnium was prepared here on the Day of Dubna City. Popular science experiments for children in the Museum and reading of scientific books and books about scientists to children in the Library, lectures in the Museum and antilectures in the Library. In fact, I believe that there was only one antilecture. DLNP staff member Mark Shirchenko answered the questions of numerous citizens about the neutrino. Of course, it was a wonderful experience worth to be continued. A fascinating "Trial of fiction" held in the frames of Biblionight, the festival of popular science films with comments of JINR scientists, participation in the international "Day of Dark Matter", and the educational campaign "Open Laboratory" at which a large-scale check on knowledge of modern physics was carried out…
Now you have an opportunity to tell once again about new ideas. How you can comment on the involvement of city bodies and organizations to this activity? What are the plans?
First, we should normalize organization of excursions to the JINR laboratories. In my opinion, there should be a joint coordinating body in order to spread equally excursions among the JINR divisions due to their current occupation. Igor Pelevanuik expressed his wish to think over the development of a platform to collect all interactive requests, permits from the laboratories, and information about the occupation of guides in one database.
Roman Pivin and Tatiana Serochkina (VBLHEP) offered to hang on a display with up-to-the-minute information about the operation of the Institute's basic facilities, that is crucial during experiments, and organize the online broadcast of seminars and conferences.
There are various unique UC laboratory tutorials for practical lessons with school children and students at the DLNP site. Some tutorials are organized at the VBLHEP site as well, which have been developed for students of the University "Dubna". Now, there is a need to create a laboratory tutorial for school students at the VBLHEP site with experiments on the laboratory's activities.
The concept of the creation of the scientific and educational platform of the Institute should be developed. JINR staff members have already started its implementation in the Museum. It includes the creation of a large platform with interactive models of modern basic facilities (at the present stage, DLNP is a leader in the field), a set of interactive experiments a part of which should be unique and refer to activities of this or that laboratory, a lecture course. Although the Dubna city administration did not show its involvement in the implementation of scientific and educational ideas of the JINR staff in different years, it will be impossible to deal with the case without the aid of the city.
Thanks to the popularizing activities of the Institute, and to be more precise, creative methods and the style of these activities, popular science publishing houses started to search for authors for their books, journals in JINR. Nowadays, we face one more challenge: to establish a dialogue between such publishing houses and the Institute's staff.
Due to our experience, we should further develop new technologies of the spread of information about science and JINR activities. In particular, we should introduce the use of online streaming of seminars in all the laboratories, and bring the use of social networks to a new, more professional level.
JINR Weekly Newspaper
Photos by Igor Lapenko