JINR presentation at the forum "Starting a career: autumn"
Education, 11 November 2020
The Forum "Starting a career: autumn" opened in the NRNU MEPhI. The event is held online from 9 to 13 November. The Joint Institute for Nuclear Research takes part in the Forum so that to interact with students at the event's platform.
Today, on 11 November, at 4:30 PM, the Joint Institute is holding the presentation "Creation of the NICA accelerator complex. Required competences". Participants will learn about mega-science, particle accelerators, large magnets and the future of science.
The presentation is given by Sergey A. Kostromin, Head of the Scientific and Experimental Department of Superconducting Magnets and Technologies of VBLHEP JINR. After the presentation Sergey A. Kostromin will answer questions of the audience, as well as will conduct interviews with those wishing.
On 12 November, at 4:30 PM, Alexey S. Zhemchugov, Deputy Director of JINR University centre, will speak at the forum about the programmes of the UC JINR, as well as answer questions from students.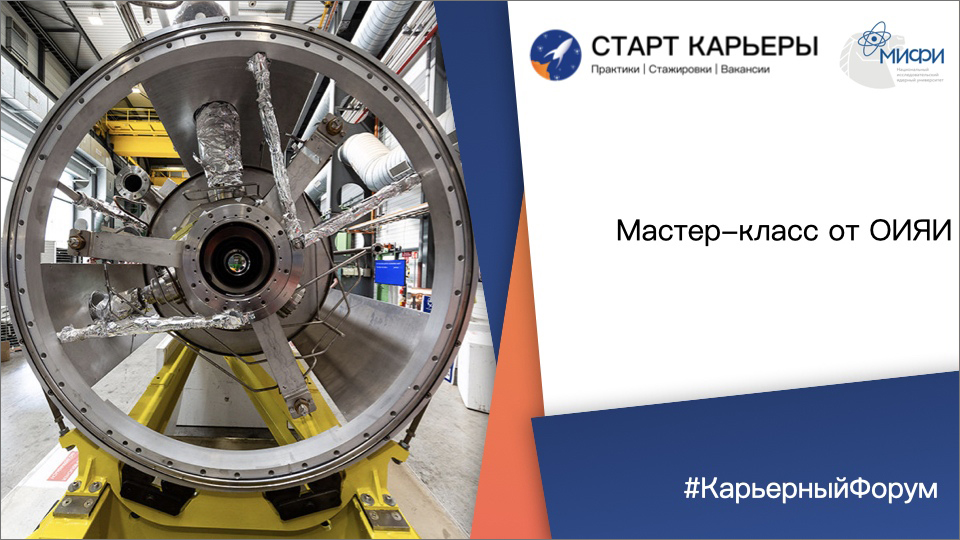 Career prospects at JINR for physics students. Video © UC JINR