The scientific programme of JINR is focused on achieving highly significant results of crucial scientific importance. The strategy of the Seven-Year Plan for the Development of JINR (2017-2023) envisages concentration of resources in order to upgrade the accelerator and reactor bases of the Institute and integration of its basic facilities into a unified system of European research infrastructure.
JINR Basic facilities
JINR has a remarkable collection of experimental physical facilities: the only superconducting accelerator of nuclei and heavy ions in Europe and Asia – Nuclotron; heavy ion Cyclotrons U-400 and U-400M with the record-breaking parameters of beams for experiments on heavy and exotic nuclei synthesis; unique neutron pulsed reactor IBR-2M for research in neutron nuclear physics and condensed matter physics; proton accelerator – Phasotron which is used for radiation therapy.
The user programme at an upgraded complex of spectrometers of the research pulsed reactor IBR-2 included in the 20-year European strategic programme of neutron scattering research is being successfully implemented. The experts from 16 countries and JINR specialists conduct experiments in the most promising areas of research primarily related to extending the knowledge of the structure and properties of matter, creation of functional materials, development of nano- and biomedical technologies, as well as those related to acquiring knowledge of planetary geology and processes occurring in the earthquake sources.
JINR Facilities under construction
The Institute seeks to consolidate and strengthen its key position in the modern world. The strategy of JINR development for the following years is based on fundamental science, innovations and education, as well as on improvement of the scientific and social infrastructure. One of the highest priorities of the Institute is construction of its new basic facilities.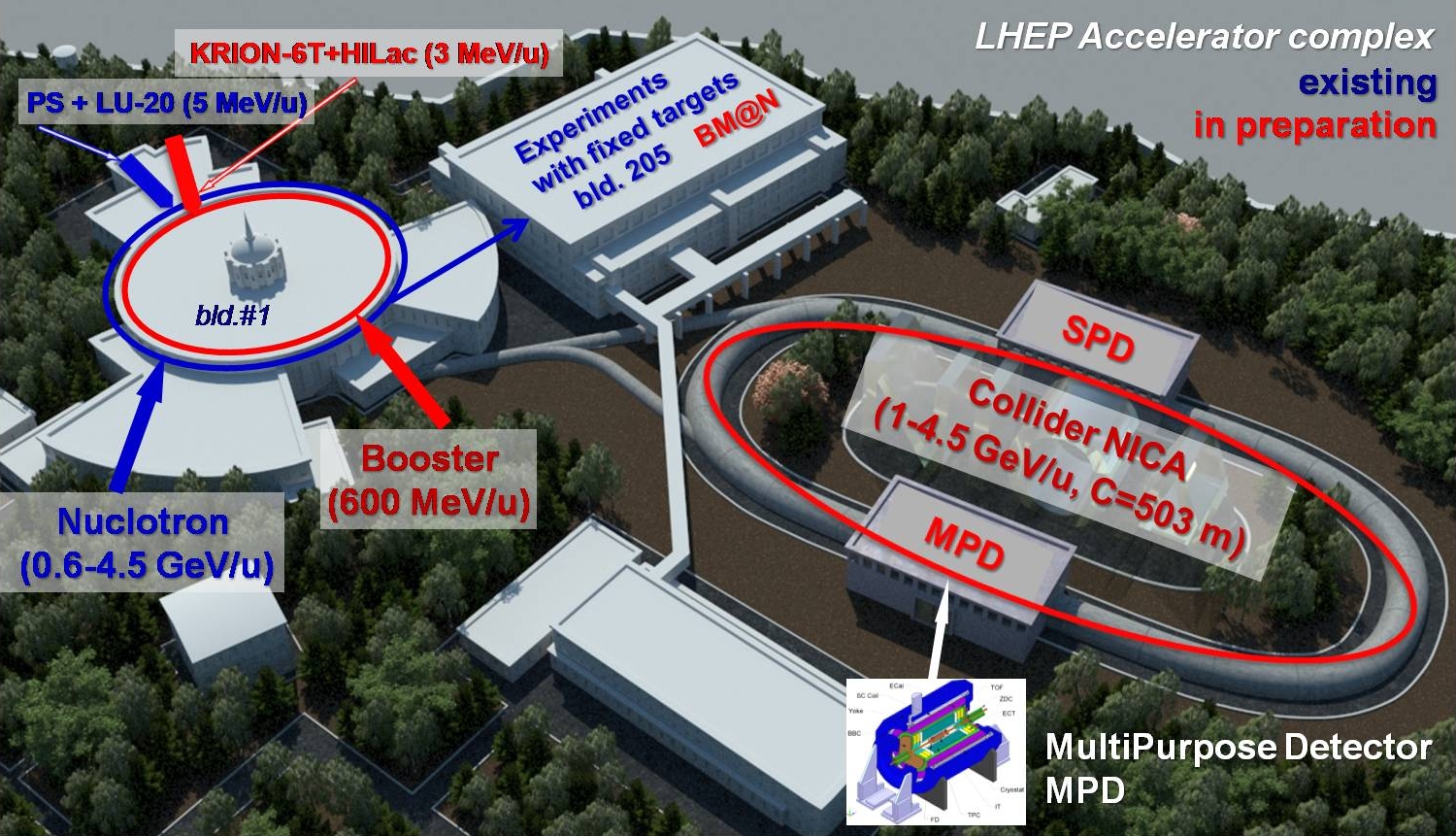 NICA
In contemporary theoretical understanding, matter can exist in several states: hadron matter, quark-gluon plasma and a transition process – "mixed phase". High-density baryonic matter is virtually unexplored. For its experimental study, it is necessary to create baryonic matter in the extreme conditions of heavy ion collisions at high energies. With this purpose in 2008 a project NICA (Nuclotron-based Ion Collider fAcility) was launched.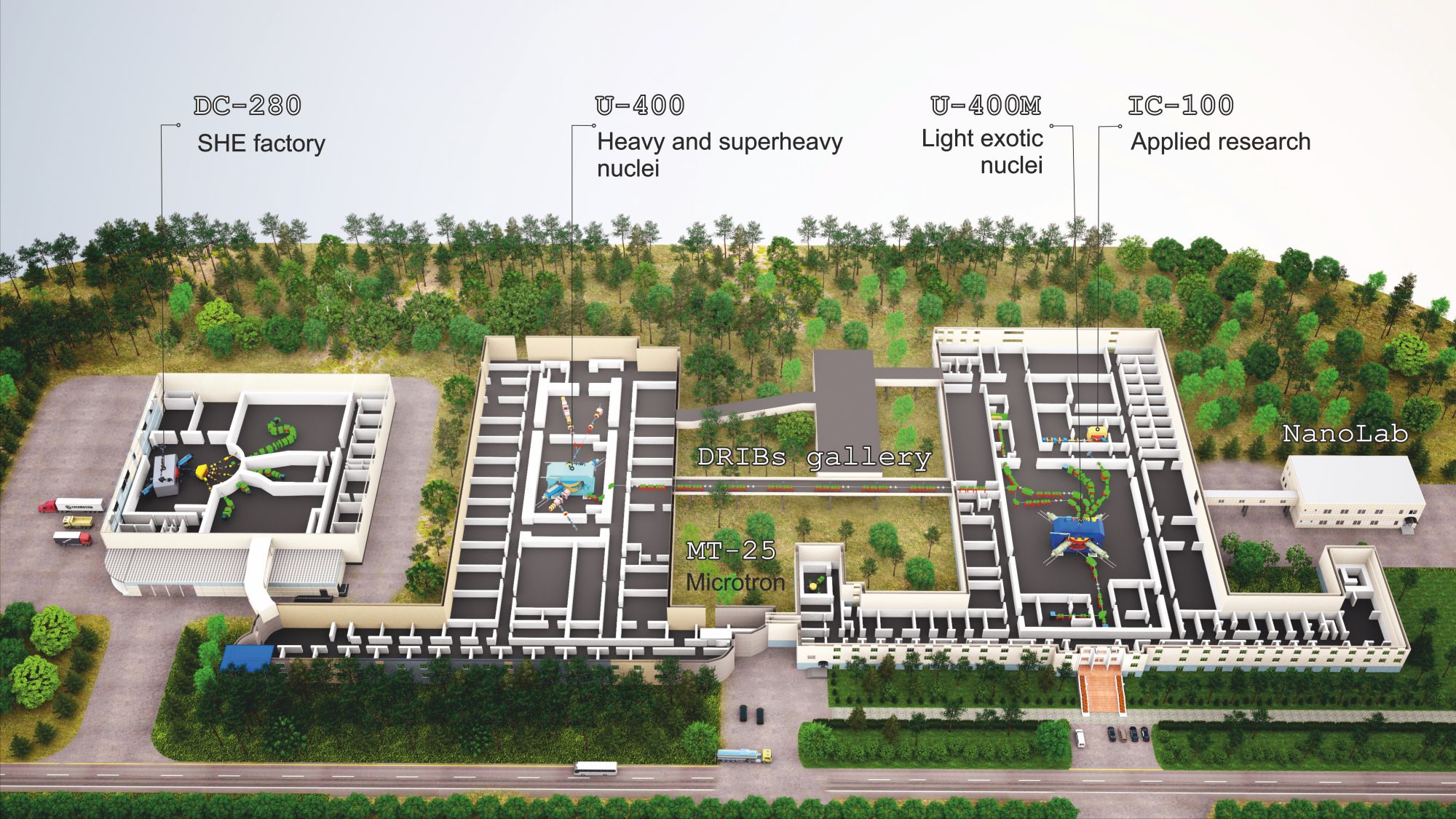 DRIBs
Heavy ion accelerators of Flerov Laboratory of Nuclear Reactions have been integrated in a complex DRIBs (Dubna Radioactive Ion Beams). The new DRIBs accelerator complex is aimed at studying nuclear reactions and the synthesis of new nuclei by unstable ion beams enriched with protons or neutrons.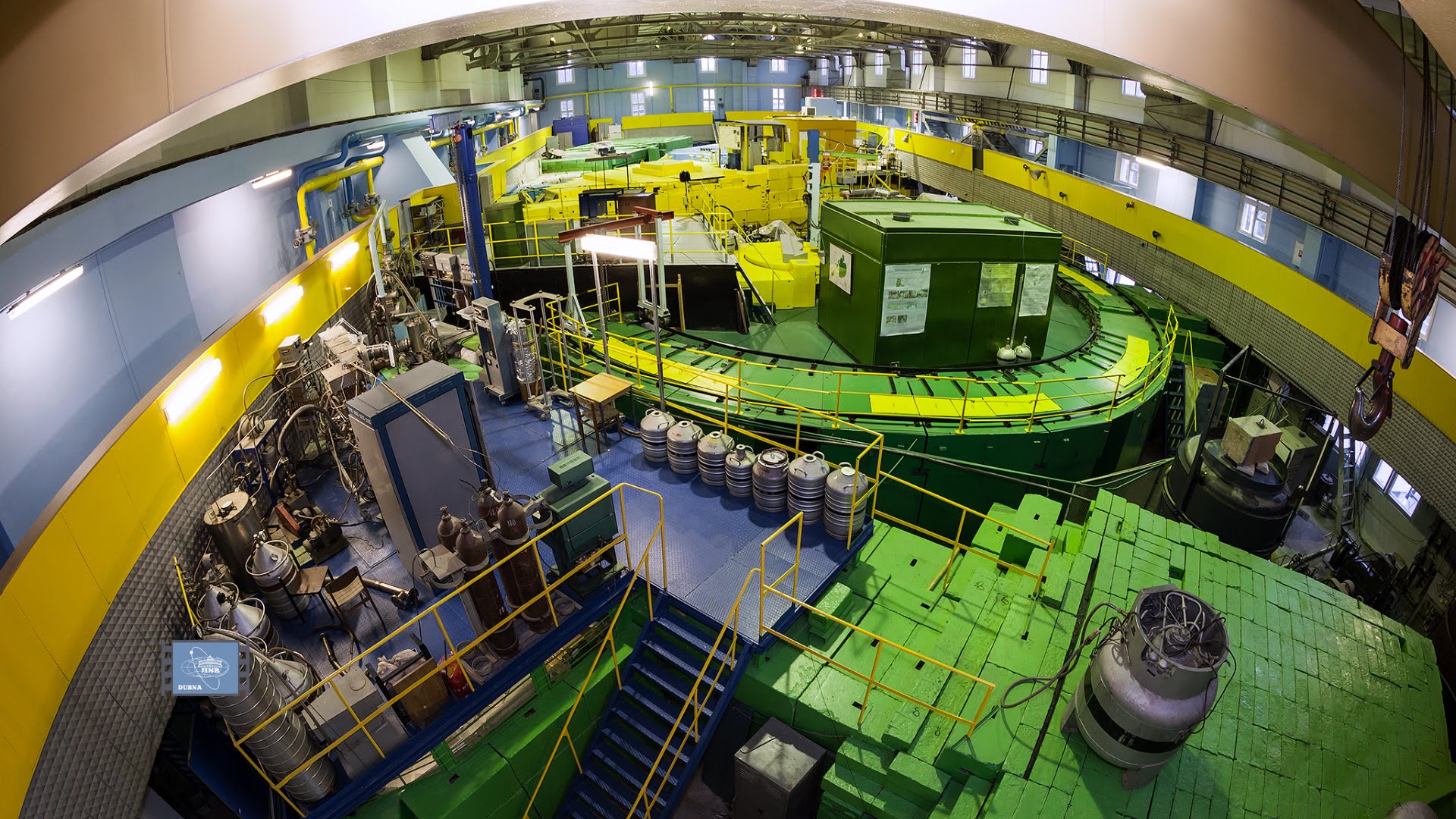 Установка 3
Текст про установку 3
NICA is one of the six mega-science projects supported by the Government of the Russian Federation. NICA is the international project on the Russian territory. This complex under construction will be equipped with an MPD detector to conduct experimental studies of hadron matter and its phase transitions, an SPD detector to explore the spin effects, and a BM@N detector to study baryon matter. NICA was included in the the ESFRI Roadmap.
Intensive work is being done on the creation of a modern heavy ion accelerator complex DRIBs and construction of the key element of this project – the SuperHeavy Element Factory (SHE Factory) intended for experiments studying the mechanisms of reactions with stable and radioactive nuclei – a new basic facility of JINR that will provide new opportunities in the area, where JINR is the undisputable leader.

Video lessons about NICA for school students
Video course about NICA and collider technology