A book of memoirs of one of IBR-2 Reactor creators published
News, 08 December 2022
On 7 December, a presentation of memoirs of a chief researcher at the Laboratory of Neutron Physics JINR Evgeny Pavlovich Shabalin was held at the JINR Museum of History of Science and Technology. Scientific results of one of the creators of the IBR-2 High-Flux Pulsed Research Reactor, Doctor of Physics and Mathematics, Professor Shabalin were awarded the USSR State Prize and the Russian Federation National Award in Science and Technology. In the book of memories published by the JINR Publishing Department and named "On the ship of your dream: notes of a reactor specialist", the author presented his life in colours and also spoke in an understandable way about reactors on fast neutrons, which operated, are operating, and are planned to be constructed at JINR.
A full audience gathered to listen to a charming colleague and famous reactor scientist who has been working at FLNP JINR since 1959. Evgeny Pavlovich started his presentation with books that shaped his personality in childhood, how he found his path in life, and how he unexpectedly for himself started to write prose after 70 years.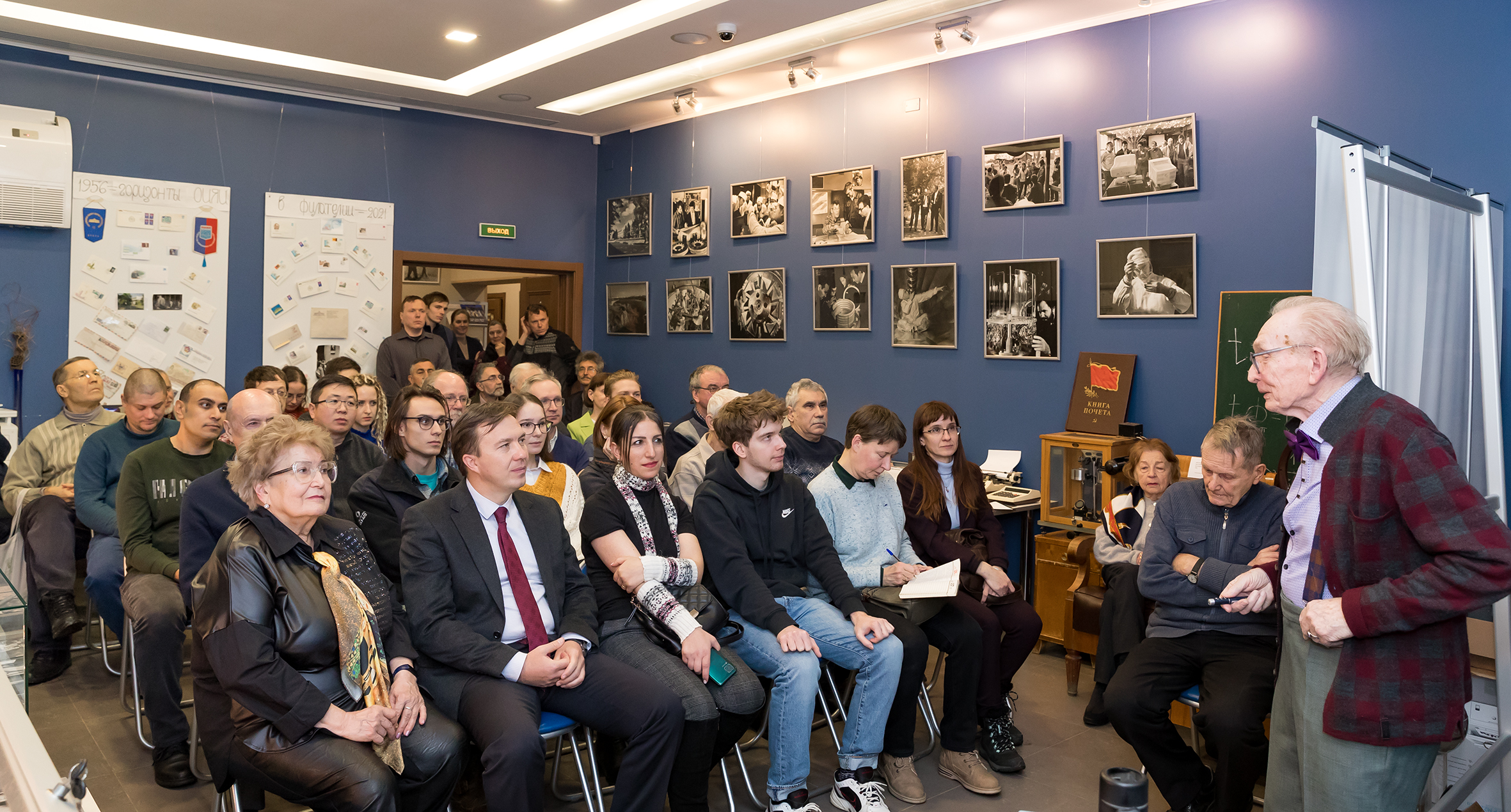 "Why is the book called "On the ship of your dream" but not "my"? If "my", then I am talking only about myself but if "your" then every reader will be able to imagine himself in his dream. Everyone has his own dream, that is why I chose this title," Evgeny Shabalin explained.
After finishing school with a gold medal, he dreamed to enter VGIK but it did not work out. After that, his mother insisted on entering MEPhI, the Moscow Mechanical Institute that time, where he was accepted without exams. Therefore, Evgeny Pavlovich became a physicist engineer, and later a chief theorist of the JINR nuclear reactors. He owns the theory of thermal instability of materials of cold neutron moderators. He discovered one of the types of instability of the nuclear reactor's behaviour, developed several devices and methods that increase the efficiency of the reactor neutron source. Among these, he proposed a comb moving reflector for the reactor and a pelletized neutron moderator. His monograph "Pulsed fast neutron reactors" is known among scientists all over the world.
However, he did not abandon his acting activity in his student years: he passed a competition of 40 people for a place in an amateur film studio at Mosfilm, where he then went on weekends, getting a job in Dubna. He participated in amateur activities at JINR for many years. At the Institute, he did not limit himself to scientific articles, but also wrote poetry. On his own admission, poetry was easy for him until the age of 70. Then he started to write novels. The choice of the topic was predetermined, of course, physics.
"Poetry and prose are completely different. Poems are written quickly, it takes just one-two hours instead of two-three days. You need some intense insight for poetry. It took me half a year to write one science novel," the author commented. He shared that the memoirs had been written in total for six months or a year, if it was possible to combine time spent at work. Some chapters were started back in 90s of the last century. Work on the manuscript was resumed in the mid-2010s, when some of memories of Evgeny Pavlovich were published in the JINR Weekly Newspaper. Memoirs, he claims, are more difficult to write than novels, "Because you need to observe certain norms in memoirs. You have to know what and for whom you are writing. I wrote novels and poems easily, without any problems. Memoirs are harder to write. It would seem the opposite, right?" he noted.
To the question from the audience, "What did you like more and what was a success more: studying physics or theatrical activity?" the author answered, "Theatrical activity was easier." Besides, being an actor, you immediately get feedback: you see how people laugh, cry or applaud. And you rarely get applause from physicists!"
Mayor of Dubna Sergey Kulikov, a recent employee of FLNP gave a bouquet of flowers and a letter of thanks to the scientist and writer. "We are all in anticipation to open your new book," he said. "Evgeny Pavlovich is an example of how physics and lyrics harmoniously come together in one person." I know Evgeny Pavlovich not for very long time, only a quarter of a century, but I can say that to some extent you have shaped me as a person. A huge thank you from me personally for the work that you are doing for the laboratory, for the Institute, for the city. You not only have worked in the laboratory and participated in amateur performances, but also were in the city Council of Deputies. Therefore, for your active life position, for all your achievements, for being just a wonderful person, thank you!"