Advances in quantum field theory discussed at BLTP
News, 11 October 2021
From 11 to 14 October, the Bogoliubov Laboratory of Theoretical Physics is holding the International Conference "Advances in Quantum Field Theory" (Ad QFT-2021).
The event is dedicated to the 70th jubilee of seven brilliant scientists – Vladimir Belokurov, Konstantin Chetyrkin, Dmitry Kazakov, Nikolay Krasnikov, Anatoly Radyushkin, Vladimir Smirnov, and Alexey Vladimirov. They graduated from the same academic group of the Physics Department of Moscow State University in 1974 and keep working in the area of quantum field theory and particle physics.
JINR Scientific Leader Victor Matveev in his welcoming speech highlighted that each of the honoured birthday celebrants had greatly contributed to the development of quantum field theory. All together they represent Russian theoretical physics. "This is the scientific school of Nikolay Nikolaevich Bogoliubov, his followers and students. The joint celebration of the 70th anniversary of these brilliant scientists, the glory of Russian science, is a unique event. It is great honour and joy for me to work with such outstanding scientists who do not only follow the highest scientific principles but also have special traits. This is the "magnificent seven" of Russian theoretical physics," Victor Matveev commented on the event.
BLTP JINR Director RAS Corresponding Member Dmitry Kazakov spoke about the aims of the Conference, "Quantum field theory has been existing for more than 50 years, but it turned out to be smarter than we are. It presents us with new surprises; new methods, models and approaches are now emerging. We hope that we will manage to advance in quantum gravity that we have not yet studied compared to the model of quantum field theory. But there is a lot of progress, we participate in the field and we are keen on this. The Conference is dedicated to quantum field theory."
Participants congratulated Konstantin Chetyrkin, Dmitry Kazakov, Nikolay Krasnikov, and Alexey Vladimirov who participate in the Conference in person. Vladimir Belokurov, Anatoly Radyushkin, and Vladimir Smirnov received congratulations online.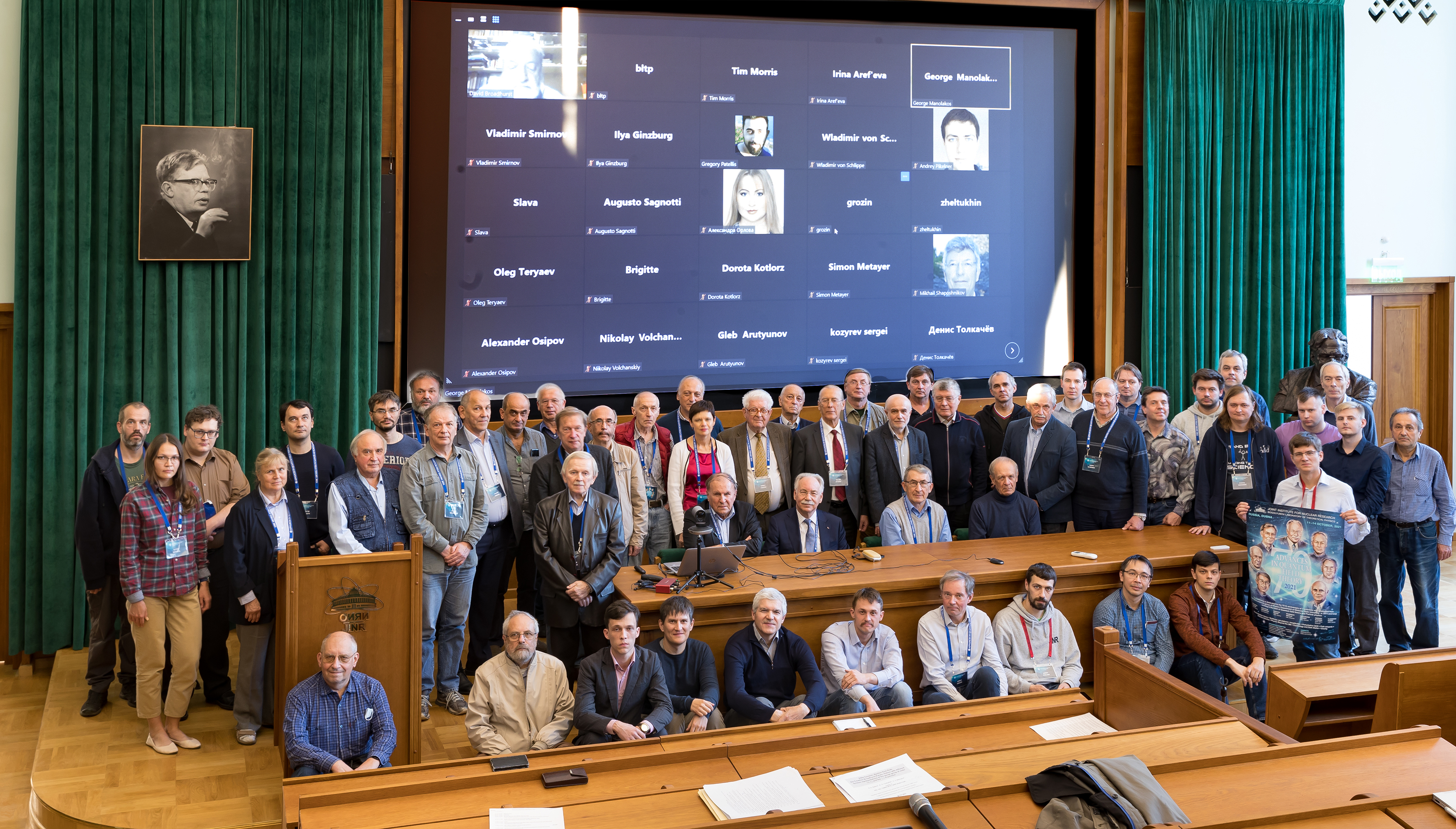 Photo by Elena Puzynina
A wide scientific programme of the event covers the following topics:
Renormalisation Theory
Multiloop Calculations
Amplitudes
Perturbative QCD
Path Integrals
Effective Theories
Physics Beyond the SM
Cosmology and Dark Matter
Gravity
More than 200 scientists registered for the event. The geography of participants covers more than 20 countries all around the world.
The working language of the event is English.