Agreement between University of Pretoria and JINR signed
News, 29 February 2020
On 25 – 27 February 2020, Vice Chancellor and Principal of the University of Pretoria (the RSA) Tawana Kupe visited JINR with an RSA delegation. The delegation was represented by Head of International Cooperation Setsipane Mokoduwe, Head of Research Capacity Development Rakeshnie Ramoutar-Prieschl, Head of the Department of Physics Chris Theron, as well as professors of the Department Thulani Hltshwayo and Sergei Rakityanski who came to Dubna in the frames of joint research projects. The visit of the delegation was organized within the 15th International training programme for decision-makers in science and international scientific cooperation JEMS – «JINR Expertise for Member States and Partner Countries» (JEMS-15). The guests used the opportunities of the training programme for in-depth acquaintance with the Joint Institute, the development of its scientific infrastructure and current scientific research.
On 27 February, a meeting of the delegation with the JINR Directorate took place. Vice-Directors M. G. Itkis and R. Lednický, and Chief Scientific Secretary A. S. Sorin represented JINR at the event. Executive of the contacts with the RSA, Head of the International Cooperation Department D. V. Kamanin, Deputy Director of the University Centre A. S. Zhemchugov and Coordinator of RSA scientists in JINR Arnoux Rossouw also took part in the meeting on behalf of JINR.
During the meeting, the parties noted a dynamic development of scientific contacts between JINR and scientific centres and universities of the RSA. They also discussed practical steps towards the cooperation enhancement between the University of Pretoria and the Joint Institute in the fields of scientific research and staff training. The parties also noted the importance of further efforts to spread information about cooperation opportunities provided by the Joint Institute in the Republic of South Africa.
The meeting in the JINR Directorate was concluded with a festive singing of the cooperation agreement on carrying out scientific research and training scientific and technical staff. The members of the RSA delegation highlighted that it was the first for the University of Pretoria agreement with a large foreign research infrastructure.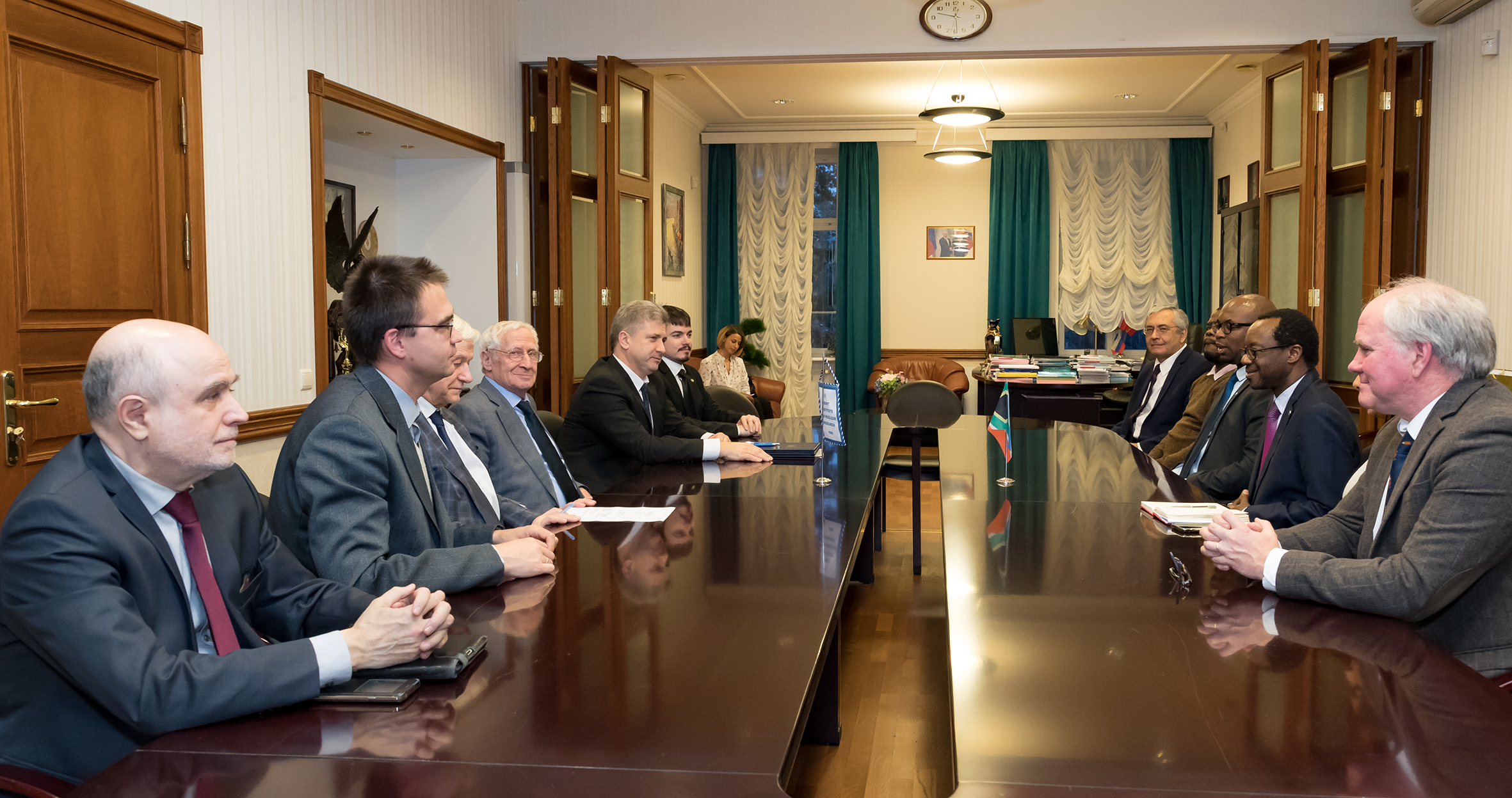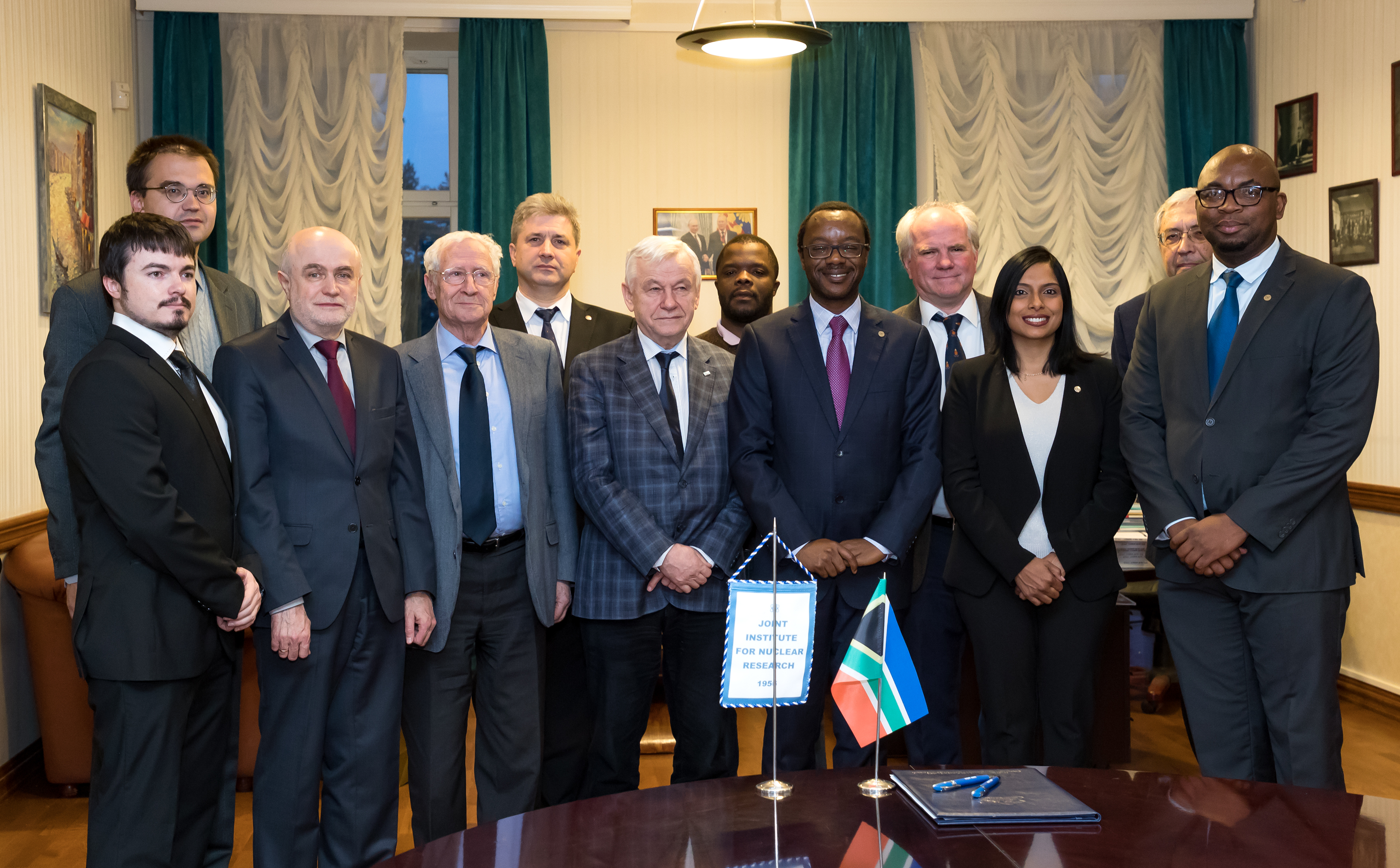 Vice-Chancellor and Principal of the University of Pretoria Tawana Kupe commented on the signed agreement for representatives of the JINR media: "It is a big moment today as we signed a strategic agreement with JINR. We consider it a very important collaborative agreement because it is going to advance science and knowledge in the RSA in the fields of not only physics but in related fields as well, such as engineering, information technologies, medical research and its application. After several days spent at JINR, we were very impressed by its world-level research facilities and advanced scientific research. And it is very important that such a unique scientific infrastructure is available to scientists from all over the world. Everything is well organized here; there are high-class specialists very enthusiastic about their work. We, I mean scientists and universities, should unite opportunities of these high-level facilities and infrastructure, enthusiasm, energy, and intelligence to advance scientific knowledge. Our agreement also includes the development of academic exchange. Our young scientists, postdocs, students, as well as schoolchildren will have an opportunity to visit JINR and gain experience and knowledge not only from Russian colleagues but also from scientists from various counties represented in this international scientific centre. One can meet here people from all over the world. This integration will allow getting a new kind of knowledge necessary to sustain humanity in this dramatically changing 21st century. I think that in the modern world the best way to achieve excellent results is to create strong partnerships, strong collaborations, to work together on a global scale. Knowledge knows no boundaries and limits. And this is how we see our relationship: global knowledge for the benefit of the global human community."
Photos by Elena Puzynina