AYSS workshop on scientific presentation design
News, 02 March 2020
The Association of Young Scientists and Specialists of JINR with the support of the JINR Directorate organized a workshop on the design of scientific presentations and posters, learning to keep in touch with the audience and sign language, the study of typical questions and possible answers to them. The lecturer was Sascha Vogel from Frankfurt University (Germany). The event took place on 17 – 20 February in the JINR Visit Centre and gathered 30 JINR staff members.
Feedback from participants:
Anastasia Ivanova (DLNP)
"I have only positive impressions of the training, the course was very interesting and useful.
I liked the atmosphere of the event; Sascha was friendly and ready to help with any issues. He explained everything in simple words with humour. I liked that there was plenty of practical tasks and they were diverse. It allowed us to consider presentations from a new angle and understand our own strengths and weaknesses."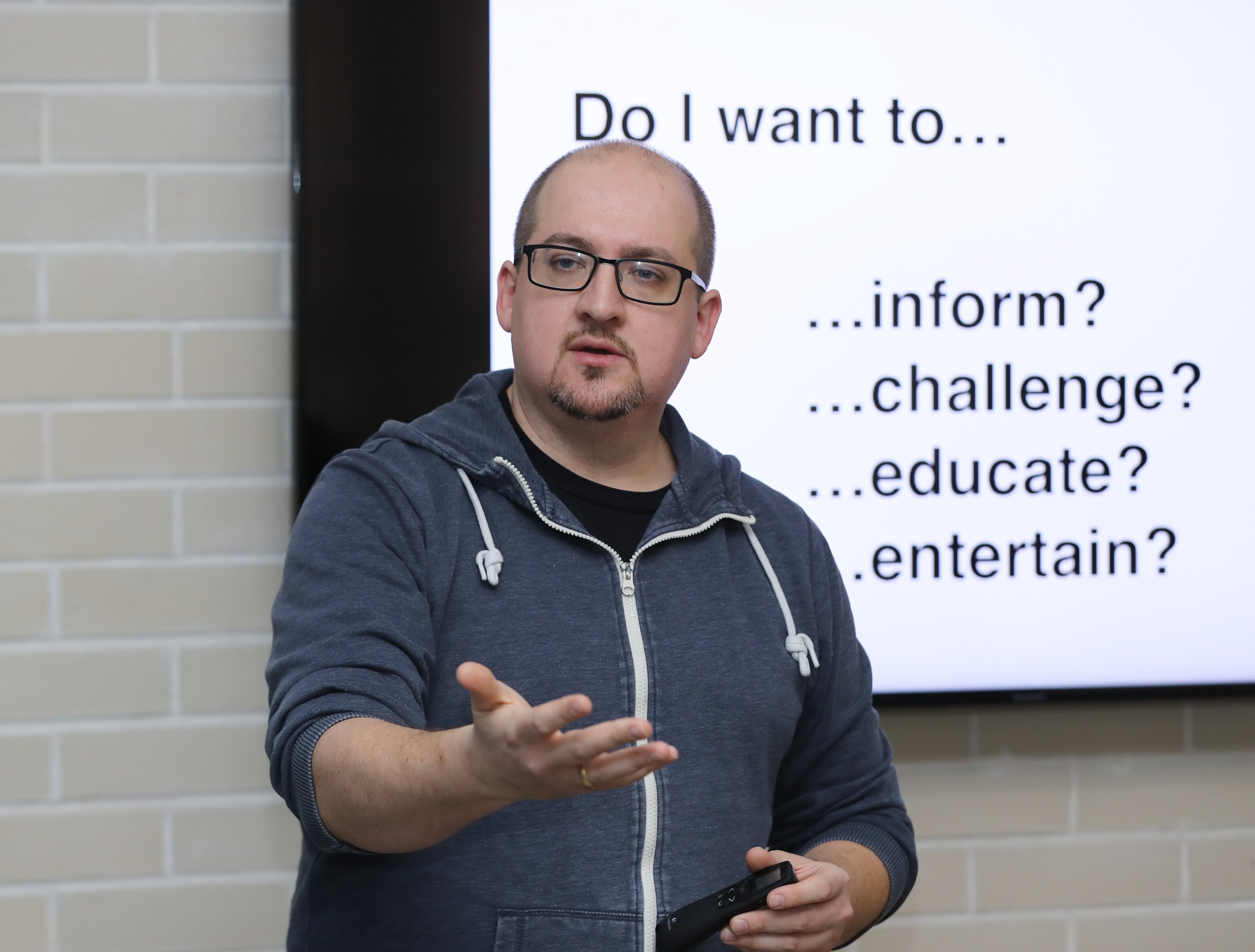 Inna Kolesnikova (LRB)
"We had two days of a cool workshop: lectures, speeches, work in pairs, the design of presentations and personal style of each participant, exercises on work with the fear of public speaking and etc. And participants also emerged into English. A considerable advantage of the workshop for me was that the course was taught by a German, a European representative, a physicist by education. He is a person who knows the inside of science, so it was very interesting and useful to learn the European style of material presentation. After two days, we overcame the fear of public speaking and making presentations you had just been given or self-presentation in 30 seconds completely improvising without being confused. Mr Vogel demonstrated in a natural way that contact with the audience was not frightening and stressful. On the contrary, it is good for the performance if a speaker stops being afraid of public speaking and keeps the attention of it (it includes the sign language, voice development, good content.)
Sascha spoke about the basics of presentation design and common mistakes. The presentation should be based on its purpose.
I think it is an excellent technique to record us – participants of the workshop – every time we speak in front of people of our own free will or not. The video analysis was like a language barrier: the speaker does not like his voice, appearances, poses, gestures, speech… Someone liked all it. If not, then only facing the "waterfall" of disharmony allows overcoming it. Work in groups was very comfortable, the atmosphere was friendly. Everything was great."
Margarita Korobitsina (VBLHEP)
"I express my deep gratitude for the course to Sascha Vogel. I liked the "elevator pitch" exercise the most, as well as watching the videos of our performances and discussions of mistakes. It turned out that making mistakes is an extremely useful and productive process. Friendly atmosphere and understandable presentation of information allowed us to use obtained knowledge in practice."
Photos by Igor Lapenko