Celebrating anniversary of Yuri Oganessian in Moscow
Media, 15 April 2023
On 14 April, a grand seminar dedicated to the anniversary of Scientific Leader of the Laboratory of Nuclear Reactions JINR Yuri Oganessian took place at the Central Scientists' Club in Moscow. Representatives of the leadership of the Ministry of Science and Higher Education of Russia, the Russian Academy of Sciences (RAS), the State Corporation "Rosatom", Lomonosov Moscow State University (MSU) participated in the event to congratulate the prominent scientist.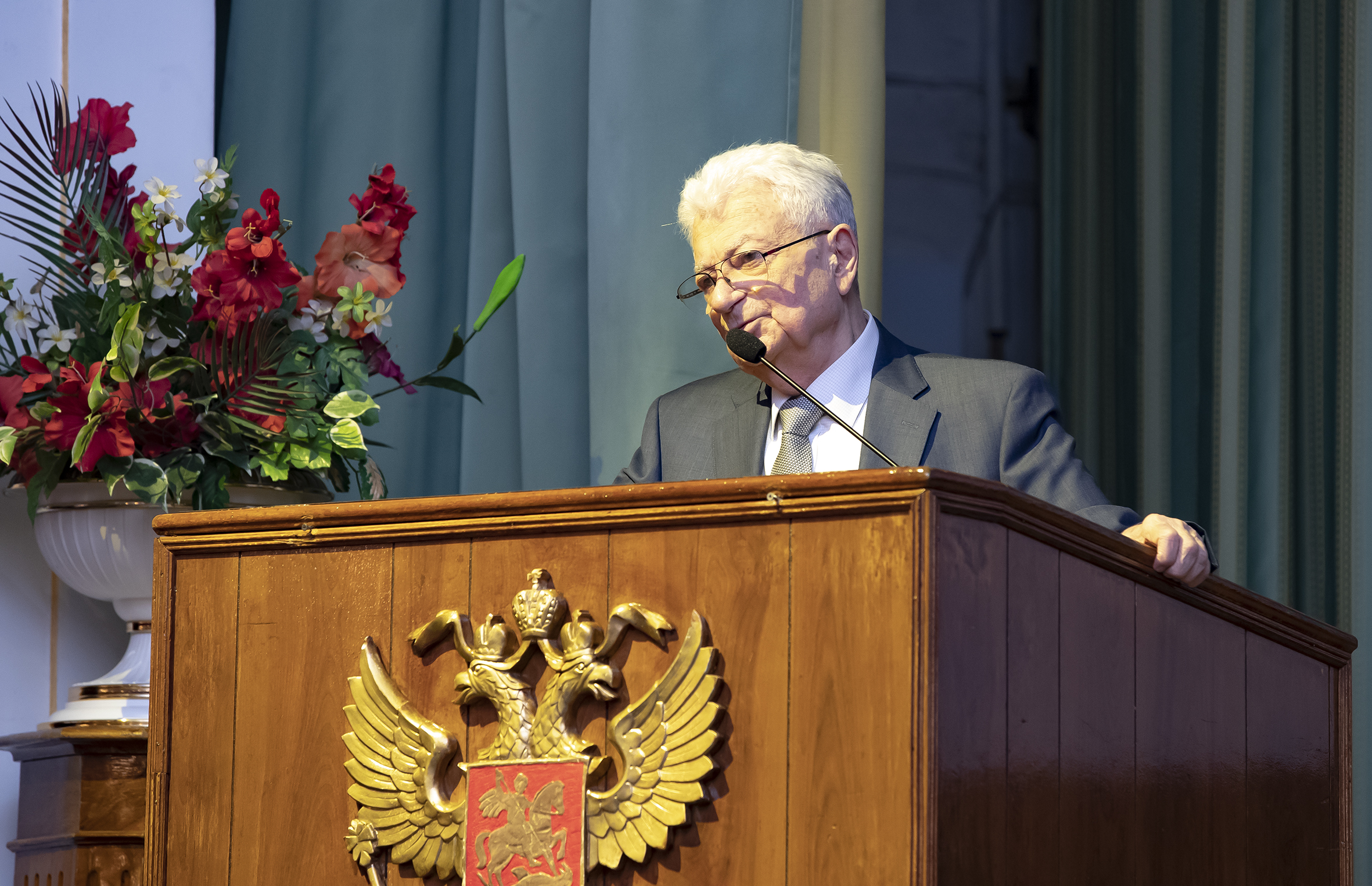 JINR Director RAS Academician Grigory Trubnikov opened the seminar. "Today is a significant day not only for the Joint Institute, but also for the whole scientific community of Russia and the world. It is important for a scientist to see the results of implementation of their own ideas during their life. Yuri Tsolakovich is a prominent engineer, physicist, and natural scientist, thanks to whom more new major scientific papers and accelerators appear," he said.
President of the Russian Federation Vladimir Putin sent a congratulatory telegram, which was read out at the grand seminar, "Yuri Oganessian has a complete and unquestioned authority among representatives of the Russian and world scientific community as an outstanding scientist and a great organizer. Your fundamental research, startling and breakthrough discoveries still play an important role in the development of key areas of physics."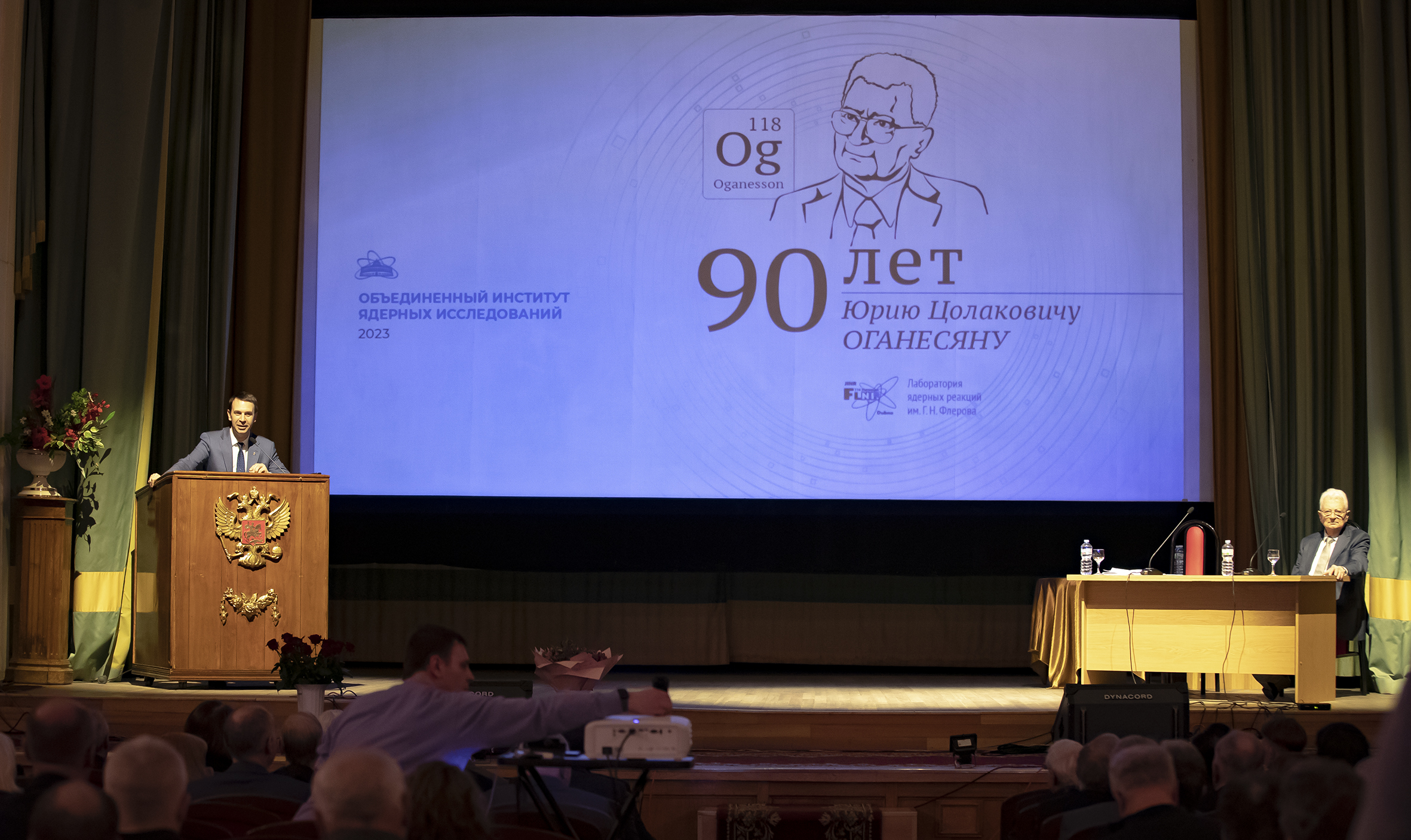 Deputy Minister of Science and Higher Education of Russia, Chairman of the JINR Finance Committee Andrey Omelchuk congratulated the scientist on behalf of the Ministry. "Yuri Tsolakovich is a genius with a great legacy, including facilities, new elements, new achievements. It is very important that he shares his experience with young scientists and trains them," Andrey Omelchuk highlighted in his speech and passed a memorable address of the Ministry to the prominent scientist.
Ambassador Extraordinary and Plenipotentiary of the Republic of Armenia to the Russian Federation Vagharshak Harutyunyan took part in the festive event. He highlighted the huge contribution that Yuri Oganessian made to the development of civilisation and wished him new scientific discoveries. "Yuri Tsolakovich is known not only as a man who created a miracle, but also as a representative of the Armenian nation. Therefore, Armenia is proud of this great scientist," Vagharshak Harutyunyan said.
RAS President Gennady Krasnikov wished Yuri Oganessian many years of active creative work, further achievements, and assured that RAS would do everything possible to remove obstacles on his scientific path.
Russian President's Special Representative for International Cultural Cooperation Mikhail Shvydkoi, Rector of Moscow Aviation Institute Mikhail Pogosyan, RAS Academician Boris Myasoedov, Past President of the International Union of Pure and Applied Chemistry (IUPAC) Natalia Tarasova, colleagues from the State Corporation "Rosatom", and MSU joined the congratulations.
Strong interactions of Yuri Oganessian: the scientist, after who element 118 is named, turns 90