Envelope with oganesson
News, 17 July 2018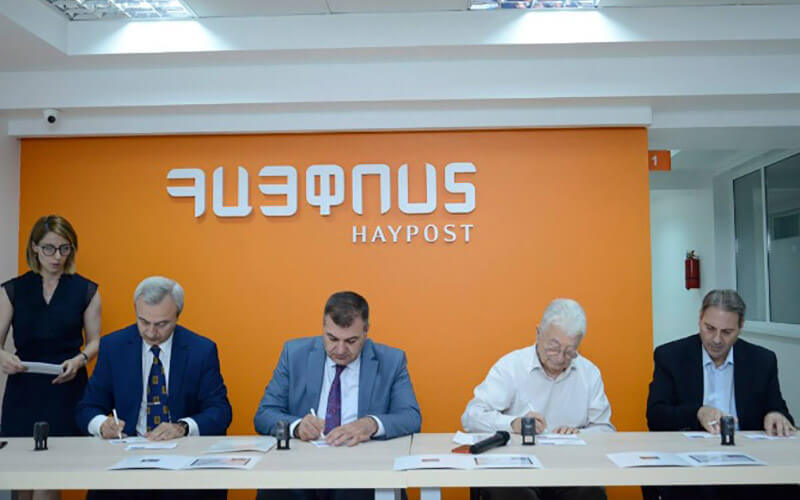 A special envelope dedicated to a world-famous scientist Yuri Oganessian was cancelled in Armenia.
Cancellation of a special envelope dedicated to Scientific Leader of the Flerov Laboratory of Nuclear Reactions JINR, Russian Academician Yuri Oganessian, was held on 13 July 2018 in Yerevan as News-Armenia reported.
Academician Oganessian, Minister of Transport, Communication and Information Technologies Ashot Akopyan, Director General of the "HayPost Trust Management" company Juan Pablo Gechidjian and Executive Director of the "Synopsys Armenia" company Hovik Musayelyan took part in the festive cancellation ceremony.
– Any nation can be proud of a world-famous scientist. This ceremony is a minimal expression of gratitude to a great scientist during the lifetime, – Akopyan said.v
Having expressed gratitude for special recognition, Oganessian noted that his work on discovering a new element had taken about 50 years.
– It is a significant milestone of my life just like discovery of a new element, – Oganessian said.
This special envelope is a unique philatelic material, and there will be 500 copies of it. The author of the design is a specialist from the "HayPost" company Vahagn Mkrtchyan. The envelope depicts element 118 of the Periodic Table named after Yuri Oganessian "oganesson" (Og) in recognition of his great contribution to heavy elements synthesis. A postage stamp dedicated to Yuri Oganessian, introduced in December 2017, is placed on the envelope.
Following the materials of Dubna-infrom