Fair of JINR Craftsmen: uniting in creativity
News, 14 March 2022
On Sunday, 13 March, Institute's staff members and members of their families presented handmade items at the Fair of JINR Craftsmen "Meeting spring together" in the Blokhinstev Public Library. Ceramics, watercolour drawings, wooden tableware, felt miniatures, and original books – this is not the full list of items presented at the Fair. This was the second event organized by the JINR Women's Committee.
According to the organizers, the Fair was, first of all, intended to become a platform for informal and creative contacts among the Institute's employees so that to let people get to know each other from a new angle. This task was fully implemented: the event had the atmosphere of warmth and creativity. Both masters and visitors came with their children. Young participants took an active part in the Fair and presented their pieces of art. They demonstrated collections of own drawings, applications, miniatures made of felt wood, and even books. Thus, 10-year-old Sasha Baldina presented her collection of stories and poems "My true magic stories" written in English. A copy of the book became a part of the Blokhinka's collection.
The Fair brought together not only JINR employees, their family members, representatives of several national groups of JINR, but also young scientists from Egypt participating in the Student Practice organized by the JINR University Centre. Moha Masoud, a participant of the Student Practice from Egypt, noted that she expected the event to be a little bit larger, but on other hand, it gave an opportunity to communicate more closely with masters. "People here are very friendly, they all are fond of creativity. I am very glad to personally communicate with people. I like the Fair very much. Moreover, both my colleagues and I have bought some interesting items here."
Aytekin Isaeva, the wife of a representative of the National Group of Azerbaijan at JINR Rafael Isaev, treated all guests with homemade oriental sweets. She said that her daughter, who is passionate about drawing, greatly liked the event. "Our child is delighted as she had a chance to actually organize her own exhibition here and show her drawings to guests. It will support her interest in creativity and motivate her to develop in this area. Besides, it is just nice to be here. It was great to meet other JINR employees and their families.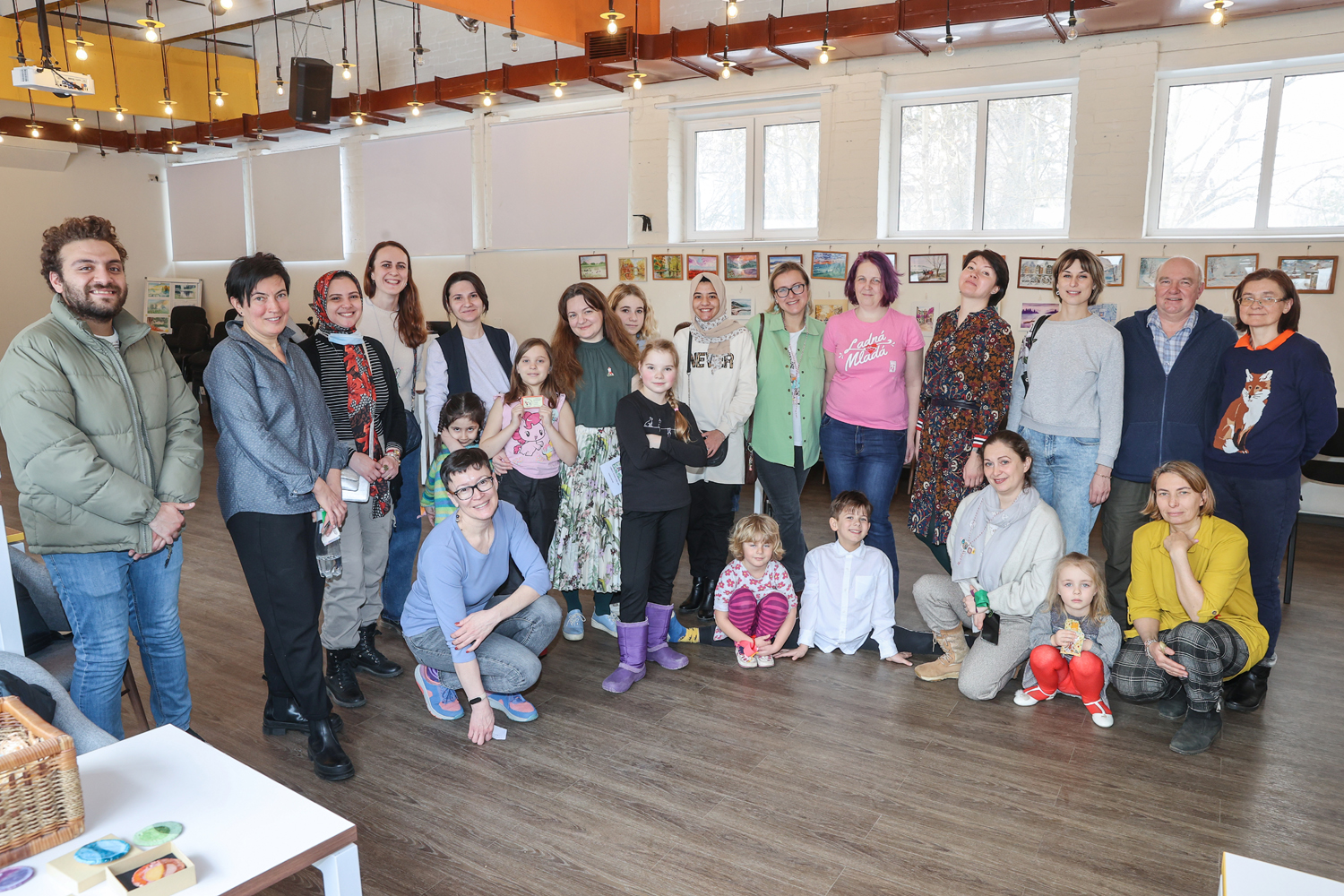 Anna Vertogradova, a Dubna ceramist, shared her impressions of the Fair. She described it as a place where people exchange their positive and creative energy. "Now, in today's difficult situation, people need communication more than ever. It is very important not to be closed, not to become reserved, but on the contrary, to move towards each other uniting, sharing knowledge, being creative. No wonder they say that beauty will save the world."
Petra Beneshova, a senior specialist of the International Cooperation Department of JINR, noted that she was glad to get to know her colleagues from a new angle. Her daughter found workshops on ceramics interesting. "It will distract my girl from her smartphone. I tend to immerse myself in a creative environment, so I often go to Moscow for workshops. At this Fair, I have discovered art directions on which I am keen, so now I can try doing them in Dubna."
Chairman of the JINR Women's Committee Elena Badawy continued this idea in her comment. She offered to organize JINR-based regular ceramics and clay modeling workshops with the support of Anna Vertogradova. "We strive to unite people, provide them with an opportunity to tune for creative atmosphere. Handicraft creates meditative mood, distracts from everything, allows focusing on something positive. And at the same time, it is a chance to get to know each other from a new angle."
Another idea of the JINR Women's Committee is to organize a group of mutual help headed by a JINR employee with basic knowledge in psychology. A meeting with a psychologist has been recently held. The event was organsied by the Women's Committee, and the format has proved to be in demand.
Subscribe to the Telegram channel https://t.me/women_jinr and learn about events held under the auspices of the JINR Women's Committee. The JINR Women's Committee invites enthusiasts to share their ideas and suggestions at women@jinr.ru, as well as all JINR employees and their family members to come to the Committee's events and feel like members of the large, friendly, international family of the Joint Institute.