"He was the pivot of the Laboratory"
News, 08 October 2020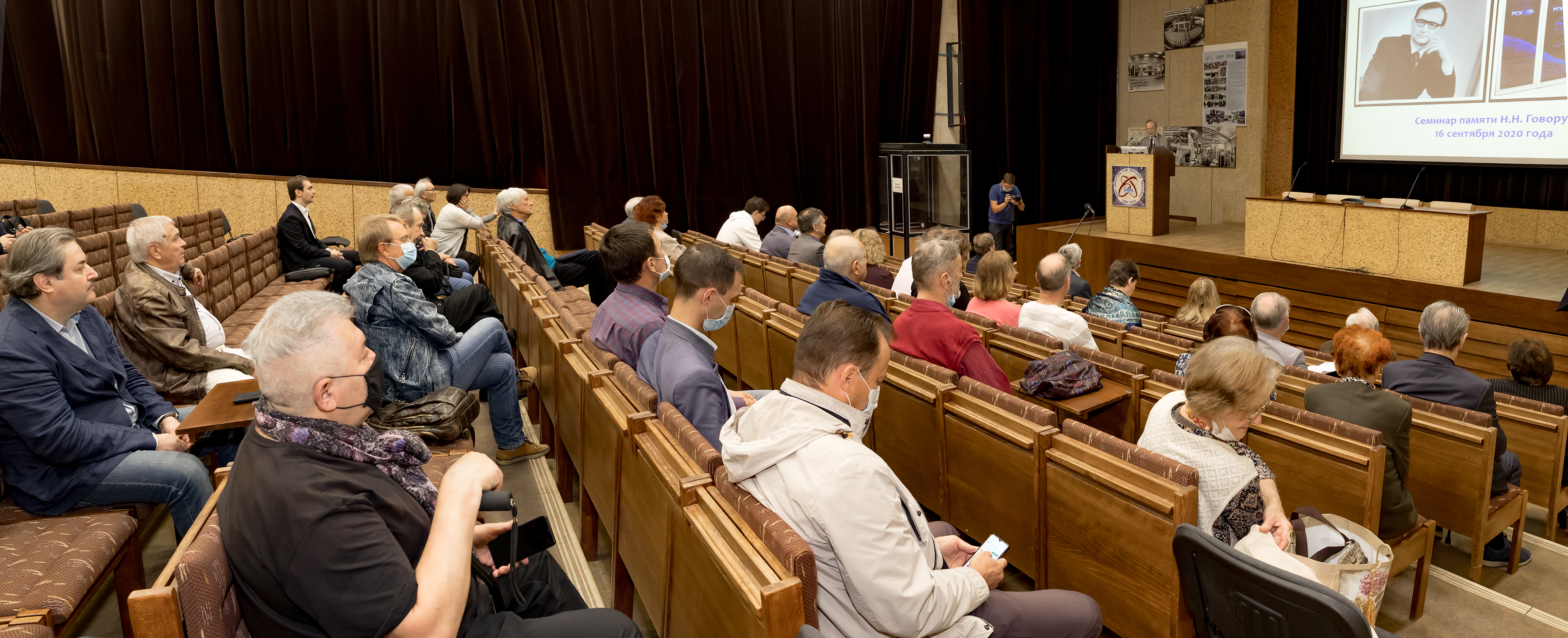 The Laboratory of Information Technologies planned to hold a memorial seminar dedicated to the 90th anniversary of the birth of N. N. Govorun on 18 March, on the birthday of the scientist. The coronavirus interfered with the plans. A half of a year later, the seminar was finally held in two formats: in-person and remotely. On 16 September, employees and veterans of the Laboratory, family members and guests gathered in the LIT Conference Hall. Participants shared their memories in the first part of the seminar. The programme of the second part included scientific reports on the tasks solved at the supercomputer "Govorun". Guests could get acquainted with it during the excursion.
Welcoming family members of Nikolay Nikolaevich, colleagues, veterans of the Laboratory who gathered in the LIT Conference Hall and in front of computers, LIT Director V. V. Korenkov said: "It is both easy and difficult to talk about Nikolay Nikolaevich. A brilliant scientist, a teacher, an organizer: he lived in the era of new things happening daily, and he was in the core of the IT development. He was the soul of this movement, many of his friends and we all recall him warmly."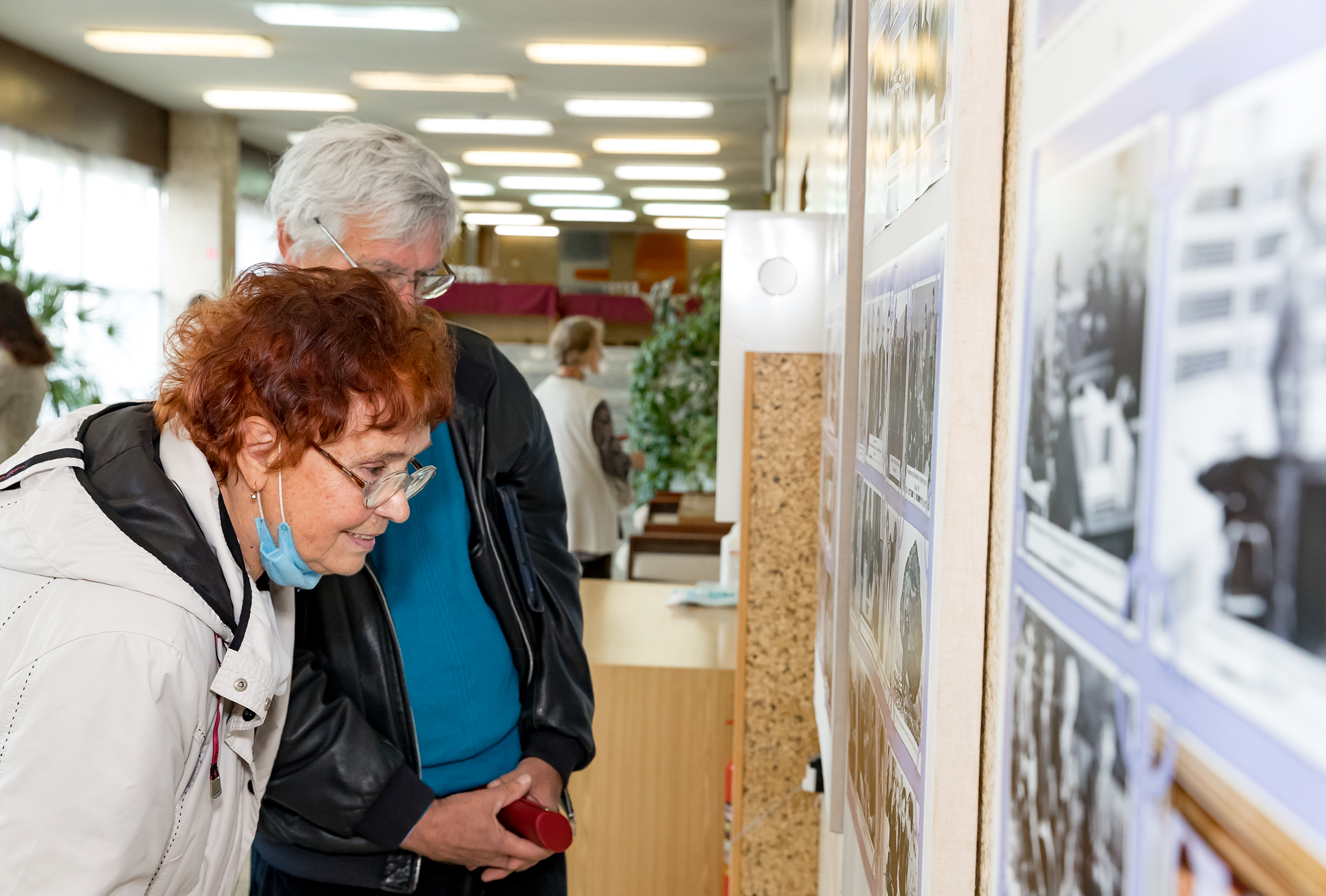 "It has always been a pleasure for me to visit your Laboratory," JINR Director V. A. Matveev said to the audience. "Meeting with the staff, it is possible to feel how dynamic is your life. You have prepared a wonderful photo exhibition in honour of the jubilee: it is the family album and the Institute's history, thank you for your memory. Today, we are celebrating the jubilee of an outstanding man who greatly contributed to the Institute's development and one of its main laboratories developing so actively nowadays. We remember those people who stood at the origins of JINR and their young assistants. This is exactly who Nikolay Nikolaevich was, a brilliant man, in all the respects, a talented physicist, a mathematician, a designer, an engineer, a mentor to young people. Unfortunately, he passed away too early, but JINR and the RAS Department carefully maintain the memory of him, and many things he planned are now being implemented. It is symbolic that the first JINR supercomputer is called after him. It reflects the development of his ideas. I am grateful to Nikolay Nikolaevich Jr. who came here and family members who joined us on the Internet. I would like to wish them well-being and continuation of Govorun's generation. I wish the LIT staff new creative achievements."
R. D. Govorun via video call thanked all the LIT staff members, colleagues and friends of Nikolay Nikolaevich for the good memory of him. A welcome letter from the Committee on Science of the Republic of Armenia was cited.
The Laboratory's history associated with N. N. Govorun and its current life were presented in the report "LCTA/LIT: faithful to precepts of N. N. Govorun" made by V. V. Korenkov. He reminded that even before the Laboratory was established, Nikolay Nikolaevich together with his colleagues had been performing pioneering tasks since 1958. In 1962, he created in FLNP the first line that allowed getting information from analyzers and immediately processing it. Combining several computing machines in BLTP into a network was the first step towards the construction of the multi-machine computer complex. The LCTA established, a new stage of the computing development in JINR began. One of the main achievements of those years is the development of the software and the operating system of the main USSR machine – BESM-6. The team of N. N. Govorun was engaged in automation of the physical experiment. One of their tasks was to adopt the FORTRAN language and other CERN software for Soviet computers. It was the time when the famous monitoring system "Dubna" and then the operating system "Dubna" were created. The Govorun's team of creators included specialists from Moscow, Novosibirsk, JINR Member States. He developed a three-level architecture of the computing complex of the Joint Institute.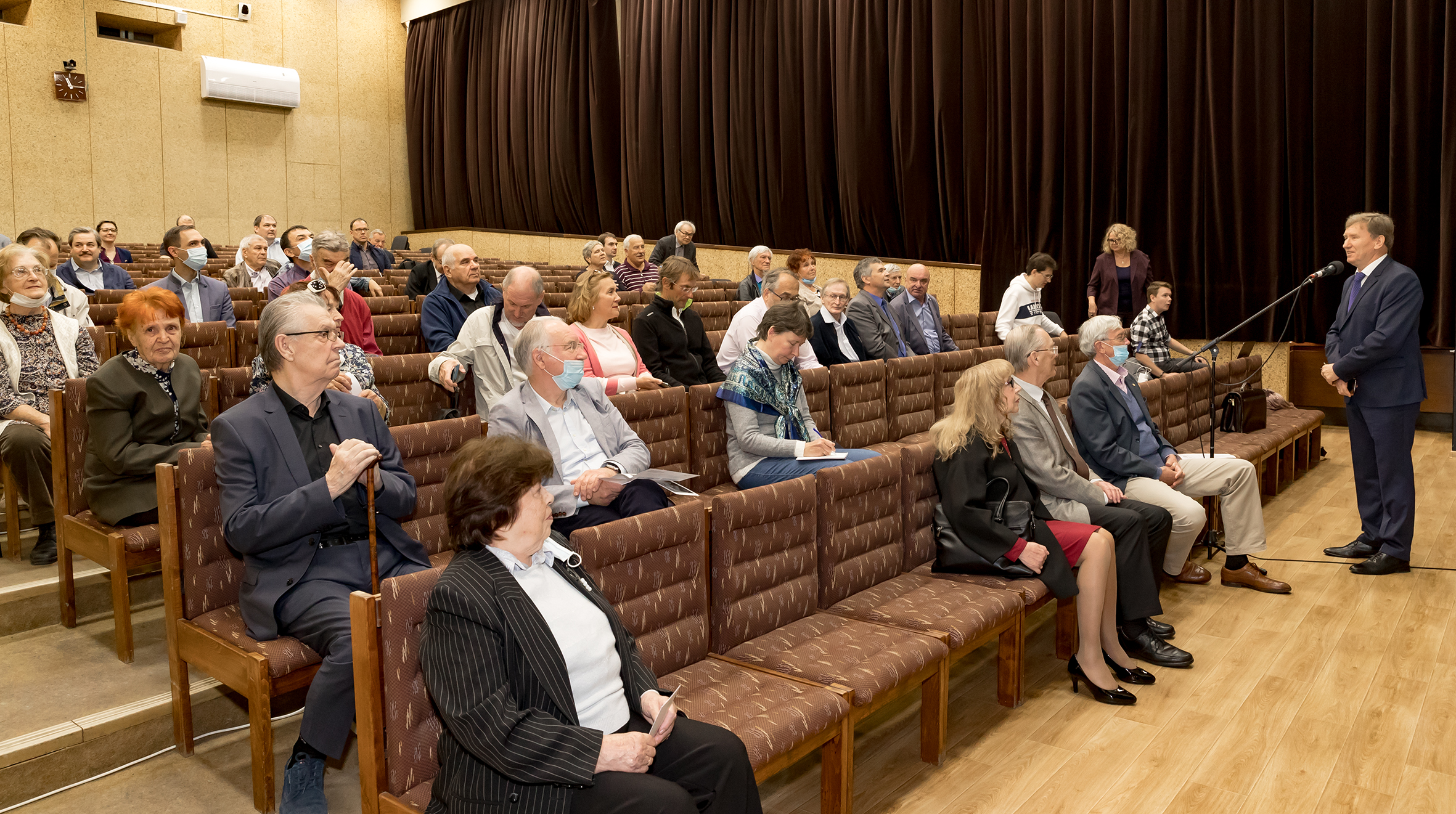 Nikolay Nikolaevich created a good basis for cooperation with CERN in the fields of computer technology and this cooperation continues now on mutually beneficial conditions. Since the very first day, LIT has been taking part in the processing of data from LHC and has greatly contributed to this activity. The next step was the combination of computing machines, the creation of the JINET terminate network earlier than Ethernet appeared. A lot had been done before the Internet emerged in Russia. "We have always been leaders in the field of network technologies; each step is a contribution to the development of international cooperation. This is an extremely important area of work for us. Nowadays, the network at JINR unites all the laboratories, we have three external communication channels with CERN, more than 40 per cent of the traffic in Russia belongs to JINR." Then V. V. Korenkov spoke about modern components of the MICC LIT: Tier1, Tier2, the supercomputer "Govorun". They make the MICC attractive for various research areas. A new task of the Laboratory is to create the infrastructure for the NICA project and to use this experience for other mega-science projects in Russia and abroad. The memory of Nikolay Nikolaevich continues to live in the name of the LIT seminar room, in the alley near the Laboratory's building, in the name of a street in the Special Economic Zone "Dubna" where the largest data-centre is located, and, of course, in the name of the JINR supercomputer.
In the interview to Dubna mass media V. V. Korenkov said: "We absorbed his enthusiasm, his foresight, his excellent sense of new things in the Laboratory. We try to develop his ideas, we have a guiding star – Nikolay Nikolaevich. We will maintain a bright memory of him and express our gratitude. It is difficult to imagine such a unique specialist, a unique person. I am grateful to him because he was my teacher, I prepared my thesis under his guidance. He could talk into his ideas. A joint with the USA project "Crystal" was planned at the Synchrophasotron, and Nikolay Nikolaevich proposed me to deal with an unfamiliar topic. We created software for this experiment, created a lot of new things, and the first discovery was made during the experiment and not after it because we organized the data processing parallel with its recording.
Of course, we underwent tough time when N. N. Govorun suddenly passed away. Many contacts were severed because there were no successors. We had to work a lot, even in the difficult economic situation of the 1990s. The ideas discussed with Nikolay Nikolaevich were gradually implemented, and now I think that we are in very good shape. We have created a unique complex, there are no others in the world. Particular components of it can be found in many centres: grid-Tier1, grid-Tier2, a cloud, a supercomputer. But there are no centres possessing all of them at once. Our task is to keep all these components integrated. We have created a hierarchical data storage system, and such capacity cannot be found anywhere in Russia – it is almost 80 petabytes. It is achieved at the supercomputer "Govorun". So, much has been done recently as the implementation of ideas, proposals of Nikolay Nikolaevich Govorun."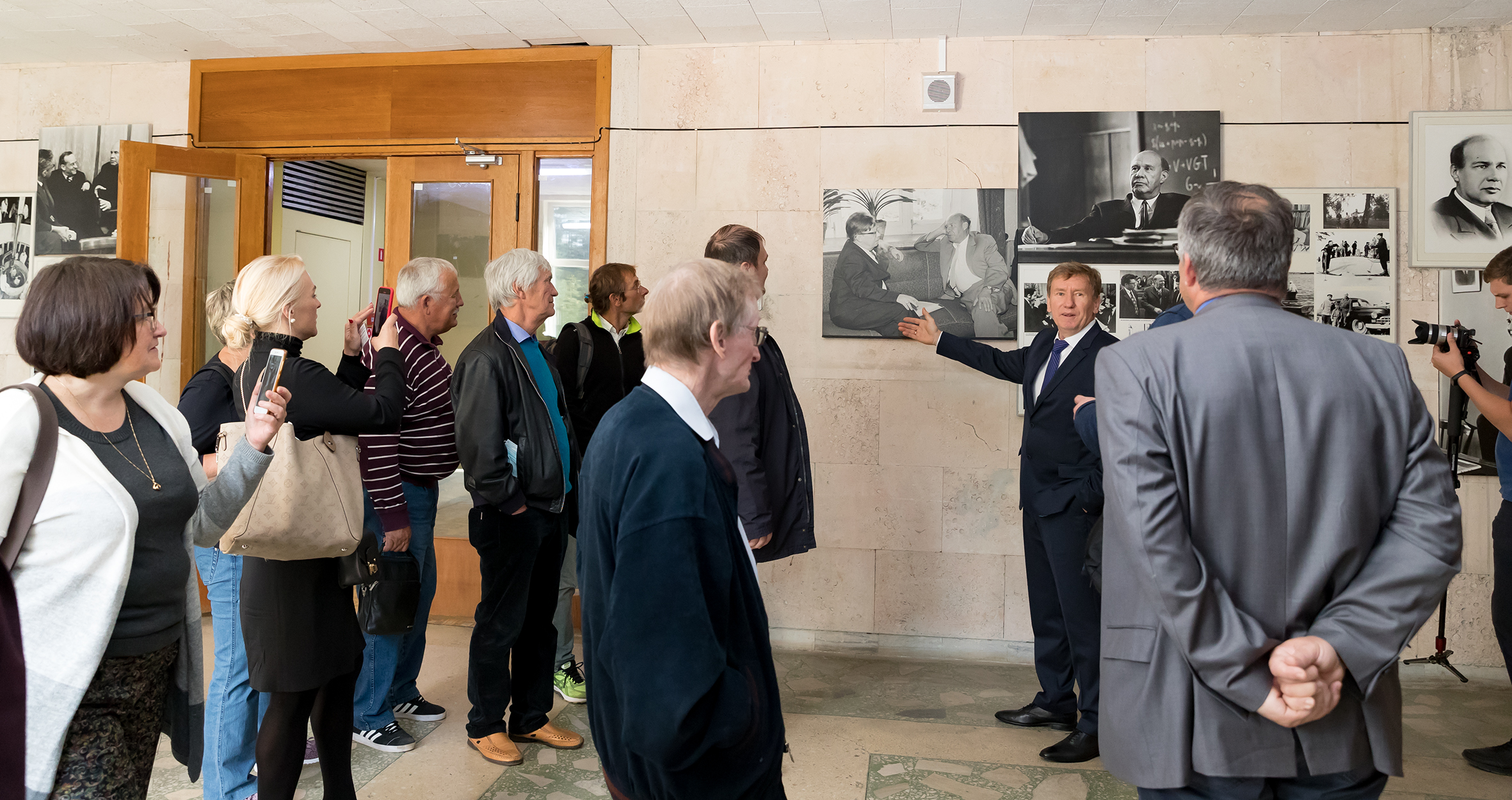 A. N. Tomilin (RAS Institute for System Programming): Communication with Nikolay Nikolaevich meant a lot for those who were engaged in the creation of computing machines and programming systems in the 1950s. This always gave impetus. And this is not only my impression but of many other colleagues from the Institute of Precision Mechanics and Computer Engineering, the Institute of Applied Mathematics, MSU, the MIPT. During his postgraduate study at MSU, N. N. Govorun had great prospects. However, great people feel the dictates of the time, and obeying them, Nikolay Nikolaevich switched to new things.
V. V. Korenkov in his report showed a photo of the historical room in the annexe to the FLNP building, where the team I loved so much gathered: I. N. Silin, V. P. Shirikov, V. A. Rostovtsev. An hour of discussions was enough to get inspired for a long time. Nikolay Nikolaevich gave a creative impetus that spread to many organizations of the Soviet Union.
V. V. Voevodin (RCC MSU): I did not know Nikolay Nikolaevich personally but I know him from the incredible trail of his activities I have learned about from memories of people he communicated with, from the atmosphere in LIT where I often come. He is a close man for me, especially since we work in the same field. I really appreciate the way he organized activities, created the most powerful computing centre in JINR, established contacts with CERN. I deeply respect him.
G. A. Ososkov (LIT): He was a brilliant analyst, N. N. Bogoliubov appreciated him and appointed him as a deputy of M. G. Meshcheryakov. He was also a great organizer, sparing no effort and health. After his visit to CERN, he understood the direction of IT development. Then the group of Nikolay Nikolaevich outran the USSR AS CC. He quickly defended his Candidate's and Doctorate's theses, became a Corresponding Member of the USSR Academy of Sciences, but he never forgot about people he knew. His influence on my life was fundamental, the same was his role in the lives of everyone who have come here today.
P. N. Vabishchevich (Nuclear Safety Institute), son-in-law of N. N. Govorun: At first, I will share the impressions of the specialist. He used the first visit to CERN to bring software, not junk. For me, he is an example of a Soviet man, an exemplary Soviet scientist, a Soviet man in all respects. I hope that we will live as long as to see time when this is no longer a stigma. My impressions as of a family member: my personal best in running is 25 km, and Nikolay Nikolaevich ran even more, and it was he who engaged me in it. More than 40 years have passed since then, and it is a pleasure for me that the memory of him remains.
E. Yu. Mazepa ("Contact" company): Nikolay Nikolaevich was an adventurer with a capital letter, but all his adventurous projects were successful: FORTRAN, machine complexes, JINET. When a pile of iron from CNC machines from Finland were brought, N. N. Govorun said: we should create a network. So, we created a local network, and it worked for more than 10 years when there were no local networks in the world at all. He believed in people. My life would be different without him, and, of course, I am grateful to him.
T. K. Kozubskaya (Institute of Applied Mathematics): All of us have dealt with BESM-6, it is our start in life. I realized that there would not be the BESM-6 without Nikolay Nikolaevich although we make computations at "Lomonosov" and "Kurchatov" now, and it is preferable to do it at "Govorun" as well… "You have the first priority," V. V. Korenkov noted. "…We continue his activities. I met him in the late 1970s, and we got on well with him for ten years. My daughter is his granddaughter, my grandson is his great-grandson. My first impressions of Nikolay Nikolaevich were that he was a sincere, kind, enthusiastic person. He was constantly fixing something, you could ask him for advice on any domestic problem. He was constantly on his way to somewhere. He was and he will be an example of a true scientist and a very good man.
Daughter Elena Nikolaevna could not come to Dubna but welcomed everyone online: Thank you all for coming, it is a pleasure to remember my dad. In this hustle and bustle of life, this does not happen often. Thank you for this seminar.
N. Yu. Shirikova (LIT): He was an extraordinary man. We had many bosses, but everyone had their own kind of relations with Govorun. He said: it is necessary to achieve a result in two hours, I won't tell for whom. So, we did this work, it was impossible to refuse him. When we were celebrating his 50th anniversary in the JINR Scientists' Club, 200 people gathered there, it was a true holiday. Communication with him brought only joy. An amazing person! And I am really glad that Govorun was in my life.
The LCTA Deputy Director at the times of N. N. Govorun was A. A. Karlov: Nikolay Nikolaevich was a very kind person, and everyone who worked with him has kept good feelings about him. When the position of the Deputy Director became vacant, I had no administrative experience: I had not managed either a department or a sector before. I worked with Nikolay Nikolaevich and M. G. Meshcheryakov for 10 years, received advice from Govorun, solved current issues. He made decisions quickly as if he had his own supercomputer in his head. Once we were contacted by the Institute of Volcanology in Kamchatka, scientists asked us to help them organize their own LCTA. N. N. Govorun provided a letter of support from N. N. Bogoliubov. He did not leave without attention even minor requests from third-party organizations for help in automation. He thought on a national scale.
N. N. Govorun Jr. ("Bank information systems" company): Thank you for this seminar, for the fact that the memory of Nikolay Nikolaevich is preserved. Many good things have been already said, I will add a little. He was an "energizer": he took on impossible things with pleasure, he was an adventurer and succeeded in everything he took on. He had a wide circle of acquaintances in various institutes and beyond the scientific community. He was a tremendously honest and decent man. He was both easy-going and complicated in relations with people. In the 1970-1980s, he had less and less time left for the family, he discovered so many interests that it seemed like he was keen on everything. Work in the Academy of Sciences took a lot of time; I do not understand how he managed everything without a cell phone.
T. P. Puzynina (LIT): He knew how to relax and took us to the Dubna river, we sailed on a large boat, learned to ride handmade water skis. It was very difficult, and the real achievement was to ski without falls from the Kletin Bor to Dubna… I would like also to say some words about Raisa Dmitrievna, she was a reliable assistant to Nikolay Nikolaevich and to all of us in all the Laboratory's affairs. His untimely demise was like a bolt from the blue for everyone.
V. P. Gerdt (LIT): Nikolay Nikolaevich was one of the first specialists to propose analytical computing. I do not know how this seemingly strange field would have developed without him. First conferences on analytical computing were held under his leadership. He was a great organizer, and everything was solved quickly with him. I was surprised at the breadth of his acquaintances. He delved into new topics immediately.
The scientific part of the seminar was opened by D. V. Podgainy with the report "Supercomputer «Govorun» for JINR tasks": The creation of the supercomputer started with a joint with BLTP project, but then it has been extended, and now all the Institute's laboratories make computations using our machine: about 150 users from various laboratories work in the frames of 25 themes of the JINR Topical Plan. The task of our LIT group is not only to provide sources and support them but also to develop and implement new IT technologies for the Institute's tasks, including continuing automation of experimental data processing launched by Nikolay Nikolaevich. For example, we are just beginning to solve this issue for experiments in radiobiology. A joint with LRB project is now actively developing: we create the information system that unites a set of IT solutions in a convenient interface so that LRB staff members and their colleagues will not have to think where to put a file, they will just work with convenient instruments working out solutions for their scientific tasks without thinking about technical issues.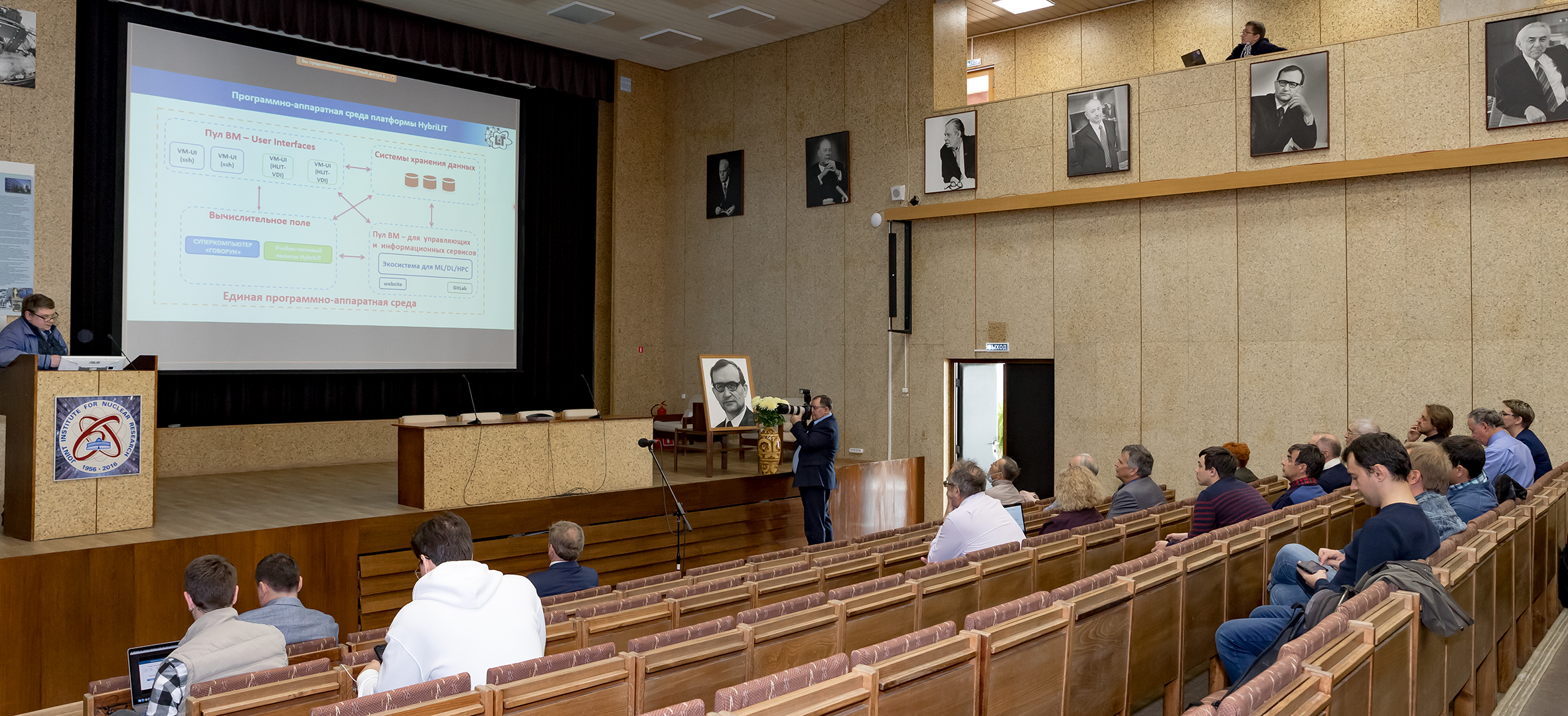 A joint with FLNR project has also recently started. It is supported by the Ministry of Science and Higher Education and is aimed to study the properties of superheavy element atoms synthesized in the Laboratory. The development of computing for the NICA project has become a traditional task for us. The supercomputer "Govorun" has been created for this project not only in terms of attracting resources but in terms of the creation and developing IT solutions. And this is crucially important for high energy physics. Of course, we continue active cooperation with BLTP, especially with the group conducting quantum chromodynamics calculations. It is a very source-intensive field. We try to find the fastest architecture and improve the quality of work of this group.
Staff members of LIT, BLTP, VBLHEP, colleagues from Moscow and St. Petersburg made reports.
The seminar was very warm, and it seemed like members of one big family gathered there. Everyone remembered something personal and all the speeches, just like pieces of a mosaic, formed a large portrait of Nikolay Nikolaevich Govorun, a man, an organizer, a scientist.
Olga Tarantina, JINR Weekly Newspaper
photos by Elena Puzynina