JINR develops projects on applied research at NICA complex
News, 13 September 2022
JINR creates a unique infrastructure for applied research using heavy ion beams at the NICA Accelerator Complex. Oleg Belov, a representative of the Department of Scientific and Methodological Research and Innovation of the Veksler and Baldin Laboratory of High Energy Physics JINR, commented on state of the art in this area.
The NICA Complex megasсience project, in addition to the tasks of fundamental physics, provides for the operation of specialised channels for transporting charged particle beams for applied work. This includes life sciences, radiation materials science, testing of electronics for radiation resistance and the development of advanced nuclear energy technologies. At the moment, a team of scientists, engineers, and specialists from a number of scientific and scientific-technological organizations of the JINR Member States is developing and mounting the necessary experimental zones equipped with irradiation stations for working with samples of various types. In 2021, this infrastructure was named ARIADNA (Applied Research Infrastructure for Advanced Developments at NICA fAcility).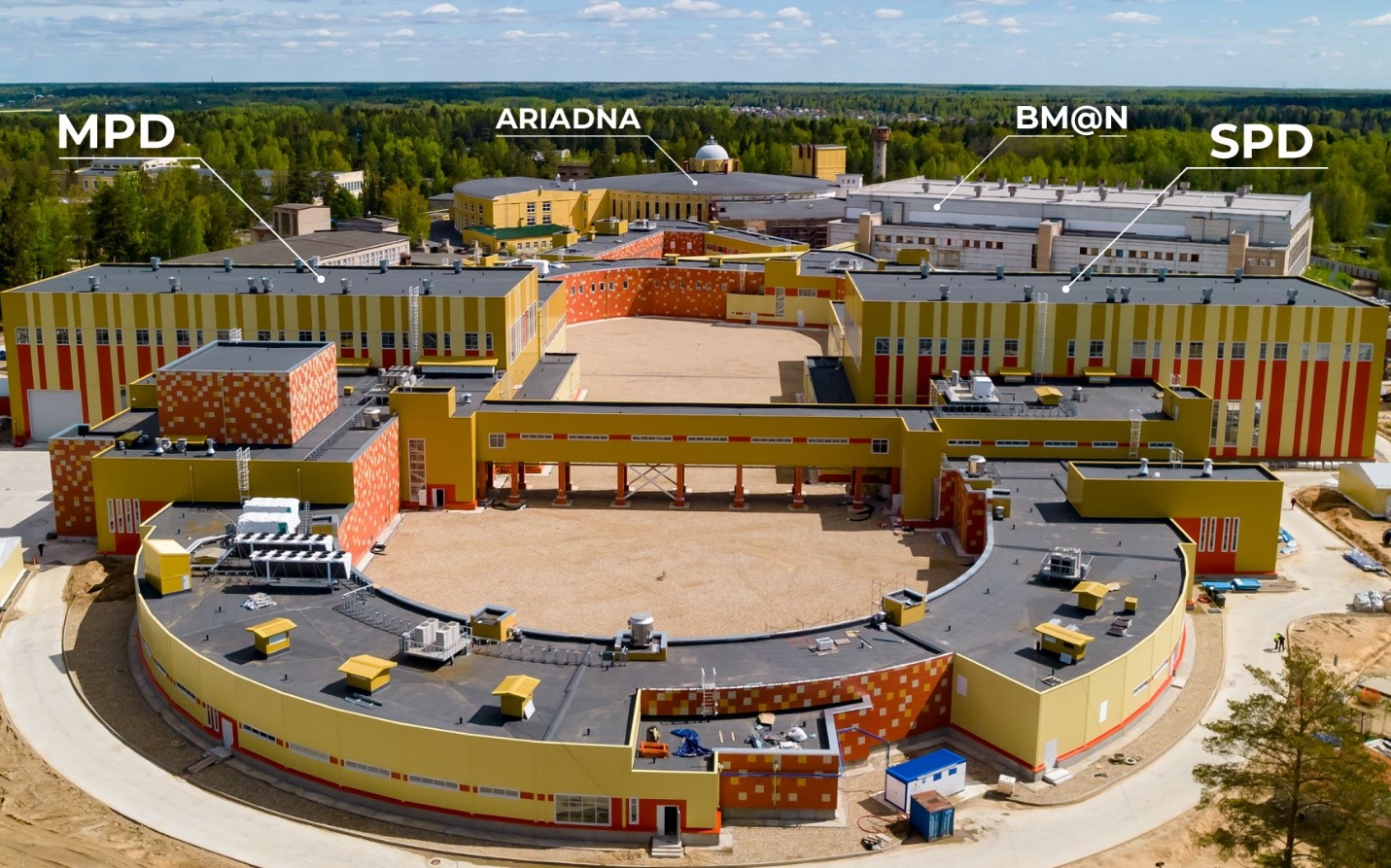 The project is carried out in several stages. The first of them is the creation the SOCHi station (Station Of Chip Irradiation) for irradiating decapsulated microchips, i.e. microchips with an open case, ion beams with an energy of 3.2 MeV/nucleon. In December 2021, the station was commissioned with a carbon ion beam. This station will allow testing electronics for long-distance flights into space, while studying not only functional changes, but also structural damage to semiconductor materials. Such studies will provide new knowledge about the nature of the occurrence of functional failures of microelectronics under the influence of heavy ions and contribute to the development of innovative solutions to increase the radiation resistance of the component base. At the moment, the issue of the destructive effects of heavy ions in the composition of cosmic radiation is one of the key obstacles to the implementation of long-range space missions, and not only manned ones, which are associated with the danger of irradiation of spacecraft crews, but also automated ones, where microprocessor technology is exposed. The SOCHi station can also be used for radiation materials science tasks involving the use of relatively low-energy charged particle beams. Here, new developments in ion implantation on thin structures can become a promising area. It is a very popular technology for creating composite materials with unique structures and properties. In recent years, such materials have been increasingly used in various branches of science and technology, in particular, in the development and manufacture of semiconductor devices.
The next stages include the commissioning of three other irradiation stations. The ISCRA (Irradiation Station of Components of Radioelectronic Apparatus) will also aim to determine radiation resistance of electronic components and works on radiation materials science. It will allow studying the observed effects in the energy range from 150 to 500 MeV/nucleon thus providing for modeling the impact of particular components of space radiation on integral microcircuits. At the SIMBO station (Station of Investigation of Medico-Biological Objects), there will be works on life sciences underway with the use of accelerated ions at the energies of 500-1,000 MeV/nucleon. The facility, which is equipped with a climate camera and a set of specialized fixators for manipulations with various samples, will provide wide opportunities for a number of scientific and practical tasks in the field of modern biomedical technologies. The SHINE station (Station of High Energy Investigation in Nuclear Energetic) will help solve the topical issues of nuclear technologies related to the production of energy and nuclear waste disposal. High-energy light ion beams (up to 4 GeV/nucleon) are used for that.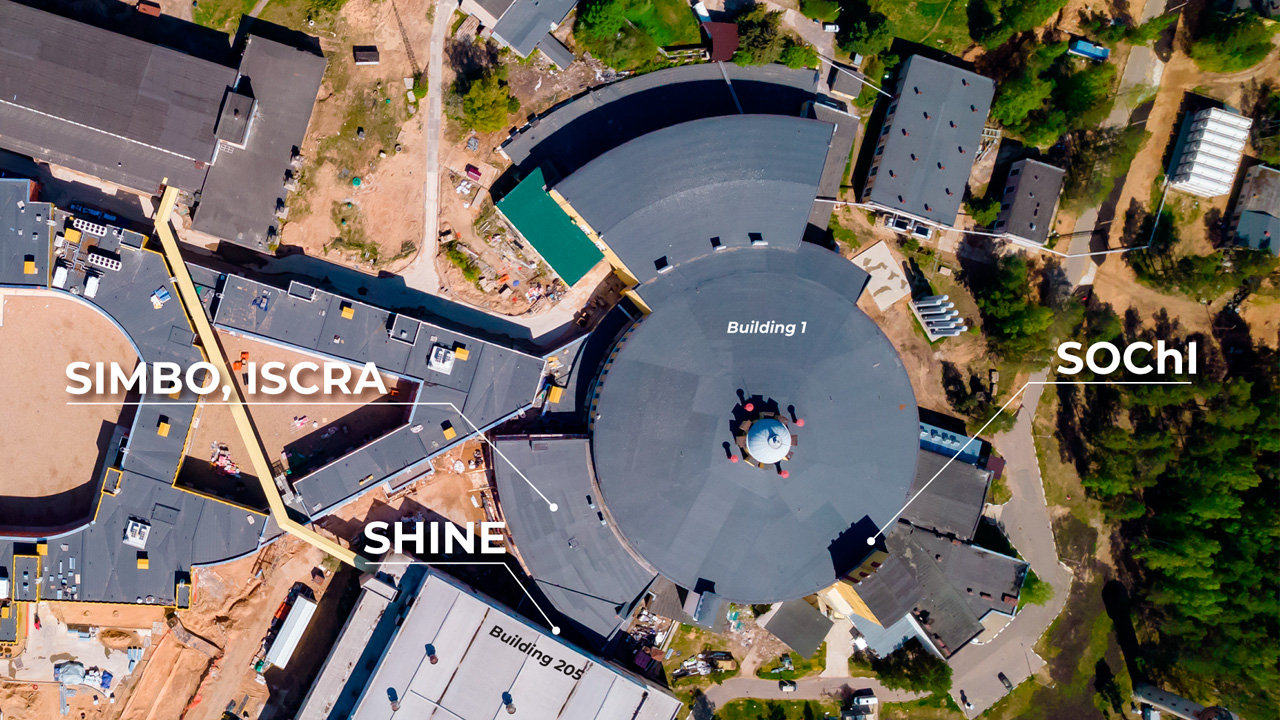 At the same time, there are scientific collaborations formed around the created research infrastructure so that to widen the range of applied studies at the NICA complex and work out a scientific programme. Interested organizations have already established three collaborations: ARIADNA-LS for applied research on life sciences, ARIADNA-MSTE for radiation materials science and testing of electronics, and ARIADNA-NPT for the development of new nuclear energetics technologies. Active discussions are already underway; there have been a number of scientific conferences, seminars, meetings, and workshops. As a result, regulatory documents of the collaborations have been developed, and responsibilities of the collaborations' spokespersons have been adopted. The spokespersons are Head of the VBLHEP Department of Scientific and Methodological Research and Innovation O. V. Belov (ARIADNA-LS collaboration), Head of the Sector of High-Temperature Superconducting Magnets of the VBLHEP Accelerator Department M. S. Novikov (ARIADNA-MSTE collaboration), and Head of the VBLHEP Department of Scientific and Methodological Research and Innovation S. I. Tyutyunnikov (ARIADNA-NPT collaboration)
"It is already obvious that participants of the cooperating organizations are moving fast and shift from research planning to the implementation of preparatory experiments at their institutes. Close working cooperation and interaction at this stage are vital for further implementation of experiment series at the NICA complex beams," Oleg Belov commented on the current state of work on the ARIADNA infrastructure. He noted that cooperation promised to be very close in the areas outlined today. Even at the current stage, before the full-scale launch of all irradiation stations, organizations express the most serious intentions to participate, up to the creation of their branches in Dubna, specifically focused on research using NICA complex beams.
"Together with some organizations, we are working out the possibilities of attracting industrial partners who will be interested in our results and developments in advance. At the same time, of course, our intellectual property policy will gradually be built," Oleg Belov noted. In this regard, the recently formed Innovation Group in the JINR Department of Innovation and Intellectual Property benefited activities around ARIADNA.
Interested partners of the project make a significant scientific contribution to the formation of a package of research proposals on ARIADNA channels. "There is a wide range works on radiation biophysics, in which relevant Russian organizations take part who are entitled to carry out such research," Oleg Belov said. "We still have tasks on radiation medicine since the NICA complex provides unique opportunities to test promising techniques for irradiation planning for ion therapy, as well as for the development of innovative approaches to curing a number of tumour diseases. We cannot but highlight new developments in the creation of high-temperature superconducting cables and related tasks of radiation resistance of materials. VBLHEP staff in close cooperation with the participants of the ARIADNA-MSTE collaboration implement them. Another powerful pulse to the development of applied studies at the NICA complex may be the ADS systems developments. These are subcritical assemblies controlled by high-current accelerators.To date, such facilities are considered as promising ways for transmutation of nuclear waste and energy production," he said.
The scientific programmes of all the three ARIADNA collaborations are dynamically developing. This publication opens a series of articles about the scientific infrastructure for applied studies at the NICA complex, key events, and promising fields of scientific works in this field.