JINR-Russia-Serbia: in search for new projects at intersection of IT, physics, and biology
News, 29 April 2022
On 28 April 2022, the Workshop "Computational biology and physics" was held, at which issues of scientific cooperation between the Laboratory of Radiation Biology JINR, the Laboratory of Information Technologies JINR, and scientific organizations of Serbia were discussed.
Joint research conducted by LRB and MLIT on the development and implementation of algorithms for automation of radiobiological research set the stage for the cooperation between JINR and scientific organizations of the Republic of Serbia, the Associate Member of JINR. The project "The Computer-Assisted Identification, Characterization, and Modeling of the Histological Data" was supported in the framework of the Agreement between JINR and the Ministry of Education and Science of the Republic of Serbia. It started in 2022. Representatives of Serbian institutes and research centres of the University of Belgrade are actively participating in the project. "Working together we hope that we will achieve excellent results. Combining physics with biology in one project, as well as with the most modern computer technologies gives broad prospects in research," MLIT Deputy Director T. A. Strizh noted opening the meeting.
LRB Director A. N. Bugay welcomed participants on behalf of the LRB team. "Now there is a kind of revolution in biological research. Modern information technologies based on computer vision and artificial intelligence are increasingly used in research. Such technologies are becoming indispensable instruments in biology," he highlighted.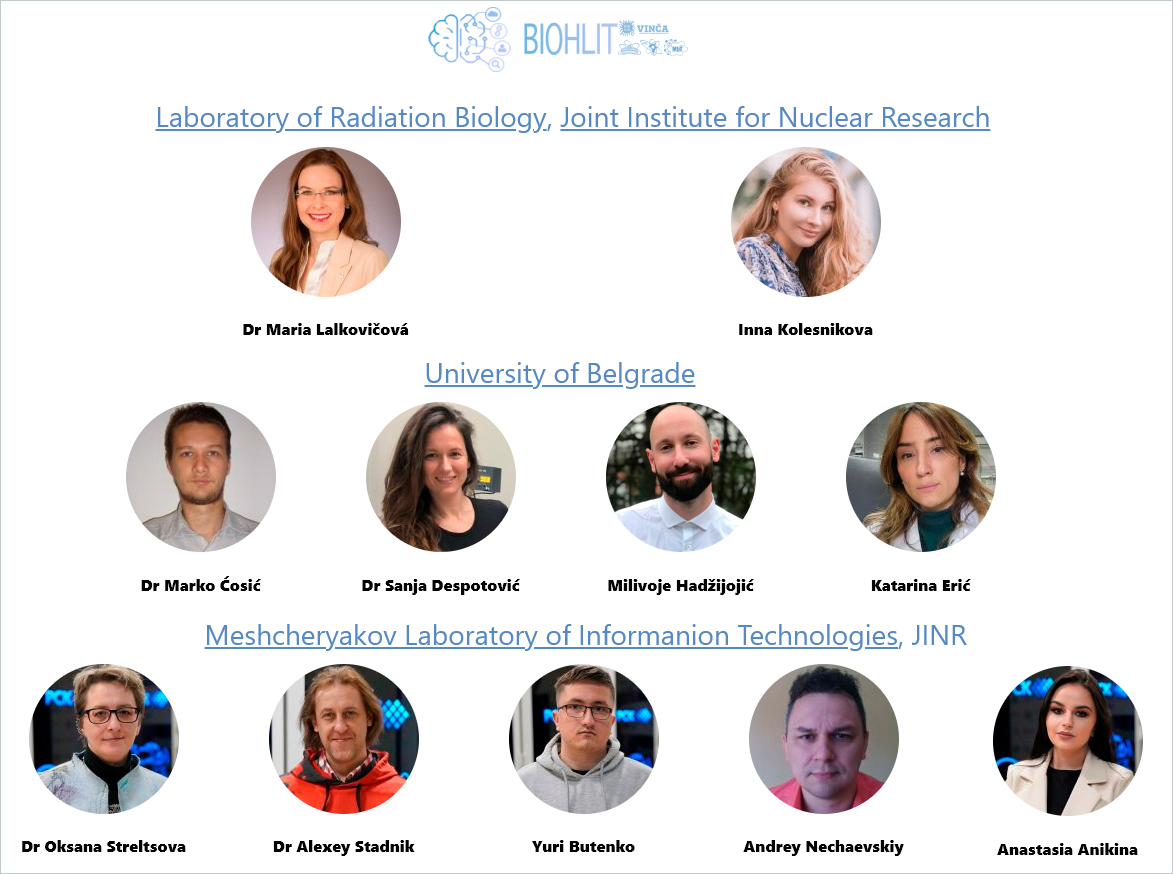 From the Serbian side, Director of the Physical Laboratory of the "Vinca" Nuclear Sciences Institute Roman Balvanovic and Head of the project Marko Cosic addressed participants. They expressed hope that such meetings would become regular and eventually get the format of a conference.
Staff members of VBLHEP and Tver State University also took part in the meeting.
Participants discussed a number of current problems in the fields of neuroradiobiology and radiology, as well as technological and information tools for automating relevant research and data processing. In particular, participants considered the problems of studying behavioral reactions and analysing morphofunctional changes in the brain of laboratory animals after irradiation, promising methods of tomography and cancer diagnosis.
Results of the meeting were summed up during the joint discussion. The possibility of further development of the information system (a joint project of MLIT and LRB), the inclusion of specialised algorithmic blocks and services for joint biomedical research were considered. The development of algorithms based on both classical methods and methods of machine and deep learning for automating the processing of histological research was of interest for participants. Joint research of scientific groups of Tver State University and the University of Belgrade on the basis of approaches developed by these scientific groups seems promising.
Participants noted the effectiveness of the event's format and agreed to organize a series of thematic seminars as the next practical step on the use of information technologies and algorithms for solving fundamental and applied problems in biology and physics.