JINR participated in Role of Women in Science Forum
News, 11 October 2023
On 10 October, the Role of Women in Science Forum took place in Dubna. Participants and speakers of the Forum included scientists, entrepreneurs, students, industrialists, journalists, politicians, and other leading specialists in science and engineering. The Forum emphasised the role of female scientists in shaping a sustainable future using innovation and technology.
Vice-Governor of the Moscow Region Irina Kaklyugina welcomed participants of the Forum. In her speech, she highlighted that the path to science begins at school, noting in this regard the achievements of women in the educational system. In addition, the Vice-Governor expressed her gratitude to the regional division of the Union of Women of Russia and its Chairperson Ekaterina Bogdasarova, who also took part in the Forum. Many social projects aimed at helping women and children are implemented in the Moscow Region with the support of this organization. Head of the Dubna City Administration Maxim Tikhomirov represented the Dubna community at the event.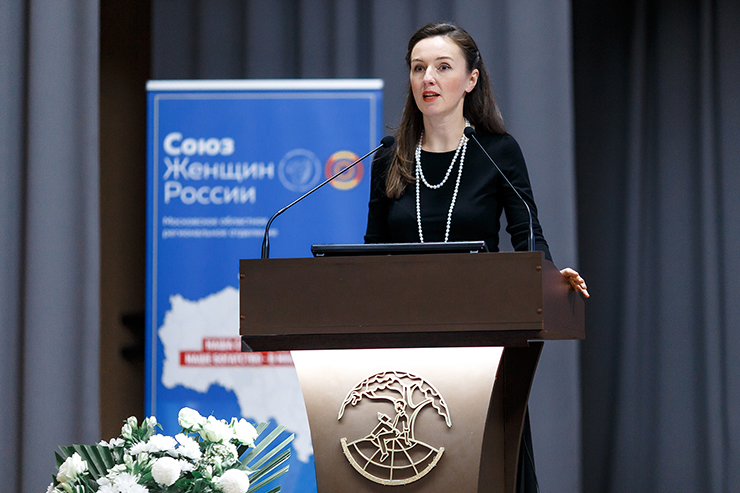 Photo © Ministry of Education of the Moscow Region
A senior researcher of the Scientific Department of Nuclear System Theory of the Laboratory of Theoretical Physics at JINR Alexandra Friesen was among participants of the Forum. Alexandra spoke about her work, the construction of the NICA Accelerator Complex, baryonic matter and heavy ion collisions, as well as her view of the role of women in science.
In her speech at the Forum, Alexandra Friesen highlighted that the more a sphere of activity involves science, the fewer women are engaged in it. As an example, she provided data on the research laboratories at JINR. Women account for more than 40% of the workforce in some laboratories, whereas in the majority of laboratories, women make up only 20-25% of the workforce.
"Is it easy to be a theoretical physicist? It is difficult, but it is incredibly interesting to me. The same is for those who choose this field of science. I would like to note that there is an increase in the number of women involved in science at the moment. Perhaps, it is because this area became popular, or education is better now, or maybe this fact caused by some social changes. Anyway, women are needed in science. They work on important projects. History shows that some of them have changed the world," Alexandra Friesen emphasised.
The Moscow regional division of the Union of Women of Russia and its Dubna branch, the Dubna City Administration, and Dubna State University organized the Forum.