"Lessons of the present" for school students by JINR scientists
Education, 08 September 2021
The Joint Institute for Nuclear Research takes part in the programme for school students "Lessons of the present" by the Educational Centre "Sirius" (Sochi).
The programme aims to introduce school children to the leaders in science and industry, as well as to solve research and scientific-technological project tasks. There will be studios of 5 – 15 students of 7 – 11 grades formed within the framework of the project that will operate during the school year. Students will meet with leading scientists and technologists of the country offline and online, perform project tasks from scientific leaders of the project and gain an expert assessment of solutions from partner companies.
The goal of the programme is to show and tell school students what technologies are currently developing and will be promising in Russia, what scientists and companies are leading in their fields.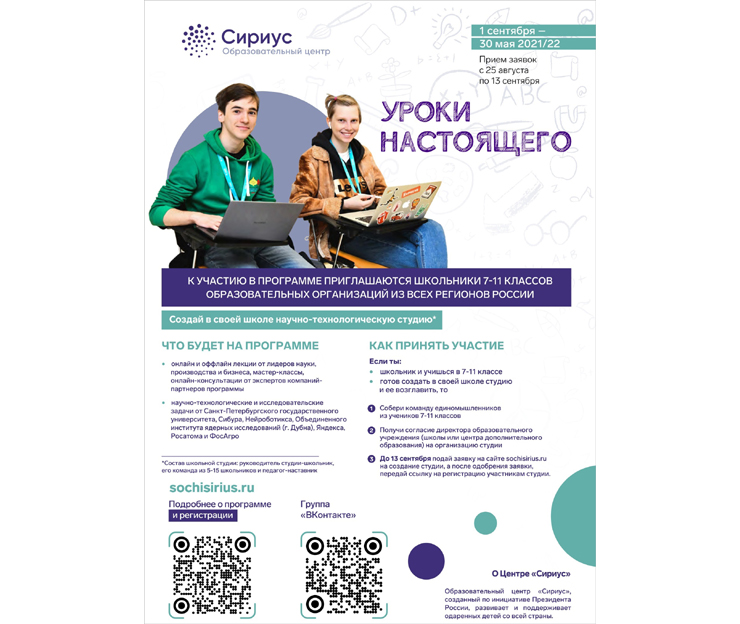 It should be reminded that the cooperation of JINR and the Educational Centre "Sirius" started in 2021. It includes lectures by the Institute's scientists for school children and students, advanced training for teachers of the Educational Foundation "Talent and Success" at JINR, internships and training programmes aimed at career guidance and shaping the career path of students. In addition, it includes joint research, spread of scientific knowledge, popularisation of scientific and technological achievements.
This academic year, the Joint institute suggests students creating their own Wilson chamber and use it to detect tracks of elementary particles. Lessons will be included into the January cycle of the programme.
The leader of a studio (a 7 – 11 grade school student) should receive the consent of a school's director for the organization of a studio. The leader of a studio submits an application for participation in the "Lessons of the present". The deadline for applications is 13 September.
More details about the programme are available on the website of the Educational Centre "Sirius".